Mystery of Mortlake Mansion
An old mansion has been living a mysterious life of its own! Use your Hidden Object talents to explore the dark rooms of the house, and discover the secrets that haunt this eerie place. Meet the talking raven and the Spirit, the enigmatic captives of the mansion. Confront the insidious lord, break the evil spells, set the captives free, and become the owner of the gorgeous mansion. An exciting adventure and dastardly discoveries await you in the Mystery of Mortlake Mansion!
Lush locations
Exciting adventures
Explore Mortlake Mansion!
Game System Requirements:
OS:

Windows XP/Vista/7/8

CPU:

2.0 GHz

RAM:

512 MB

DirectX:

9.0

Hard Drive:

192 MB
Game Manager System Requirements:
Browser:

Internet Explorer 7 or later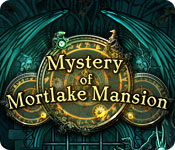 NEW299
The Big Fish Guarantee:
Quality tested and virus free.
No ads, no adware, no spyware.

Reviews at a Glance

Mystery of Mortlake Mansion
0
out of
5 (
0
Reviews
Review
)
Customer Reviews
Mystery of Mortlake Mansion
87
87
Great HOD game
when I first played this game I was stuck for a little while, then when I went back to it a couple of months later, I finally figured what I had to do, then I did not want to stop untill I finished the game. It was a game u had to remember where & what u have to do (with your inventory). I really enjoyed.
February 18, 2012
Entertaining
Hard to give raving review. One of those "good but not great, not bad" Hard to put my finger on it. Graphics were good, not great. Voice overs (wonderful to have in any game) were good. The puzzles were too simplistic (I love puzzles). HOS were monochromic which made it difficult to identify objects at times. Again with language differences, looking for football, found soccer ball (foosball maybe?) there were a few others that were notable. The map made it very easy to go from scene to scene. Whenever I take a break I always forget what I was doing. The map had icons that showed what was going on at the time. Overall a great deal for $2.99 (DD), but would not have been thrilled if paying full price, entertaining, good for a slow day. Personally, I wish they would put a skip button on the HOG for those of us that play the games for the adventure and investigation.
March 17, 2012
Pretty Good
This was a pretty good game. It wasn't too hard and I was able to finish it without a strategy guide. But the graphics are not very good, some are drawn, and some hidden object scenes are all green or blue, so you just have to click around or use hints. I fairly enjoyed it, but it was a little strange for my taste, and I didn't care for how it kept going from the present world to a shadowy, ghostly world.
March 16, 2012
Pleasant Surprise!
I'm having a LOT of fun with this game. At first I wasn't sure I'd like it, but the more I play, the more I get drawn in. Although I don't time game play, I think it's a fairly long game. I am about half way through, but wanted to get this review in before the sale goes off. Very original, so far I've seen nothing to compare it to.There is a lot of stuff to do, but it can be confusing. It took a little time to get used to the map. Most mini games were on the easy side, some without instructions, but I thought they were obvious. Graphics are old school but they seem to fit with storyline. Only one game level. Sorry, I can't speak to voice overs or music as I keep mine muted. If you want something different, then you have to try this game. It's definitely worth the price!
March 16, 2012
Enjoyable game but...
This game was fun and entertaining, however... I didn't mind the cartoon graphics at first, but when I went to play it again they were bothersome. Maybe that's because I have since played some games with really great graphics. From the beginning I found the voice overs particularly annoying and began clicking through them soon after starting the game. The HOs were average, and the puzzles fairly easy although I did enjoy some of them. I did enjoy the demon, he was very cool. The map was helpful but keep popping up when you changed locations which I also found somewhat annoying. I also experienced a delay while playing which made me think I had done something wrong. So keep clicking. In spite of all this I did enjoy the game as it was different and entertaining; however, if I had to do it again I would only buy as the DD. With the right graphics and voice overs this game would get a 4 or 5 rating, but for now I can only give it a 3. I would recommend this game for beginners or someone who wants something a little different from the norm.
January 15, 2012
I really thought I would like this game, and I wanted to, but...
There are way too many flaws, and the story line is not interesting enough to overlook all the flaws. I have only played the demo. From what I have seen, this game was more frustrating and irritating than fun. I don't really like comic book style graphics for starters. To have the HOS in comic book style, while the rest of the scenes are a mix of comic book style and beautifully drawn graphics, just makes me feel this game was not well thought out, and is having an identity crisis. It appears that the developers were arguing over which style to use, and came up with this mess as a compromise. Had this game been beautifully drawn throughout, as clearly the devs have the ability to do, I may have been able to overlook other flaws. The voice overs are not done well, at all. I have no idea why the devs would use the voices they did, when they are obviously awful....especially the raven. It is SO not believable, obviously fake, whiny, high pitched, annoying, and grates on the nerves...like nails on a chalk board. I don't want to listen to that all the time, and the raven is the one who helps you throughout the game. The human character's voice overs are too slow, and seem to slow the game down. I really like games with voice overs, but these detract from the game, in a major way...this game would have been better entirely without voice overs. The cursor is another problem. It is touchy. The areas of interest are not identified in some instances. Also, there are items you need to pick up, that are very TINY, dark, and blend into the background. For these reasons, you need to move the cursor over the entire screen, inch by inch, so that you don't miss anything, or use the hint A LOT. The cursor changes to a hand, etc., but blink and you'll miss it. You need to use tiny movements with the cursor in order to get it to change in the right area. That wouldn't be so much of a problem if the cursor didn't LAG after every click. Most of the HOS are greyish, or the whole scene is of the same color. The HO are, for the most part, TINY and therefore difficult to see, when all the same color. Some are not drawn well, nor identifiable, as they are drawn in the comic book style. Also, there are multiples of the same type of object in a HOS, and you have to find one in particular, so it's a matter of finding which tiny object they want. For example, a watch. There are a couple of different types of watches in the HOS - Pocket watches, wrist watches, clocks, etc. You have to click on all of them, or use a hint to find which specific ONE item they want you to find. The puzzles at least, were creative, easy, and fun, once you figured out what you needed to do. If you can't figure it out on your own, you MUST us a hint. There is no other way of getting info on how to complete a puzzle, unless you end the game and find a walkthrough. The way this game is designed, it seems to assume that you know info, when you haven't found the info yet...like you are supposed to be able to read the devs minds. It's just not well designed, and can be confusing. I got a slight feel for the story line, however, after playing the demo, I'm not hooked. The story comes too slowly for me to understand anything in an hour trial. I'm still lost and confused about it. I know it involves magic, crystals, demons, and portals, but beyond that, there's no real purpose. I have no idea the whos, whys, whats, or hows of this story line...not even a little bit, to keep my interest. I do know there is a lot of busy work, and running to and fro. I didn't care for this game at all, and I don't believe that it is even worth the DD price. It has potential, though. If it were refined, and better developed, it would probably be a really good game. As always, try before you buy!!
January 1, 2012
Good game for beginners
As I have been playing HOG's for a few years, this game was not much of a challenge for me. However, if I had started out with this game, it would have been entertaining and fun to play. Loved the graphics and the layout of the going to room to room.
January 1, 2012
Great story, poor graphics
This is one of the best and most creative storylines, fun to follow. Unfortunately it is spoiled by amateurish, hokey looking graphics that not only detracts from the enjoyment but in many cases makes objects impossibly hard to find.
November 7, 2014
recommend with reservations
Some good features: real and shadow world, voices, and underlying application of the idea of evil spells, BUT scenes are sometimes too shadowy (no color) to find things. Repeats some things you had to find and use, so that got old before I got done. I did need to use the walkthrough for a couple of the puzzles - I just got tired of doing them. Good length, though. I'm saying recommend, but with reservations.
September 3, 2012
Underwhelming
While the puzzles and HOS are quite nicely done, I was underwhelmed overall. The storyline is fine, and the progression through is pretty logical and sequential, so you know what you need to do next. The map is very useful, as you can just click on an area to move straight to it, thus minimising any backtracking. My biggest problem is the characters themselves are like poorly constructed cartoons - the voiceovers are a bit silly, they don't look scary at all and aren't convincing. This was really the biggest detraction for me, as I have come across lots of other Big Fish HO games that were genuinely scary/thrilling. This felt more like playing a adult game with kids characters, and it felt silly.
August 10, 2012
The Apple logo is a trademark of Apple Computer, Inc.