Crossworlds: The Flying City
Monica and her father, Professor Dumbdore, have invented a unique device, a teleporter that enables traveling though parallel worlds! Mysteriously, Monica's father disappears and it's up to her to track him down! Investigate the different worlds and meet interesting characters as you track down Monica's father in Crossworlds: The Flying City, an exciting Hidden Object game.
Beautiful locations
Incredible gameplay
Investigate parallel worlds!
Game System Requirements:
OS:

Windows XP/Vista/7/8

CPU:

1.4 GHz

RAM:

1024 MB

DirectX:

9.0

Hard Drive:

199 MB
Game Manager System Requirements:
Browser:

Internet Explorer 7 or later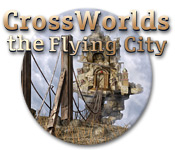 NEW299
The Big Fish Guarantee:
Quality tested and virus free.
No ads, no adware, no spyware.

Reviews at a Glance

Crossworlds: The Flying City
0
out of
5 (
0
Reviews
Review
)
Customer Reviews
Crossworlds: The Flying City
14
14
I Loved it!
I really enjoyed Crossworlds. I played it last year and I still remember it as if I played it yesterday. I thought the story was very good and unique, a lot of imagination went into it. My favorite chapter was Robo City, it had a very apocalyptic feel to it and the old car was fun to drive. Although there are HOG scenes, I believe it?s more of an adventure game (which I prefer). I thought the game was challenging in some parts, but I?m not one to rush through games anyway. I didn?t get hooked until the 2nd chapter, so you might stick with the trial for the full hour. If you are looking for something a little different, this might be worth a try.
March 15, 2012
Easy and Fun Games
I love this game. Make many sequel for this game.
January 13, 2012
Hope the Sequel is better
Normally, I like this sort of game, but this was confusing. The characters are interesting and the idea was good, but thank goodness for the walkthrough. Though quirky, I think I got the hang of it....I Hope this is continued and I'll look forward to trying it....
January 17, 2012
Entertaining
A good game, with a variation of challenges
November 15, 2011
Disappointing
I only played the one hour trial. Storyline interesting - travelling through dimesions to other worlds to find your father. Graphics good and no annoying background music. This is really an adventure game with HOS. The HOS have some very small items that blend with the background and are difficult to find. However, the HOS is nicely drawn and not cluttered. There is a lot of back and forth to find objects/items and then use them. Annoying is the car as you have to repeat: put in the key, start the car, move the gear stick and accelerate. Hints are available but fills slowly. Mini-games/puzzles are few and far between (only did on easy fuse puzzle in the whole hour). This game had the potential to be quite good but was let down by the lack of voice over (they also needed to correct typos in the text), less frustrating HOS and more mini-games/puzzles. Difficult to tell how long this game is or whether it improved later. If a game doesn't grab me in an hour its not worth buying and this one didn't.
February 24, 2012
Could have been better
Based on Demo: You father escapes in a time warp egg, you goal is to find him. The graphics are semi good generally. HOS is junkpile & some items very hard to find, Hint available, but slow to recharge No VO, mellow music, alot of reading for directional help, It could have been better with ANY map, interactive maps are even better. Maybe a faster hint recharge or a magnifier. interesting storyline, and if you need that extra punch, I'd say it's worth DD, just gt you cyber sneakers on & have at it
March 15, 2012
Good For Strictly HO Gamers
BASED ON DEMO FIRST IMPRESSIONS This is a reasonably old game, so I was not surprised by the comic strip style opening, nor the lack of voiceovers. The intro soon has you ready for an adventure across multiple worlds, with the minimum of backstory. SIGHTS & SOUNDS The graphics, other than the cut scenes, are quite good. Very much in the realistic style, and generally bright and clear enough to see all you need to. There is some blurring of the edges, but not as much as you might expect. The music in the intro was very different and interesting, and in the rest of the game fairly unobtrusive. I must say the environmental sounds were pretty inconspicuous. WHAT?S HAPPENING? Your father has finally put together the transporter you and he have been working on, and while you?re asleep, he tries it out. Something has gone terribly wrong; he has left a note saying that he is being chased by something, and that you must not follow him. So of course you do. The world you find yourself in is Roboworld. A depressing junkyard of rusting and defunct machines. You do find some functional robots, and from them you learn the history of this world. There are some interactions with the robots that are really quite amusing. Your father seems to have become irrelevant, and is not mentioned again. GAMEPLAY The gameplay is a bit interesting. This is a strictly HOP game. No puzzles at all, and limited adventure activity which is kept within a small area of action. There is no hint, no map and the ?notebook? keeps only codes picked up and objectives. Still, nothing is super-hard, and a tour of recently played areas soon turns up the solution. The HOPs are standard word lists. Some have interaction required, but these items are not indicated on the list. There is little animation in any part of the game, and so the HOP scenes do feel a little flat. The items are pasted into the scene, something I don?t normally like, but it is okay here. They are sometimes hard to find because they are partially hidden by other objects, and sometimes they are not their full size, but they are rarely actually tiny. The scenes are well lit and as clear as the graphics allow. Expect to visit an HOP scene up to 3 times. This is where it is interesting. On returning to a scene, you will find the objects have been moved around. Some of the objects you collected will be back again, but in different places! And some new ones will have been added. This simple trick made it quite fun to return to a previous scene. COMBINED IMPACT It is hard to decide just how I feel about this game. I like the trick with the HOs, but otherwise I found it dreary without having the virtue of a specifically creepy or dangerous atmosphere. It depends, too, on what the other worlds might be like. But I wouldn?t want to be spending a few hours wandering around Roboworld. It was just too depressing, despite the occasional laugh. Still, it is an excellent HOG for those who want more than unconnected HOPs, but don?t want to be burdened with too much adventure gameplay or headaches from puzzles. For them ...
January 19, 2014
kind of hard and i had to refer to the walkthrough a lot.
i didn't really enjoy it all that much. i even thought about quitting in the middle of it. some might like it. i didn't.
April 28, 2012
Could be much better...
A good story (traveling through different dimensions),... but ...failed to develop a good game! Could be much more interesting and less tiring, Only few things to do in each place each time you enter, then you have to keep moving back and forth (sometimes by car - and do the same thing over and over again: put the key, start the car, move the gear stick and accelerate). Scenes of HOS are repetitive and some things are so tiny... and sometimes even the same color as the background, ...! Impossible to see (like the gnome!). After half an hour I was with eyes burning with so much effort to see, tired of coming and going to the same places.
January 30, 2012
A game that went 'splat!'
This game had excellent potential but maybe the developers put it out too soon because it went 'splat' Like an egg hitting the floor. No omelet just mess. Lots of going back and forth to the same scenes. The weirdo aliens were an interesting addition until you find that you do not know what to do with them. I do not usually bother with hints and strategies but I must admit this game sent me there a few times. Why did I purchase it? I think it was on sale - that figures.
August 7, 2013