Westward Kingdoms
When two young spoiled heirs to the throne are banished from the comforts of their royal realm, they are tasked with traveling to three neighboring kingdoms, restoring their greatness, and demonstrating to their father, the king, that they are the rightful heirs to the throne. Help Prince Fenwick and Princess Catherine roam the countryside as they seek the guidance of friendly Kings, Countesses, Dukes, and loyal subjects in Westward Kingdoms!
Awesome upgrades
Incredible items
Prove your worth to the king!
Game System Requirements:
OS:

Windows XP/Vista/8

CPU:

1.0 GHz

RAM:

512 MB

DirectX:

9.0

Hard Drive:

82 MB
Game Manager System Requirements:
Browser:

Internet Explorer 7 or later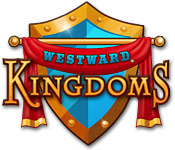 NEW299
The Big Fish Guarantee:
Quality tested and virus free.
No ads, no adware, no spyware.

Reviews at a Glance

Westward Kingdoms
0
out of
5 (
0
Reviews
Review
)
Customer Reviews
Best of the Westward games yet
The Westward games keep getting better and better and this one is terrific. As with the previous games there are required quests/missions and optional ones. For maximum fun I recommend doing everything you can think of, and then some. The game is divided into three sections, but once you've moved on to the 2nd section you wind up having reason to go back to the first, and then you eventually find yourself going back and forth between all three. In fact, to fully play the game you have to bounce around for a while. The game play still has characters with silly stock phrases they repeat over and over [until you want to reach through your screen and smack 'em]. But there are more characters, more flexibility and better game play. The basics of controls are like that of Westward IV but with continued improvements. Of course since this is a fantasy-based game and not a Western things are different. Instead of gunfighters you're dealing with knights and trolls and dragons, and they all have their own phrases, too. (Well, the dragon just kinda snorts a lot, but you know what I mean.) And instead of helping out of luck ranchers and the like, you're dealing with dippy kings and princesses. The game is a lot of fun and will keep you busy for hours. Say Hi to Patsy...er, I mean, George.
December 2, 2011
Ruling a kingdom can be amazingly hard!
First off ... You get the choice to play the prince or the princess, so there is no gender biased when it comes to the gameplay. So, for the people who don't want to play the opposite gender in the game...that's not a big deal. This is a game that would appeal to both genders. It's fun...you have so many different things to do, and you also do not have to rush the game (although there are times that you need to be somewhere fast.# You get to control and figure out so many things. You have to complete missions, build buildings and you have the freedom to put the buildings where you want. You decide how your population of people will be and what you need to keep everyone happy and safe. You will travel, and you will be exploring just about every inch of the play map. I find myself trying to set up the towns in a nice, but productive way. I've found it to be challenging on some things. There are plenty of upgrades that continue on. Besides buiding, training citizens to help do the work and deciding how many people of which trait you need, you will run into fights #don't worry...they aren't gore) and you will help people while you build up a kingdom how you would like to see it to be done.
November 11, 2011
Best Westward Yet
I've been playing this game for a couple of weeks and I'm highly addicted. The style of game play is fantastic with challenging quests and side games. It is very long so you get your moneys worth, and being set in a different time with castles, dragons and knights, really appealed to me. The only annoying thing is keeping track of where you built every thing and how to know what buildings need employment etc. I liked how characters gained experience and that there were multiple maps. Highly recommended, my new favourite.
February 2, 2012
Fantastic Game
You can loose yourself for hours in this game, each time you play it, it's different, you have the freedom to build your own kingdoms and man them how you choose. Smaller challenges are a good distraction. Sandbox mode is great and as long as you dont cheat it will be months before you find all the little extras hidden in the game. You will find yourself playing it over and over again. My only warning, don't get too addicted, since the game designers were bought out by digital chocolate, there's been no sniff of another game for two years. DIssapointing, this game could easily retail for more and there is nothing like it on the internet. Highly recommend you give this game a try, its fun and before long you will be quoting game characters!
September 23, 2012
One of my very favorite games ever!
I completely enjoyed this game. Since my purchase a year ago, I have played it through from start to finish about 5 or 6 times. I played the other Westward games, but I liked this one better, maybe it's the theme. The graphics are excellent. There's a lot to do, and things do not have to be done exactly in order. There are optional side quests. This is a long game and it's never tedious. My only complaint is the repetitive and annoying comments the hero and peasants make, so I finally figured out how to shut off the voices, but still hear the music and sound effects.
May 26, 2013
Makes you think
Nice long game play, different challenges on each level, some good back and forth between levels, as well as mini/side quests.
January 21, 2012
Westward kingdoms
Love stradegy games and this one proves to challenging and fun. would definitely recommend purchase, worth the credit / cost.
May 5, 2012
Westward gets a Makeover!
I loved all the Westward Series, and Westward Kingdoms, while very different, was just as fun. I don't really want to compare it - if you buy and play this game and love it (which I think you should if you love strategy games!) then you should try the other Westward games, you'll probably love them, too. The genre of all the others is Wild West. The game, like all the series, gives you SO MUCH GAME for your purchase. You can play and play and play. It is my favorite kind of game, where it is not about racing against a clock, (except for optional battles you can do in castle challenges) but rather all sorts of mini quests and discovering new characters and exploring new territories. Each level has lots of trophies you can earn for different types of achievements (defeating types of characters, leveling up characters, discovering "secrets" in the game, repairing destroyed areas on the map, etc.) and you play the game at your own pace. There are multiple save slots, and it is wise to save frequently. My personal pet peeve is earthquakes - not just because I'm a native Californian. ;-) I HATE having to repair every single darn building after an earthquake. So usually I just reload my game at the last save point, rather than do all the repairs - but that is just how lazy I am when I'm gaming. :-) Sometimes the characters repetitive sayings can be a bit annoying, but those are my only minor gripes with this game. I LOVE the Westward games, and I think they are an incredible bargain, for how many hours of enjoyment you get playing them.
March 20, 2014
I Highly Recommend WESTWARD KINGDOMS!!!
This is one of my all time favorite games! I highly recommend this game. It's a mix of strategy and adventure. I am a big gamer and it takes me about a week to beat it. (Usually I can beat a game in a day.) It's worth the money and the forum had every answer to any question. You won't be disappointed I promise.
July 27, 2014
Among The 10 Best Games on All of Big Fish!!
I felt compelled to write this review about ten days ago. At this time, I am still playing Westward Kingdoms - and that is the most I can ask for in a casual game. I had absolutely lost all faith entirely that it was possible to find a game so full of quests, interactivity, a full list of characters, such an astoundingly high level of things to do and more. And as of my writing this, the game is around 5 years old already! I had never noticed it, neither here on BFG or elsewhere but lately have taken it upon myself to find lost gems. If you've played the other WW games, don't go into Kingdoms expecting the same. Its vastly different. I don't know how to describe it other than to say that in addition to the kingdom building, there is training of military units, questing, character development and so, so, so much more. At over 12 - TWELVE! - hours into it, I'm only just now reaching the 3rd and final kingdom, and then there is the option of going back & replaying as the other character! Not to mention additional quests & achievements;however I don't know what they are or how to find them. I do have one criticism, and that is that more often than not, the game did not make evident enough what should be done next. I was stuck resorting to online help, and that was extremely scant. (I had posted a few questions here on these forums but despite a combined total of 500 views, not a single response.)
October 24, 2014