Bird's Town
Build up Birds Town using incredible powerups, gorgeous gems, and more in this incredibly fun Marble Popper game! Set your feathered construction workers on to different tasks and erect bodacious buildings. Avoid the conniving cats that will do everything they can to gobble up your builders! Take on mesmerizing minigames and succeed in Birds Town!
Fast-paced fun
Gripping gameplay
Build up Birds Town!
Game System Requirements:
OS:

Windows XP/Vista/7/8

CPU:

1.0 GHz

RAM:

256 MB

DirectX:

9.0

Hard Drive:

92 MB
Game Manager System Requirements:
Browser:

Internet Explorer 7 or later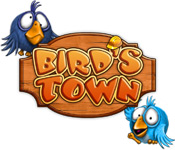 NEW299
The Big Fish Guarantee:
Quality tested and virus free.
No ads, no adware, no spyware.

Reviews at a Glance

Bird's Town
0
out of
5 (
0
Reviews
Review
)
Customer Reviews
For people who love marble poppers, not arcade games
In part, I am responding to earlier reviews here. Mainly: this is definitely not just a kids' game. This is my absolute favorite marble popper game, with lots of replay value. I admit I'm old and arthritic, but I still love this kind of game. So, having those birds march on majestically #at least at first# with lots of opportunities to use strategy rather than just speed enchants me no end. Major plus factors for me: Endless opportunities to replay a level you can't easily win #several of those for me#; power-ups in the game screen, not something you have to click on separately; and very interesting layouts, including very devious obstacles. The birds start marching slowly, but two things happen as you advance: they move more rapidly, and there are ever so much more of them that keep coming. I have come within one bird of winning an advanced level every so often. I highly recommend this game to anyone who likes marble poppers but isn't young or able enough to do the very fast ones. Plenty challenging for us, without being condescending. Oops, got to go play another few levels . . .
February 3, 2012
Great basic marble popper game. Easy enough for kids and slow shooters!
This game is a super simple basic marble popper game. A line of birdies marches slowly along, as you launch birdies from a catapult to match 3 or more of the same color. Try to match all the birdies and keep them from marching into the cat's cage! Okay, so I guess I'm a little of a dimwit, because it took me 17 minutes just to get through Level 1 and my birds kept getting caught in the cage! But once I finally got through Level 1, I was able to start building the birdies their own little town with the points I won. The graphics are super cute, the music nice, not at all irritating and the game slow enough that even slow shooters, like myself, can get some good shots in. Even with that, I my birdies kept getting caught by the cats! (Don't worry, animals lovers, no birdies are harmed in this game, unless you're a really bad shot and accidentally catapult them into a rock!) I'm not good at shooter games, but I like this one and found it addicting and very relaxing play. It's one that my grandsons and I will be able to enjoy together when they comes to visit! Plus you get to build the birdies their own little town and add on to it as you go along with the points you earn from all the birdies you save! My understanding from reading other reviews in the BFG forums is that the levels DO get a little more difficult as you advance. Fun game for kids and anyone 50 and over going-on-5! If there was a category for cute-factor, I would give it a 10! I give it only a 2 on level of challenge only because I don't think it will present any challenge for expert marble shooters. This one is a definite buy for me!
November 24, 2011
Fun marble popper
Not very challenging as marble poppers go, but very entertaining and a lot of replay value. It will take you 100+ levels to finish building the town, and if you want to keep playing from there you can... I'm currently on level 164 and from everything I've read from others, the game is basically endless - you can play to level 2000+ if you want!
December 15, 2011
Just what the doctor ordered...
For the second Christmas/New Year in a row I have been off my feet with full blown flu, not good at any time of the year but particularly depressing right now. Having read the reviews I decided to give this game a try. I don't normally like marble poppers as I get too stressed when I fail to complete a level - but this is something else. The graphics are wonderfully calming; the music while not annoying to me was annoying to everyone else trying to watch Doctor Who!; and while I would never ever condone violence to small critters, I can't help but laugh when I misjudge and fire a bird into a rock! All in all this game has helped keep me sane and I am enjoying building the town as I progress. I must now reiterate the advice given by greennpink - remember to go to bed, it is addictive lol! ps - side note, I used to live near an area called Pink Green :D
January 1, 2012
Just A Basic Marble Popper Game.
Pretty basic storyline - stop birds being eaten by cats, build their town. Very colourful and the background music is nice. Very pedestrian game - so very easy to shoot the marbles and collect gems/coins. Liked the bird construction crew with their hard hats. Nice game to play for 30 minutes. Kids would appreciate this one.
February 15, 2012
carefull, you can get hooked
I love this game. Each time I play it, I must remind myself to stop and go to bed.
November 27, 2011
Fun, Fun, Fun!!
Sometimes fast and furious game play, with a few moments of deceptive ease. Easy to lose track of hours of time. For me it is the best stress buster I have ever encountered, in spite of sometimes being a huge challenge. It is so cute, that I don't care about the extremely difficult levels -- and there are many!! Bird's Town is one of my favorite games, and I have played it almost every day since I first downloaded it.
March 6, 2012
Loved it!!!!!!
I love the game alot especialy the town!!!!!!!!!! I LOVED THE WHOLE GAME!!!!!!!!!!!!!
November 23, 2011
Bird's Town
This is probably the first Marble Popper game I've played and it hooked me! I loved the poor little birds marching to their doom...and trembling! Then, if you're not quick enough and they march into the cat's cage, the graphic with the sad eyes peering through the bars begging for help....well, I had to buy the game - if only to save the poor birdies! Since I'm somewhat of a newbie at the popper games, this one was really great for me to start on as it didn't induce the stress of a too fast, unwinnable game. The graphics were crisp and bright, there didn't seem to be any lag of the controls and this game was just pure fun! The only annoying thing (and it could be something I'm doing wrong, is that if I scroll too far to the right of the screen, then no matter what I do or which button I'm pressing #left or right) all it does it change the colors of the birds, it won't fire. But other than that, it's a very fun, enjoyable game!
February 19, 2012
fun, exciting, play it over and over
it is a fantastic marble popping game. i would recommend it to my friends.
December 3, 2011
The Apple logo is a trademark of Apple Computer, Inc.