Nightmare on the Pacific
The Brooks family boarded the Neptune hoping for a relaxing family vacation, but what they got was an incredible adventure! After the cruise ship encounters an incredible storm, it's left sinking in the Pacific Ocean with everyone on board! Live through a Nightmare on the Pacific in this exciting Hidden Object game. Put survival first and help the Brooks family make it out of the Neptune alive!
Breathtaking adventure
Fantastic action
Survive a cruise ship disaster
Game System Requirements:
OS:

Windows Vista/8

CPU:

1.6 GHz

RAM:

128 MB

DirectX:

9.0

Hard Drive:

191 MB
Game Manager System Requirements:
Browser:

Internet Explorer 7 or later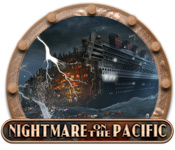 NEW299
The Big Fish Guarantee:
Quality tested and virus free.
No ads, no adware, no spyware.

Reviews at a Glance

Nightmare on the Pacific
0
out of
5 (
0
Reviews
Review
)
Customer Reviews
Nightmare on the Pacific
31
31
Very Enjoyable
I really enjoyed this game. There was a real sense of urgency imparted by the graphics and the plot. The voice acting was exceptionally good. The background noises (no music) were sufficiently creepy and were not annoying. The hidden object scenes were tougher than the average but that makes it more fun for me. The mini-games were actually somewhat on point and not too hard. The places where you had to use your inventory on the various rooms were more creative than usual, not just "find the key for the proper lock." Yes, maybe it is a bit silly to be playing slot machine games while the ship is going down, but by and large this game was well above average and I recommend it.
January 19, 2012
Fast pace is a great change of pace!
Not going to list a lot of specifics as there are usually enough detailed reviews written before I get around to playing a game (have a back log). Just wanted to say in general this was F.U.N. 2 P.L.A.Y. and since I bought it on sale...it was a real steal for the $$ leaving me not a bit bothered that the game was on the shorter side. One of the first games I've played from start to finish in one sitting in a very-very long time...thoroughly enjoyed it and hope you do as well!
June 26, 2012
Like Being in a Movie!
For me, a good balance between HO & adventure. I like both but enjoy HOS more. Graphics & sound excellent -like an animated movie. Searches & games not too hard but I had to use hints & help a few times. Has voiceover so no reading dialogue -which for me in most games is predictable, dull & just slows the game down. This story, sound & graphics made feel the intensity of the situation & I actually felt the urgency of the task at hand! I enjoyed the trial & bought the game immediately.
August 12, 2012
Entertaining
Great game, lots of fun, bright realistic locations and grafic
November 20, 2011
Nightmare on the Pacific
It was exciting without being too gory.
January 12, 2012
Very realistic!
Great visual game-realistic scenes and mounting sense of urgency-bring me more of these!
April 20, 2012
Interactive Poseidon Adventure. Exceptionally Cinematic.
What makes this game extraordinary is the atmosphere. A very strong feeling of impending doom is created by using excellent ambient noise (realistic sounds of a ship falling apart), parts of the ship falling around you and characters' voices crying for help. Right from the beginning you feel an urgency to get on with it as fast as you possibly can. This game draws you into story as none other I've ever played. If you're old enough to recognize the movie you know exactly what to expect, and you'll enjoy this very cinematic game. You play the wife in a family stranded on a rapidly and noisily disintegrating ocean liner. You're separated from the others, so your task is obvious. Rescue the others and get off the ship. I found the graphics great, and the map essential - there are a lot of locations. Though others complained about its length it took me several hours to complete. I did have to use the walkthrough more than I'd have liked, but thank goodness it was there. The gameplay was logical enough, although at times you do have to think outside the box. I'd say that trying would be a great idea, if only for the unusual experience.
January 30, 2012
Great story idea.
I thought the story for this game was great. You can relate to the mother's fears for her family and the fact that she would not abandon them on a sinking ship. Although there are numerous hidden object scenes, I would have classified it as a Hidden Object/Puzzle/Adventure game with more emphasis on the adventure aspect. There is a map to help you move from place to place, but it is not interactive. I didn't find the diary to be as helpful as it could be. When you have to play the game in several sessions, it can be useful to re-read a diary in order to recall what has gone on before. This diary just seemed to list goals and whether or not they had been achieved. The hint system is really only useful for the hidden object scenes. In other parts of the game, the hint system just gives general ideas on how to play the game. I found the video cutscenes to be very good as well as the other scene drawings. I had more difficulty though with the hidden object scenes. I found some of the objects to be too small and not as crisp as I would have liked so I used the hint button more than I usually do. I wish the hint button had refreshed faster than it did. Puzzles/ mini-games had brief directions and a skip button.
February 20, 2012
Adrenalin Rush - Quite An Adventure!
PLUS SIDE: I really enjoyed this game, although I will now think twice about going on a cruise ship during hurricane season! This is a Hidden Object game, where you will pick up items for your inventory, search a lot of Hidden object scenes, and solve a few easy-to-do puzzles. The story is about a family who is trapped in the midst of a hurricane storm on a cruise ship that is sinking and has turned upside down (think "Poseidon Adventure" in a PC game). From the opening cutscenes, which were like a movie, I was engaged in the story as the mother who is trying to rescue her family and get them off the ship. Although the game only lasted about two-and-a-half hours, there was constant action in every scene. There are also voiceovers for all characters. The graphics were great, and the background sounds of a creaking ship and breaking/crashing items really added to the game experience. But I almost felt a little tired from climbing up ladders and then down hatches and elevator shafts to get around the ship! I cheered for the brave folks who served as rescue staff, especially in the opening scenes when the rescue helicopters are being dispatched. Other features in this game include a helpful map (although not interactive it helped me figure out my way around the ship) and you can earn achievement rankings in this game. You will search for 13 items to get the ranking of expert collector. Other achievements are for solving all puzzles. MINUS SIDE: Although the story ending in this version is satisfactory, I wish more time had been spent in the latter chapters rescuing the daughter and the father. Also, at times the voiceovers became a little strident, but I would probably sound just as stressed and out of breath if I was on a sinking ship!
January 12, 2012
Definitely worth the DD price!
I have only played the demo in casual mode, and purchased this game for the DD price, even before my hour trial was up! This game plays like a movie in some aspects. The graphics and sound are crisp, clear, and very well done! The cut scenes are like watching a movie, and I really like that, but at times the pixels can get a bit scrambled in some areas. There is a lot of movement in all of the scenes, such as falling or windblown debris, fires, rain, sparks, etc. The voice overs and sound effects are well acted and believable. The music is suspenseful, and can sometimes be a bit on the obtrusive side. The hints are very helpful in the HOS, and recharge quickly, however they don't help much with trying to figure out what to do next. The diary and map are of some help with that, though. The map shows you where you can go, and if there are things to do in each area. You have to figure out for yourself where to use and what to do with your inventory items, and where to go next, which can be a challenge. The storyline is intriguing, and this is most definitely an adventure with a sense of urgency. The puzzles are easy enough, and logical. The HOS are crisp and clear, but in some areas it can be a bit dark/greyish at times. The HO themselves are the right size, distinguishable, and cleverly hidden, though a couple can be quite small. As an added bonus, there are achievements that you can earn by completing the puzzles, and finding some extra HO throughout the scenes of the game. There are grammatical errors, and misspellings in the script, but it didn't really bother me. Based on the demo, I'm guessing that this game will take a while for me to complete, making it well worth the DD price! I recommend that all skill level gamers at least give this one a try! More experienced gamers can choose to play on a harder mode. Remember, always try before you buy!
January 12, 2012
The Apple logo is a trademark of Apple Computer, Inc.