Nightmare on the Pacific
The Brooks family boarded the Neptune hoping for a relaxing family vacation, but what they got was an incredible adventure! After the cruise ship encounters an incredible storm, it's left sinking in the Pacific Ocean with everyone on board! Live through a Nightmare on the Pacific in this exciting Hidden Object game. Put survival first and help the Brooks family make it out of the Neptune alive!
Breathtaking adventure
Fantastic action
Survive a cruise ship disaster
Game System Requirements:
OS:

Windows Vista/8

CPU:

1.6 GHz

RAM:

128 MB

DirectX:

9.0

Hard Drive:

191 MB
Game Manager System Requirements:
Browser:

Internet Explorer 7 or later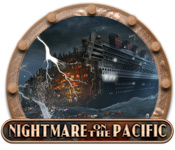 NEW299
The Big Fish Guarantee:
Quality tested and virus free.
No ads, no adware, no spyware.

Reviews at a Glance

Nightmare on the Pacific
0
out of
5 (
0
Reviews
Review
)
Customer Reviews
Nightmare on the Pacific
31
31
Another Fun Hidden Object Game.
This game was one of my original daily deal purchases and I did not regret it. While the graphics and sound were not as good as those in later games (like Escape from Ravenhearst), it kept me interested throughout. The puzzles required some thought and the hidden object scenes were good. The ending was as simple as you would expect...but I play more for the gameplay than the storyline. It seems that most of these games are simplistic as far as plots go.....
March 21, 2012
Intense From the First Scene! Not a Bad Game At All!
It?s been awhile since I played this but from memory you won?t get much! Ha! I didn't put it in my ?JUNK? file, it?s in my ?Play Again? file so it must have redeeming qualities! It?s a very fast paced game from the start with a Map showing your tasks! You play a Mom/Wife looking for your 2 children and Husband all lost in different parts of the huge Cruise ship ?Neptune? that is sinking fast! Some things are silly, like you wouldn't stop and play a Slot machine in the Casino when your looking urgently for your missing family.. Well, I wouldn't anyway LOL. Besides the occasional ?Why did they put that in here? it?s a pretty intense game that makes your pulse race and you feel like you have to hurry up or else your all doomed!! You need to think it out when at times nothing makes sense. I was stuck a few times and had to close out and look at the Walkthrough. The ?Aquarium? fish puzzle is one that comes to mind and how to climb out the window and up the side rails! Musical score is excellent and other sound effects such as your sons screams for help and you coughing and sputtering like you really went under water! The creaking breaking ship were well done as was the Coast Guard and visual helicopter! Graphics were very clear and realistic looking! Then there is that pause and reflect time when you can?t help but think, If I was a Mom on a family cruise, no way would I have MacGyver like skills! Example: When she finds her Son the water?s rising fast so she has to shut of the main valve.. How would she know how to do that? There is a lot of that in here but the over-all game is more like your in a disaster movie you?re the star and will prevail as a hero!
January 19, 2013
Pretty good game, not for me
This is based on the demo only. I managed about 40 minutes of it before stepping out. Pros: Terrific graphics and sound effects Ambience feels just like a sinking ocean liner. Good enough to create the kind of anxiety and fear one would experience on a sinking ship. Cons: Ambience feels just like a sinking ocean liner. My stress and fear levels were very high from trying to navigate this game. So I decided to stop. HOS are too difficult and too distracting. I like my HOs to flow right along, and some objects I couldn't find even with the hint. Neutral: Navigation is difficult, but I think that goes with the theme of the game. I recommend the game, but not if you're afraid of the water, tight spaces or death in general.
November 23, 2012
Yes it was a nightmare
Was interesting enough but I did find that you had to retrace your steps too many times actually it would have been helpful if the map could be used to jump from scene to scene as I have noticed in other games. Other than it wasn't your usual HO it did get intence trying to help the other that were trapped. I would recommend anyone that seems interested in purchasing the game would be to play the Demo first. All and all good adventure game Sunsetsky
January 12, 2012
Very Well-done Game, But Something That Threw Me Off...
Nightmare on the Pacific yesterday. Whilst there are no ghosts, creepy crawlies or macabre of any kind, I would still deem this a D&E game for the horrifying reality of the situation you find yourself in. And yet, it's the reality of the game that threw me off. If you're going to give us a horrifying real-life story, make it friggin' realistic! Because I was focused on the reality, physics and logic kept butting in to make me say, "What the h3ll?!" Beautiful graphics, a definite sense of urgency, fairly good voice acting, but c'mon! Some of the tasks they require you to do are absolutely ridiculous, reminiscent of Curse of the Opera when you have to pour gasoline on a fire. There is a ton of back-and-forth to the game, which I usually enjoy, but in this game it was tedious because you had to retrace your steps over and over again. I got it for a good price, and it was worth playing, but I wish they had made the tasks and situations a bit more believable. The lack of believablility greatly impacted my enjoyment of the game, and hence has lowered my initial scoring (from the demo) of the game from 5-stars to 3.
December 17, 2011
A nightmare that won't give you nightmares
The title seemed like a good omen, not because I delight in catastrophes, but because the basic idea was original and the promise of an exciting adventure. But this promise wasn't kept; the lack of credibility of many tasks and actions was a cause of deep disappointment. Here is a game that sets an awful situation in a very realistic and convincing way but half the tasks are either irrelevant, futile or utterly unrealistic. Three examples without giving too much away [there's a walkthrough, anyway]: - irrelevant: the HO Scenes. The game would have been 10 times better if there weren't any, if everything had been conceived as a pure adventure in the style of The Last Express or Paradise. Because they act as interruptions, these scenes destroy the atmosphere of urgency which should have been kept intact and brought from a low level up to a climax. Looking for a crab, an elephant or a paper plane in those circumstances is out of place. - futile: imagine yourself on a sinking liner; would you really be concerned with searching for a stuffed panda, a book or a toy car just because they are your kid's belongings ? I wouldn't. - unrealistic: like using tweezers to reach for your suitcase keys which happen to be inside a vent, or walking along the edge of the upper deck to go to the helipad. All that in water up to your chin while you're inside, on a ship in distress that's pitching bow to stern, starboard to portside on a roaring sea. Not to mention a visit to the engine room while the upper decks are under water... uuuhh ??? Chances are that, in a real situation, you'd never find the flippin' keys and you'd be thrown overboard by a huge wave. Objection ! It's only a game ! Granted. But why not make it perfectly realistic instead ? The basic idea is good, and the graphics as well as the gameplay show the developers are skilled enough to turn a HOG into a true adventure. I would have preferred it to be so, with moments full of suspense and true danger in which the heroine can die [like in certain Nancy Drew investigations - but you get a second chance !]. Had this game been 100% nightmarish and realistic I would have given it 5 stars. Still recommended because the game is good in some respects and can be enjoyed if you are not too demanding.
January 12, 2012
Had a great potential... as an adventure game
I must admit, since the first minutes of play, I was really impressed by the incredibly realistic atmosphere, the movie-like cutscenes and the immersive storyline... you really feel like you're racing against time to find your family trapped somewhere in the sinking ship, hoping to find them alive to finally escape this nightmare. There isn't any unnecessary and inappropriate music in the background, just the sounds of the ship and storm, and sometimes voices calling for help, coming from other parts of the ship, or the music that keeps playing from some of the places like the casino, bar etc. Graphic is very realistic as well, nothing super artistic or fairy-tale like, just the real awful view you would expect to see, being in a sinking ship, with water flooding rooms, objects floating, some parts of the ship upside down etc. The voice acting is good as well, you can really feel the fear and anxiety in the woman's voice. Now, to what turned me off. First, the first hour gave me the idea it is a very, very short game. I think after the first 40 minutes I already got to half game (judging by the chapter list) and I found her son in the very first 10 minutes I believe? I imagined the whole game would have lasted not much more so I don't think I'll buy it. Also, I find it so unfit for a HOG. As I said it is a very immersive game, which put you in a real distress as if you actually were in a rush to save your family, while other HOGs rarely make you feel this way. That's why having to do a lot of HOS kind of "broke" this atmosphere; it really made me feel like wasting time searching for absolutely useless objects and seriously put down all my excitement. They were too many, and distracting from the story. If it was an adventure game and was overall longer (like requiring more searching of the ship and more obstacles to find the members of your family or other survivors) then I would absolutely give it 5 stars because it has the potential to be a great game. But I still recommend at least to try it, and then decide if buying it or not.
May 22, 2012
A So-So game
the story line for this game was quite nice. there is no hint button, alot of back and forth, no real direction on where and what u need to do...is like u need to help ur son now u would think it would not take that long but when u go to another room there is a stranger u need to help well...u get the fire out now u got to free him to get him to help u free your son from the pool. i mean how rediculous is that? it is neither that fun or that challenging to me...so i advise u to use the full demo hour b4 making ur decision...and u will probably need the blog walkthru on this one peeps i wont be spending my 2.99 on it thats for sure lol take care and happy gaming!
January 12, 2012
Nightmare on the Pacific
This game would have been way way better if it wasnt for the backwards and forwards continuously throughout the game. Drove me round the bend. Otherwise its ok.
January 24, 2013
An okay game
I purchased this game on the "daily deal" special...so for 2.99 it was a pretty good game for the price. The graphics were okay and the mini games weren't too hard. The game was over quick though, so that was a little disappointing. Not my fav game ever, but was entertaining for a sort while.
January 13, 2012
The Apple logo is a trademark of Apple Computer, Inc.