Chronicles of Mystery: Tree of Life
For centuries people have risked their lives and committed unspeakable crimes to discover the secrets of The Tree of Life. Times have changed, but not human nature. Sylvie Leroux, a young archaeologist and adventurer, is working to solve the mystery that surrounds the legend, but is tempted by the same promises like so many others before her. Dive into Chronicles of Mystery: The Tree of Life, a fun Adventure game.
Beautiful locations
Colorful cast of characters
Find the Tree of Life!
Game System Requirements:
OS:

Windows XP/Vista/8

CPU:

2.0 GHz

RAM:

512 MB

DirectX:

9.1

Hard Drive:

1716 MB
Game Manager System Requirements:
Browser:

Internet Explorer 7 or later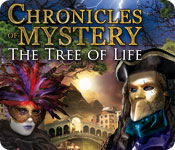 NEW299
The Big Fish Guarantee:
Quality tested and virus free.
No ads, no adware, no spyware.

Reviews at a Glance

Chronicles of Mystery: Tree of Life
0
out of
5 (
0
Reviews
Review
)
Customer Reviews
Chronicles of Mystery: Tree of Life
19
19
THIS is an Adventure game!
Now THIS is what an adventure game should be! The story is interesting, the graphics/video (not sure which to call it) is great. Why can?t they have this visually in ALL pc games of our genre? There are no HOG?s (yea!) you do have a ? button, call it a hint button or a map of sorts. I used it! This is not an extremely difficult game to play. If you?re not familiar with adventure games it may be confusing at first. Please don?t quite. Use that ? button! You play an archeologist who investigates an antique chest and that leads you to different parts of the world and into a story that is fascinating. There is quite a bit of conversation between your characters so be prepared for some reading. At first it was a little disappointing at the amount of conversation, but then it just becomes part of the story and helps to relate to the characters. There is even some humor and funny situations (fountain in Venice), actually made me chuckle. It has some length, I played several hours a day and it lasted for 3-4 days. I definitely got enjoyment and my money?s worth. I hope you will try to play. BFG also has a walkthrough, and there will be times you will probably need to refer to it, I did.
April 7, 2012
chronicles of mystery the tree of life
I thought quite highly of this game and found it to be engrossing, exciting and challenging. Some of the dialogues were too long but they could always be cut short at the player's discretion. This is another game that I would place on the top level with Syberia, Syberia II, Chronicles of Mystery: The Scorpio Ritual, Journey to the Center of the Earth, the Nicole Bonnet Art of Murder Trilogy and the best of the Drew series. But, what happened to Sylvie Laroux at the end?
April 7, 2012
Paul
Being a keen avid point and click gamer player I would definately put this in the top ten favourates. Buy it, you won't be disappointed, to me its up there with Syberia.
January 8, 2012
A Good Adventure Style Game
I miss the old days when PC adventure games were more popular. This one took me back to those happy days. The graphics were nice, the plot was good, though a little odd, and I enjoyed it end to end. (Ok, some of the dialog went on a bit long). Overall, I really good game.
January 15, 2012
One of my favourites
This game was my second "Chronicles of mystery" game, and its even more exciting and more tricky as "Chronicles of mysteries: The Scorpio Ritual". Excellent Graphics, some very difficult things to solve. For players who loved "Scorpio Ritual", they will adore this one. Definitely one of my favourites.
February 27, 2012
An unexpected great ending!
You get involve with Nichole and her search for articles linked to the Tree of Life. It looks like a movie-game where you help the main character and you are part of the development of the story. It's better than a movie because you are part of it and you need to finish all tasks to see the incredible ending. I love long files because they are out of the extraordinary with difficult challenges no seen in regular games. Don't feel bad if you have to look for help in a walk-through site because sometimes even with the walk-through you have to accomplish a lot on your own to finish the tasks.
April 30, 2012
Excellence! A Truly Great Story!
Another of City Interactive's classic as well as excellent point and click adventure games. A true adventure with many twists and turns to try and discover if the Tree of Life is a myth or a reality. Such depth and intensity is well worth five-plus stars. All of the Chronicles of Mystery are life-like and 3-D and seems like you have jumped into an interactive novel especially when several escape scenes must be completed within a certain time frame. The release dates for those interested Gamers follows. They are all-- Chronicles of Mystery: 1. Scorpio Ritual - Released in Nov. 2008 2. The Tree of Life - Released in Dec. 2009 3. Legend of the Sacred Treasure - Nov. 2010 4. Secret of the Lost Kingdom - April 2011 One of many positives in being a BFG Member/Adventure Game Lover is that I can play a Large File game and then delete afterwards knowing I can always download at a later date so as to free up my computer memory. Highly recommend this Adventure! Enjoy! -Mama Mia-
August 28, 2012
Middling
I like these types of games, it's a change from HOS'; where one has to put the clues together and search a lot more thoroughly. Kept me on my toes, it did. The graphics were a bit dark, but all these large file games seem to be this way; the music was OK, unobtrusive once the options were accessed and fine-tuned. I liked the story; it kept me engaged and curious as to how this was all going to unfold. A true mystery and a couple of mythical legends were blended together well, although it does not do justice to those who are part of the true mystery. The main character, Sylvie, was a bit too trusting and open for someone who dealt in unveiling secrets, as much has to be kept close to the chest until the appropriate time. But there she was, spreading the good news all over the place in face of the events happening around her. Unfortunately, she had to be this way in order to move the game forward. However, despite all the goodies (and there are more), I have to admit my patience was wearing thin by the time I was midway through. Lots and lots of glitches! Many, many saves required. But for me the real problem was that for all the talk & "thinking" going on, there weren't more clues within all these lengthy conversations lessening the need to go to walkthroughs (yes, plural). And speaking of walkthoughs, what's up with that? Needing more than one is a little trying, but more than two is pathetic! It reveals how lacking they were in giving precise directions and in showing pictures that were USEFUL! So the game is Middling for me. I enjoyed some aspects of it (the story; the hunt), but those I did not were more pronounced (walkthroughs; long conversations that rarely moved the story forward). Definitely would recommend to those who have more patience than I, but certainly not to those who may be new to these types of games (large file) as it may turn them off to those which are much better made.
January 13, 2013
Another "Art of Murder" thriller
If you played the art of murder series you will like this one. It is exactly the same...only the names have changed. The plot It is a lot like Syberia II except we have sinister people afoot trying to prevent the ultimate goal...finding the "tree of life". There is a lot of good adventure along the way which makes playing the game a real joy. I would have given this 5 stars but I found the dialog too wordy and the ending not to my liking , however, these are minor points.
June 5, 2012
Really 3.5 stars - the Ending Felt Rushed...
I took off the star-and-a-half, only because the ending was ... a little strange. The gameplay was good; smooth with no bugs that I can recall. The story was good, the length of play more than adequate. I can do very hard puzzles but don't crave them. These were again adequate for my purposes; not easy by any means but not scratch your head for hours either. The ending though was unsatisfactory. Everything happened really quickly, some of it didn't make sense and the story wasn't tidied up. It's still worthy of the time taken for play, and at BFG prices it is worth the cost. Just not head over heels for this one.
January 6, 2012