RealMYST
Experience the world of RealMYST in 3D! Solve perplexing puzzles and return to one of the most popular PC games of all time! Swaying trees and independently roaming animals add life to the formerly static Myst worlds. The RealMYST game includes the complete original Myst game, along with an all-new fifth age, called the Rime Age, which provides a complete ending to the original mystery.
Classic storyline
Incredible gameplay
Experience the world of Myst!
Check out our Blog Walkthrough!
Game System Requirements:
OS:

Windows XP/8

CPU:

600 Mhz

RAM:

128 MB

DirectX:

6.0

Hard Drive:

627 MB
Game Manager System Requirements:
Browser:

Internet Explorer 7 or later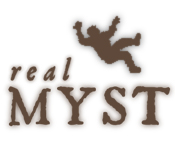 NEW299
The Big Fish Guarantee:
Quality tested and virus free.
No ads, no adware, no spyware.

Reviews at a Glance

RealMYST
0
out of
5 (
0
Reviews
Review
)
Customer Reviews
AHEAD OF IT'S TIME AND STILL A MASTERPIECE!
Way to go BFG! You did it again! Finally, able to download, play and save MYST on any of my computer Operating Systems! Thank you! An immediate purchase for me of this challenging adventure, sci-fi, mystery Masterpiece! We Adventure Game Lovers ARE out here! Would love to see the Riven Sequels as well as more like this type of game that is NOT Hidden Object.
February 24, 2012
Takes me Back to Older Adventure Games
I have always loved Myst. I remember like it was yesterday taking my time looking around not worrying about no one chasing you or killing you. These are the Adventure Games I miss I wish they would make more like it these days. Oh and for those who do not kow how to save press the esc button you will be able to save then after picking a square. Once again I am so glad BG has this game instead of me dual booting to older osor using an older laptop with an older os
June 16, 2012
I LOVE THIS GAME!
i played the Myst series when it first came out years ago and loved it then. At that time the graphics were cutting edge. They've stood up well. Myst and the other Ages are as beautiful as ever. One of my favorite things is how logical it all is. If I find a generator in a building I can go outside and follow the power lines to find what I'll be turning on when I hit the switch. The puzzles can be reasoned out. I've played about 70 or so Big Fish games and this is by far the best. I can't wait for Riven!
June 29, 2012
Better than the original!
I like this version of MYST because it is a lot easier to move around and interact with things in this version than the original MYST. I will definitely be buying this game! Great job to the makers of RealMYST!
January 21, 2012
A classic and a fun challenge
The original Myst was a real classic that started a new subgenre within the adventure game genre. "Real Myst" is Myst with free movement in 3D rather than movement between predecided points and an extra location to explore. The game takes place on the island of Myst and a number of other locations that are connected to Myst through books. The protagonist is anonymous and the game starts without any introduction leaving it up to you to figure out what to do. Hints are given in notes, books and video messages left on the island. The best aspect of the game is the puzzles. The puzzles are mainly based on figuring out how to operate various pieces of machinery on Myst and in the other locations that can be reached from Myst. The puzzles are challenging and solving them requires paying careful attention to everything you see, read and last but certainly not least hear. However puzzle solutions are always logical and make perfect sense once you figure them out. The graphics are very good. The game world is detailed and well designed and the style of the graphics is highly appropriate and contributes to the atmosphere of the game. There isn't much music in the game, but the little music that there is is good and is used at appropriate occasions. Sound effects play a more important role in the game as paying attention to sounds play an important role in solving some of the puzzles. This results in some quite original and fun puzzles. The weakest aspect of the game is probably the story. There is some interesting back story to read in the books on Myst but the gameplay is almost exclusively about exploring the worlds that can be reached from Myst and the actions you take during the game don't advance the story until towards the very end. All in all this is a great game with challenging but fair puzzles, very good graphics and a large and well designed world to explore. I would recommend it to anyone who likes adventure games and who is not afraid of a challenge.
December 19, 2012
RealMyst
I own the whole Myst series on Playstation 1 & the Computer version also. RealMyst plays almost like Myst part 1 on the Playstation 1. Thank You I love it.
December 4, 2011
My favorite game of all time!
If you haven't ever played Myst DO IT!! and if you have enjoy it again ;)
February 17, 2012
Can't play what you can't save
This, to me, was one of the greatest series of games ever created. When I found it here I couldn't wait to share the experience with my wife. Unfortunately I have not found a way to save my progress which renders this game due to it's complex story line unplayable.
February 19, 2012
Fantastic game, ruined with 3D
I loved, loved, loved the original Myst--spent weeks playing it, bought every new game in the series when it came out, and have remembered it fondly through the years, wishing I could play it again with the newer operating systems. When I saw this on BigFish I was SO EXCITED!!! I didn't even read the description; I just bought it immediately. No reason to try the demo of a game I already loved, right? Boy, was I wrong. They have totally ruined the Myst experience by making it 3D. The original Myst had beautiful music, gorgeous graphics, and intriguing and challenging puzzles. The music is just as beautiful, and the graphics are still gorgeous--but only if you're standing still. If you move at all, using the cursor or the direction keys, movement is so fast and dizzying that it totally destroys the dreamy complexity of the original design. I have to tap the direction keys just slightly to move anywhere, or else I'm zooming around bumping into walls or zipping past the spot I meant to stop at. It is INFURIATING and soooo disappointing. I assume the puzzles are still just as challenging and enjoyable, but I'm not going to play the game anymore to get to any puzzles because the 3D movement is so disorienting. If you loved the original Myst and think this is the same game, I strongly recommend downloading the trial first. You'll be disappointed.
December 29, 2012
RealMyst is a Real Must
RealMyst is an immersive 3D experience taxes the gamer's deductive reasoning skills. It is not a gratuitous hidden object game. All tasks are very carefully reasoned elements. Graphics are Superb. I can't believe that this hasn't got more reviews. It is based on the original Myst game but is much more than that; the 3D environment has to be experienced to be appreciated. I had some issues at first in getting it to work with Windows 8 (game saving), but it does work well. I am quite sure it will work admirably with earlier versions of Windows. You will not regret trying it. I wish Big Fish would have more games like this one.
March 11, 2013