The Secret Legacy: A Kate Brooks Adventure
Explore Egypt and discover The Secret Legacy of Kate Brooks' grandmother in this exciting Hidden Object Adventure game! After being given the grim task of cleaning out her deceased grandmother's office, Kate discovers a letter that describes an entire Secret Legacy! Travel across the globe and uncover a buried treasure! Collect the clues to the mystery behind Kate's grandmother's death and save the day!
Incredible atmosphere
Fantastic storyline
Discover The Secret Legacy!
Game System Requirements:
OS:

Windows XP/Vista/8

CPU:

1.6 GHz

RAM:

1024 MB

DirectX:

9.0

Hard Drive:

532 MB
Game Manager System Requirements:
Browser:

Internet Explorer 7 or later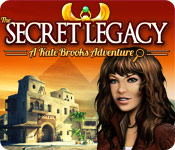 NEW299
The Big Fish Guarantee:
Quality tested and virus free.
No ads, no adware, no spyware.

Reviews at a Glance

The Secret Legacy: A Kate Brooks Adventure
0
out of
5 (
0
Reviews
Review
)
Customer Reviews
The Secret Legacy: A Kate Brooks Adventure
11
11
Entertaining
I really like this game, the story is ocay, bright grafic
November 20, 2011
Visually impeccable
I believe that this game can have its place in a HOG lover's library. I prefer adventures but Secret Legacy fascinated me during the whole of the demo. The reason ? Its graphics: stunning ! So neat, so crisp, a palette of soft, extremely subtle colors, almost pastel in places, with a variety of beautiful hues. The panoramic view is another of its nice features: the Virtual 3D enables you to scroll each location left and right. The effect is superb. But the scrolling has another purpose: several hidden items can only be found by changing the viewing angle. Secret Legacy is a pure HOG. Very little action and only a couple of puzzles ! On the easier of the two modes, hints help you with the HO Scenes but won't give directions or tell you what to do next. In fact each location is a HOS, and in addition, within them, clicking on a hot spot opens another HOS. These HO Scenes are neat, yet many items are small and difficult to spot. They are given in a list or as black silhouettes Due to the linearity of the game, there is no bactracking. As you go along you collect egyptian tablets which provide some information on the history of Egypt and serve as a diary. The puzzles are by no means the strong point of this game; all are classics: tangram, slider [parking-lot type], gears..... The intro is a bit weird, cartoonish but pleasant nonetheless. The intro music is very strange, and parts of the in-game soundtrack quite amusing. I would recommend Secret Legacy to all those who are particularly keen on hidden objects, or are looking for a rather relaxing game, hence my 4 star rating, but die-hard adventurers like me will probably neither appreciate the linearity, the absence of action, the rare useful items, the too small amount of puzzles, the lack in variety of locales, nor the fact that the game doesn't require much thinking. Still, it is really worth a good look, so the best is to play the trial version and take it from there.
January 6, 2012
This game is a challenge
This game was enjoyable to play, but it was also very challenging. Kate's grandmother was an archaeologist, and she died before completing her biggest discovery. Kate goes to Egypt to take over where her grandmother left off. The HO scenes were interesting, being able to move them from side to side, but the objects were so well hidden that I quite frequently had to use the hint button. It took a long time to recharge. In each scene there were multiple things to do. There were two lists of objects, silhouettes, and then one or two activities. It was very challenging at times to figure out what you were supposed to do next. There was some backtracking, but not as much as in some of the newer games. One thing that irritated me about this game was that I would at times click several times on an object, sure that it was what I was looking for, but nothing would happen. Then I would click the hint button and it would go to that object. If I clicked in just the right place it worked after all. I thought the story line was interesting and well done. This is not the most exciting game in the world, but I enjoyed working out all the steps and felt challenged to find all the objects. I do recommend this game.
September 20, 2014
Either Love It Or Hate It
I loved this game. I noticed that some reviewers didn't care for it. Personally, I found that the HOS's were a little tough in places, but I liked the challenges. The scenes were very nice, and I like the scanning ability where you can move to the right and left and see more of the scenes from different perspectives. I enjoyed the puzzles and the characters, and got plenty of play time. Good game for me.
January 1, 2013
Not my cup of tea
Visually the art and the music were good. The storyline didn't tell me much of anything and I got bored within 15 minutes. The hidden objects were difficult to find, one because of there size and secondly because everything was junked up and also all small in size. When I used the directional arrows at the bottom to get to the other side of the room, I kept getting the "freeze" situation because I had clicked to often. There was no directional information and you had to guess where you were going next. It was an okay game, but I wouldn't recommend it.
September 29, 2012
nothing much to speak of
game play is ok... nothing much happening .. story is very poor.. could have been better... graphics of game just mediocore.. will let his pass by .. no thanks..
September 29, 2012
Just average
The graphics are OK. The storyline is non-existent. I got almost half way through the game during the demo nothing had happened. Grandma dies, she clears out the office finds a key to grandmas home and goes through the place. That is the entire plot for half of the story. The HOGS were my problem. First, things were mislabeled. You're told to find something and they actually wanted something different. Then there was a scene where they wanted you to click on a sculpture. I clicked on three of them without luck. Finally found the one they wanted you to find. There just simply should not be duplicates of what you're trying to find. So just a really forgettable game.
March 21, 2012
i didn't like this game
this is the lowest score i can remember giving a game. i went back through the reviews and it didn't seem like the same game they were reviewing. the scenes were dark and hard to find HO and the objects were very small. i don't play with sound so i can't rate that. i would not recommend this game for any reason. save your money for something else. i was really disappointed because i bought the game due to the reviews and they weren't all that great but a few talked about the good graphics and i didn't see that anywhere. the hint and skip were slow in charging. i just didn't like it at all!!!
November 18, 2012
Totally boring
Just one HOS after another, with objects that sometimes are so tiny or so blended into the background that it is hard to find them, even with a hint. Two kinds of HOS in the same location, one with a list, one with silhouettes. Boring, boring, boring. The hint button takes a full two minutes to recharge. The minigames are ridiculously easy. The only plus to this game is the graphic quality. As for the rest, no need to bother, unless you are totally into HOG.
October 6, 2012
The secret Legacy: A Kate Brooks Adventure
Could possibly be a fun game if some of the hidden objects weren' so hard to click on to; and this is not a technical issue.
September 29, 2012