Spirit Seasons: Little Ghost Story
Explore the Blindhill Place manor and meet the ghost of Agatha, a young girl who is haunting the huge mansion! Listen to her tale and uncover the truth of the famed home. Get Jacob the old butler's side of the story and unravel an old mystery in Spirit Seasons: Little Ghost Story. Search through gorgeous Hidden Object scenes and piece together perplexing puzzles to uncover the family vault!
Intriguing storyline
Spooky scenes
Explore the manor!
Game System Requirements:
OS:

Windows XP/Vista/8

CPU:

1.0 GHz

RAM:

512 MB

DirectX:

9.0

Hard Drive:

188 MB
Game Manager System Requirements:
Browser:

Internet Explorer 7 or later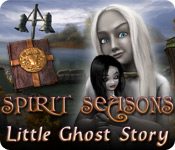 NEW299
The Big Fish Guarantee:
Quality tested and virus free.
No ads, no adware, no spyware.

Reviews at a Glance

Spirit Seasons: Little Ghost Story
0
out of
5 (
0
Reviews
Review
)
Customer Reviews
Spirit Seasons: Little Ghost Story
33
33
The Perfect Daily Deal
I would not have been happy with this game if I'd paid full price for it, but as a Daily Deal, it's just right. It's a kind of HO mini-game! Is it a kid's game? I guess so, but I enjoyed it. That's good enough for me. It's too short and the story is too basic for a full game, but it is a simple adventure, with quite tricky HO scenes and plenty of them. There are lots of interactive items in each scene, and the scenes are clear (in windowed mode). The graphics are a little quirky, with curved lines and odd perspectives. There are multiple possible endings, and that adds a bit of extra flavour to the game. Because it's so quick, it's the ideal game for when you're too busy or distracted for a full-bore adventure game where serious challenges are posed. I always play casual mode in these games, not feeling confident yet to 'brave it alone', but I think this will be a good game to start on expert.
January 14, 2012
Very short
Nice graphics, even in the hidden object scenes. LOTS of hidden object scenes, which is a plus. Not many puzzles, and they were quite easy. Bottom line, I finished 5 of the 7 chapters in the one hour trial, even while watching some of the cut scenes to try and make sense of the story; so it's too short for me to be worth my money. But, I tend to play fast, so if you want something fairly high quality but not frustrating or difficult, this is a good game for you.
January 14, 2012
Great Game!!!!
My husband and I played it separately, to see who could come up with the correct ending, and..... we were both wrong!!! Now we are playing it again to see a differant ending. Good fun for the price!!!!
December 20, 2011
worth a look if you love hidden object scenes for a daily deal
When I first started playing this, I was all excited - an option to play with harder puzzles (and also harder to find hidden object scenes with no outline hint option)! The graphics were great and everything was going well. Some hidden object scenes were well done then it just seemed like there was one hidden object scene after another and some were pure junk piles, when the demo hour was over. And the puzzles were few and far between to take advantage of that excellent addition of harder option. Checking against the walkthrough after demo hour was up (to help judge length of game) I was over half way through. But don?t let that put you off buying it as I did have a couple of hours longer. So in all it was about 3hrs on hard. It is shorter than other games. There is an option for story at the end but there isn?t a right or wrong answer. The variety of settings of scenes/areas you are in is quite small for a game. But they are well done. The hint button is helpful (tells you what you should do next). If you like a lot of hidden object scenes and have a spare coupon or it?s a daily deal (I got it as a DD) you may like it. But I wouldn?t go expecting an A calibre HOPA as this isn?t it. It?s a laid back, small feeling, quaint easier game. If you like a lot of hidden object scenes then I?d give it a C+ if you are expecting a normal HOPA I?d give it a pass!
January 30, 2012
Cute, Relaxing, Easy IHOG!
This game is perfect for beginners through experienced gamers looking for a nice relaxing, easy, rainy day game for a change of pace! The graphics are done well, and the music/sound effects are unobtrusive. There are no voice overs, but a lot of snarky text to make you giggle! This is a very linear game, however, what I really enjoyed about this game is that you can make choices in what to say during convos, etc. I really like the IHOS, as there are so many little areas within the HOS to search and interact with! The scenes, cut scenes, and IHOS are crisp, clear, colorful, and beautifully drawn. The HO and inventory items themselves are of a proper size, and you do not need a magnifying glass to find them...a must for me. The storyline I find very interesting. There is much to do, and you do have to visit the HOS more than once, but with such beautiful graphics, it is enjoyable. I like easy games like this, that don't really tax my brain too much, every once in a while. This is definitely worth the DD price! There are different difficulty modes, so I'm sure that all gamers will find this game enjoyable! Remember, Try before you buy!
January 14, 2012
Nothing special.
It's a regular game, more indicated for younger people. Nice settings, sound ok, a lot of HOS, story is ok, but is not challenging at all - All you need is in your hands, next to where it will use. I played forty minutes and it was enough.
January 14, 2012
Short adventure game, good for Hidden Object fans.
If you are in the mood for an easy, mindless casual game with a bunch of hidden object scenes, then you will may enjoy this game. Overall it was an alright game for me, definitely on the easy side with lot's of hidden object scenes for those who love them. In general, I tolerate them. There were only about 15 scenes/locations/rooms throughout the entire game and during each part you were only able to go to a few of them until you completed your objectives. So for those who get overwhelmed in trying to figure out all of the objectives over a vast number of locations, this is definitely an easier game. The adventure part consisted of finding a few items in adjoining rooms or areas for the particular objective(s# and you were limited to being able to walk around anywhere/everywhere after you've discovered and explored an area. I played this game both on casual and expert mode. On the positives: Simple storyline, easy adventure, a little humour mixed with description of items when clicking on them, some good detailed graphics, two different possible endings to the game, interesting and relatively easy puzzle games, and lot's of HOS #for those who enjoy them). On the areas of improvement: Music was ok, but some of the random sound effects like foot steps and clanging was a bit annoying and out of place at times. It was more of a distraction than helping to create a spooky mood environment. There were interactive character dialogue whereby you had to select the questions or dialogue with the characters that to me were unrealistic. Example - "I'm going to get you ghost" or something like that, and in that situation, I would never say or react like that. So it would have been better to do it in third person than have it directed by me. I personally get annoyed when in HOS, the clicker is sensitive and in this game, it's after 3 wrong clicks. I've never understood that and it's a bit more frustrating to me when there are spelling errors or unclear graphics and you don't know what it is that they are asking. In expert mode a "syringe" was labeled "surgine" and I was trying to figure out what a "surgine" could possibly be. Go figure. Overall, it was ok. Nothing to rave about, but also quick and somewhat fun and interesting to play. I would definitely recommend demo'ing this game prior to purchase or getting it on sale. I would recommend this game to younger gamers, HOS fans and beginners looking for a casual and easy adventure game.
February 5, 2012
No so scary ghost story
Even though it's a ghost story, it's not very scary. The atmosphere is light. The plot was enjoyable, the puzzle were varied and the hidden object scenes were my favorite part. They were challenging without being dark or blurry, just well placed. Overall, a good buy for $2.99.
January 17, 2012
Good little game, good fun, worth playing
A simple blend of HOG and Adventure the originality of which lies in the double ending: the outcome is different depending on your final choice. The rest is pretty standard with a Casual and an Expert Mode. The HO Scenes are a bit of a mess but strangely enough spotting the HOs is not overly difficult especially with the help of a few hints. The adventure side is straightforward and the locations are varied enough not to revisit 10 times the same one. The puzzles are classics, and harder on Expert Mode. Instructions and goals are both clear. Graphicwise, the hand-drawn, nicely colored decor is quite pleasant to the eye and not as spooky as I had expected. Obviously you do have a ghost since that's the basis of the story, but she is not frightening at all. A long and interesting game which will keep you entertained for a few hours, worth considering a purchase especially on today's Daily Deal.
January 14, 2012
Nice, but way too short
Decent game with good art. Mini games are infrequent and nothing new. But my big problem is the length of the game. Without skips or hints, I was half way through Chapter 5 during the demo and there are only 7 chapters. So I'm not interested in throwing money at such a shortie, even if it were a DD.
February 1, 2012
The Apple logo is a trademark of Apple Computer, Inc.