Spirit Seasons: Little Ghost Story
Explore the Blindhill Place manor and meet the ghost of Agatha, a young girl who is haunting the huge mansion! Listen to her tale and uncover the truth of the famed home. Get Jacob the old butler's side of the story and unravel an old mystery in Spirit Seasons: Little Ghost Story. Search through gorgeous Hidden Object scenes and piece together perplexing puzzles to uncover the family vault!
Intriguing storyline
Spooky scenes
Explore the manor!
Game System Requirements:
OS:

Windows XP/Vista/8

CPU:

1.0 GHz

RAM:

512 MB

DirectX:

9.0

Hard Drive:

188 MB
Game Manager System Requirements:
Browser:

Internet Explorer 7 or later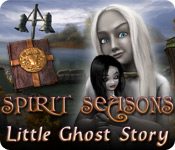 NEW299
The Big Fish Guarantee:
Quality tested and virus free.
No ads, no adware, no spyware.

Reviews at a Glance

Spirit Seasons: Little Ghost Story
0
out of
5 (
0
Reviews
Review
)
Customer Reviews
Spirit Seasons: Little Ghost Story
33
33
Almost very good!
Well, ESL dialog, but you can get past that. Pretty strange graphics at times and kind of cartoony, but that's no problem. Eerie story and music, and a few very simple puzzles, help make this a funky little sleeper game. At times, I'm in the mood for this game and I play it over again. Other times, not so much. Am I glad I bought it? I think so.
December 29, 2012
Twinkle, twinkle, little...ghost
I liked learning both sides of the Agatha's story. That was actually the only good thing in the game. Puzzles and HO scenes were easy and uninteresting. Little Ghost Story was also ridiculously short and that's why I do not recommend it. There are much better games.
September 14, 2012
Great game
Although not a real great game, it's good enough for most players who love HOGs. As a real-life ghost hunter, I found the story really interesting. This is the fist game I can remember where you have a choice of endings!
August 8, 2012
Two for the price of one
This game had a choice of two modes - casual and expert and it also had the choice of two endings. I chose to play the casual mode first and obviously chose the wrong ending so I went back and played it again in expert mode and chose the other ending. In choosing the mode to play is up to the individual and it tells you the differences before selecting. Had I chose the expert mode first it would have been a lot harder, more hidden objects in harder places, harder puzzles and no sparkles to indicate tasks. Having played the casual mode first I knew what was coming, where to look for it and how to get there so it was a bit easier. Having said all that the game started like so many others, car breaks down in front of old run-down mansion, door opened by an unsavoury character etc, but it developed well with a few quirky twists and descisions to be made and held my interest right through. The ghost of a little girl who is haunting the mansion has a different tale to tell than the crusty old butler who is being held against his will. The truth had to be sought and the ending selected. The dialogue I suppose was mostly needed in the progression of the game but there were a lot of notes, letters, cuttings and snippets of books to wade through as well. The music was macabre and eerie but was not intrisive. The graphics were cleanly defined, well drawn and colourful and this enabled the hidden objects to be found quite easily with just an occasional hint required. The puzzles were not too difficult in the casual mode but increased in difficulty in the expert mode. To sum up, a good solid game, plenty to do, plenty places to go and plenty hidden object scenes. In two words..plenty good.
July 29, 2012
Took me forever to play...
This game took me forever to finish but not because it was extremely long but because it was kind of boring. I remember when this came out and I really wanted to purchase it but I bought it recently for 2.99 and Im glad I didn't pay full price. The theme is the same as many other games. Car breaks down, trapped in a house with ghosts, must help them escape their demons blah blah. The thing with this game that is kind of cool is you decide the ending. I would love to know what happens if you choose the guy as I picked the girl but I can't say Id want to play this game again to find out. There were sooo many hidden object scenes and they were nice and the items were drawn well and they were somewhat interactive but there would be 3 per room and it was just overkill for me. If it would have had a few less than I would have finished the game quicker but Id need a break after going through so many in a short time. I got a better deal waiting but had I bought this when it first came out, I probably would have liked it more. The other cool thing is depending on what mode you play, (I played hard), you get different hidden objects and mini games in each one so essentially its like 2 games in one, if only it was a little more exciting...
May 17, 2012
MY KIND OF GAME
I thoroughly enjoyed playing this game because of the fact that I could use the inventory items almost as soon as they were received and through the comments and/or hint system was able to figure out what to do and where to go to do it. I only needed the usage of the walkthrough once (towards the end of the game) as to where to use one of the inventory items (to be honest, it still makes no sense) instead of having to refer to said walkthrough time and time again as I normally have to do when playing other games.
April 3, 2012
Once again....the kid in the story got to me....
ALERT: POSSIBLE SPOILER...but more like just a hint I'm such a 'softy' when it comes to children and animals that one of my motto's in life is: 'there are no bad children, only bad behaviors....and this after teaching math to at-risk teens and tutoring younger kids. So I very much enjoyed this little ghost story, Agatha, the child was hard to figure out...was she a good kid or a little stinker? What about Jacob, was he telling the truth or 'did the butler do it?' Lots of questions to be answered by a guy unfortunate enough to have his car breakdown in front of the old place. But there is nothing really 'serious' about this game, the main character uses witty-sarcasm to deal with the inhabitants of the house and figure out the events of the past. Nothing difficult about the HOS or puzzles....but if you enjoy a good story that is told fairly well, you can't dislike this game too much...especially if you catch it on sale as I did. I purchase a lot of games when BFG runs sales and always have at least 30 games I have not played yet....so I can choose exactly what I'm in the mood for and what I have found I like to do is rotate older and newer hidden object games.....then I play some solitare, match 3 or puzzles at the same time. Variety is the spice of life right? LuvBFG56
March 31, 2012
Waste of Money-Hidden Object Game
I did not care for this game at all. It was over too quickly and had very little interesting challenge. It was a waste of money as far as I am concerned. Would not advise anyone to get this game, unless it is their first time for Hidden Object games.
March 27, 2012
a rather short but fun experience never the less.
First off, what I really loved about the game other than the slightly tongue in cheek commentary and the good graphics were the storyline and the double ending! The story actually asks you to make the moral choice as to whom to believe and reward! Yup....a bonafide double ending that means you have to play the game twice to get each ending. I played the first time on casual, second on expert, which made playing the game twice more worthwhile. The mini puzzles of which there are IMHO too few were very easy on the Casual and the HoGs mildly challenging for someone with poor eyesight....but they have a preview of the items on Playing the expert level, the minigames were more fun for me, and I usually play casual, I found the lack of sparkles to be no problem and the HoGs had a lot more objects to look for, with the bonus of almost entirely different items! Childs game? Maybe, but the tale made it interesting for this adult.....and I enjoyed having a less challenging game experience after playing several tougher ones.
March 21, 2012
Good at a Reduced Rate
Like others mentioned, I'm glad I didn't pay full price on this game. It's OK, but not great. The game is very short; I almost completed it during the trail version and that including NOT skipping any dialogue. It has lots of HOS and the puzzles are not very challenging. Overall, however, it's a good way to spend an hour or so but only if you purchase it as a daily deal or catch of the week.
February 26, 2012
The Apple logo is a trademark of Apple Computer, Inc.