The Stroke of Midnight
With her deadline looming, a romance author escapes to Eastern Europe with the hope that a trip to Transylvania can provide the inspiration she needs to rewrite her latest book. But soon her discovery of a Victorian-era love triangle provides much more than a new storyline: it provides an entire novel's worth! Reunite the long lost lovers in the afterlife in The Stroke of Midnight, a fun Hidden Object game.
Incredible gameplay
Exciting storyline
Reunite haunted lovers!
Check out our Blog Walkthrough
Game System Requirements:
OS:

10.5

CPU:

800 Mhz (INTEL ONLY)

RAM:

1024 MB

Hard Drive:

396 MB
Game Manager System Requirements:
Browser:

Safari 4.0 or later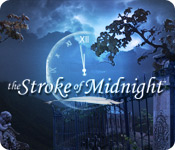 NEW299
The Big Fish Guarantee:
Quality tested and virus free.
No ads, no adware, no spyware.

Reviews at a Glance

The Stroke of Midnight
0
out of
5 (
0
Reviews
Review
)
Customer Reviews
The Stroke of Midnight
47
47
a little clunky
I haven't come upon a game constructed like this one before, and after playing I'd say that I prefer the more conventional HOG construction. Although the panoramic graphics were fun at first, they were quite choppy in some scenes - even with a quad-core Mac. That's just an esthetic issue. It didn't interfere with play. What I did find frustrating was that in the puzzle scenes, it was very difficult to find the sweet spot where the curser would react. You'd know that this item went there, but it would sometimes take a ton of clicking to make it happen. I would have given this game 4 stars except for that issue.
February 4, 2012
A mixed bag
The graphics and music are wonderful! The voice overs are very well done.The 3D was interesting. I played the hour trial. While I moved along at a good pace during the game, I found a few things frustrating. When you pick up an object, you can not put it down till you use it correctly. The clicking on an object must be very precise - like a certain position over a number which I had clicked on several times before. It is very linear so if you can't do the task at hand, you have to stop or go to the SG. Maybe I would have liked it more if I owned the game and just went to it when I was in the mood for that type of play. All that being said, I would recommend the game as it has enough to offer it is worth trying it yourself.
January 27, 2012
Good visuals, not very entertaining, blah storyline
This game has a first person view of the whole story, you're no longer standing at the edge of a scene, but "in it". When you move your mouse up it's akin to moving your head up and looking at the ceiling. The visuals are stunning as well. However, that does not a good game make. First of all, the story. It's a star-crossed lovers type of thing as told through flashbacks with ghosts speaking with horrible fake Russian accents. The voice acting was terrible on top of that. You definitely get the feeling that the plot was secondary to how they wanted the game to look. As far as playing goes, it can be tedious. There's no inventory bar and your journal follows you from room to room. Your "quests" are shown in each room in the form of a riddle. Ostensibly, this is to make the game more first person and interactive. While I like the riddle aspect, I found the game to be the opposite of interactive - more like being rushed down a one-way track before you can fully interact with the world or objects in it. Not having an inventory bar was endlessly annoying for me. You click on the objects available in that scene and use them right then. And here's where the problem lies. Let's say you have to get a glass of water from a well, but you have to attach a handle first. If you click on the glass before the handle, you're stuck with it in your hand and anything you click on, the screen just says you can't use it there. You also can't replace it where you found it. Only once was I able to swap objects (I had clicked on a shovel I hadn't even seen, and what I really needed was a water pitcher). I like where they were going with this, they just need a better story and a better way to interact in the world.
January 23, 2012
total frustration
The graphics were out standing. The story line very likeable. My qualm is with the mechanics of the game itself. Frustrated with the fact you have to be pin point accurate when playing, and there were no hints to relieve the frustration factor.
February 17, 2012
Disappointment
When I first saw this DD I was excited, especially since the 6 reviews on the download page were all pretty positive. I loaded the trial and, low and behold, I'd already done it before. But I didn't buy it. I wonder why? Based on the great reviews, I paid the $3.00 and now I am sorry that I did. I understand the game, and have NO difficulty with nausea. However, everything is very sluggish, and the cursor doesn't respond the customary way. It took me a long time to dress those knights in their armor because I just couldn't get the parts to click on. Very frustrating. Yes, the graphics are lovely, and the story line is nice, but still...... I haven't finished the game by a long shot, but I'll have to wait until I'm in a really patient mood to go back to it. Bummer.
January 13, 2012
Boring and slow
The 3D zoom ability in this game did not add any substantial value and only served to slow down play. The constant zooming in and out was annoying and useless. The almost complete lack of directions or obvious indicators of what you were supposed to be doing during the game made it remarkably tedious and slow. I ended up clicking all over the place and zooming back and forth constantly to try and figure out what I was supposed to be doing in any given room. The puzzles I did see were very easy but it took way to long to finally figure out how and where to find the puzzles or next steps. I found this frustrating, slow and boring. I played about 30 minutes of the demo and then just gave up and deleted the game. Big yawn!
January 13, 2012
The Stroke Of Midnight: Not my cup of tea
I disliked this game and only played about 40 minutes of the demo. To me, although the graphics seemed decent, the panoramic viewing and fast zooming in and out of scenes made me feel dizzy. It is also my opinion that this game feels unfinished, it felt to me like a limited content beta test version of a game, not the actual game itself. There were no inventory, hint, guide, etc. buttons in this game at all; maybe I'm just used to having game tools around the bottom or corners of the screen, but there is nothing in this game and it just "feels" off. In all other HO adventure games there is at lease some guidance as to your objective and between the tools I am used to and the lackluster storyline, this game left me cold, confused and frustrated. Many other reviewers called this "the HO game of the future" but in my opinion, if that's the case, I will not be playing these games in the future. I simply did not care for this game as it felt as if it were only half-developed in every aspect but the graphics, but even those were negatively affected in the way the "special effects" were executed and I found it very much lacking. I would not personally recommend this game to anyone, but if it looks interesting to you, please play the hour demo before you commit to purchase. Happy Gaming!
November 21, 2012
stroke of frustration
I wish i'd read the reviews BEFORE purchasing. PLUS:-yes, youve read it before the graphics are indeed gorgeous. i love the 3d hove-ing into view that gives you a real interactive experience and it does make the game stand out; the storyline is interesting and does keep you playing until the end; multi-options for those brave enough to reply. MINUS:-gameplay and controls..........one click to pick up and use.............no.....you have to click around in order to control anything, and to save a lot of frustration just right click to drop. items were hard to use...........the armour springs to mind as does the potions and the harpischord.................no skip button on this particular puzzle too so it took me a long long long time to figure out what to do due to the awkward controls. Its these controls that really ultimately ruin the experience. Couple that with pointless boring puzzles......some impossible to do........letter folding to find a secret message which i had to skip every time as the controls dont let you fold them properly is one that springs horrendously to mind.........grrrrr very very frustrating, and im afraid i need a bit more than gorgeous graphics for a satisfying game experience. Very very disappointing........will not be replaying.
April 14, 2012
Has a Good story but BORING
This game plays more like an Adventure Game.. i didnt find any hint system aside from the mirror always telling you what to do next but you dont really need a hint system fairly Easy game... the mini games were Bla... the gameplay was Bla...
June 25, 2013
Read Music?
Could not play this game as I do not read music and am basically tone deaf. If I could have skipped the music scene I would have liked and finished the game
February 14, 2012
The Apple logo is a trademark of Apple Computer, Inc.
The Windows logo is a trademark of Microsoft, Inc.