Mishap 2: An Intentional Haunting
This time it's no Mishap—it's Intentional! Realizing his paranormal research has been stolen, Milton Hobblepop and the Mishap gang need your help infiltrating the compound of his greatest rival, Avery Nailliv, to uncover why the renegade scientist is imprisoning spirits! Find cleverly Hidden Objects and solve supernatural puzzles inside of Nailliv's shadowy estate!
Spooky gameplay
Eccentric spirits
This time it's no Mishap!
Game System Requirements:
OS:

10.4

CPU:

1.8 GHz

RAM:

512 MB

Hard Drive:

486 MB
Game Manager System Requirements:
Browser:

Safari 4.0 or later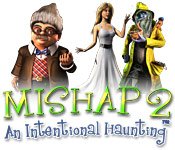 NEW299
The Big Fish Guarantee:
Quality tested and virus free.
No ads, no adware, no spyware.

Reviews at a Glance

Mishap 2: An Intentional Haunting
0
out of
5 (
0
Reviews
Review
)
Customer Reviews
Mishap 2: An Intentional Haunting
15
15
LIKE ALICE IN WONDERLAND
Completed game and highly recommend it. There are 8 chapters. Each chapter begins in one large panoramic room from which you then enter 3 smaller static rooms. There is a Log which tracks your progress in the chapter. VISUALS: Each room is filled with colorful animated characters engaged in various activities, as well as lots of sound effects. It feels like you followed Alice down the rabbit hole. You will likely want to browse around the rooms, so you may want to reconsider playing the timed mode. HOGs and GHOSTS: Each room contains well-hidden objects (some items will go into a riddle, which you must solve) and one to three unfortunate ghosts, which must be captured. As you find the hidden objects, you will be building a gadget which is used later. After you capture a ghost, you can access its biography card through the Log. Each ghost?s story is so funny that you can?t help but laugh at the ingenuity and humor of whomever wrote it. Clearly, each ghost had a tragic mishap of life or death. MNI-GAMES: Each chapter ends with a mini-game of 3 or 5 rounds. The gadget that you built from the HOGs is used in the mini-games and you must complete one round before you can skip the rest. Many of the mini-games are unique to HOGS and are relevant to the theme of the chapter. I especially liked the bronco riding and the spa (?beautifying? characters was hilarious; beauty is really in the eyes of the beholder). There were only 3 rounds of the spa; wish there were 5. The mini-games can be replayed during or after the game. OTHER: I found the voiceovers to be corny, at best. If you misclick too often, you will get a loud screech accompanied by the a full screen flash of a character. It was startling, even when I knew it was coming. Misclicks are accumulated. Even if you find several items after a misclick, it will still be added to the next. A FUN GAME all around.
May 31, 2012
Mishap 3 in the works anytime soon?
Love, love, loved both games. I remember stumbling upon them about a year ago and playing it a bit, then spent the whole time trying to re-find both games. I certainly wasn't disappointed! The ways the game plays out is to my style and the stories on the ghosts are hilarious. A lot of hidden object scenes to satisfy those that love to click, cute riddles and challenging mini games you can go back to. How much I loved this game? It made me write my first review on BF into prodding you guys to do a third part! Thanks for authentic, creative, hilarious games. Looking forward to continuing the storyline. Cheers.
July 13, 2012
Can't wait till Mishap 3!
Like Mishap 1, Mishap 2 is visually genius and challenging. They changed a few things this go round only to the betterment of the game. I give my glasses a good cleaning for all the small things, sit back and relax with this well done cartoon. A must try!
February 14, 2012
Fun and Funny Start to Finish!
Bored with dark and dreary, this game will get you on your feet as the characters and art work are extra creative and you have to work a little to find the objects. Like Mishap I, you have to explore some hilarious scenes to find a ghost hidden therein. Puzzles are fun as well and very well thought out for a game that could easily be passed by for somewhat swankier looking games. Give it a try! You will be pleasantly surprised at the pure fun gaming enjoyment. Mishap I and Mishap II are the most fun I've had playing a hidden object game in a very long time. Where is Mishap III? Thank you game developers and BFG! Enjoy! -Mama Mia-
January 25, 2013
More fun than a room full of ghosts
Fantastic fun game. I bought this first and then bought the first Mishap as I had so much fun with this one. Lots of things to do, ghosts to capture, HOs to find (some impossible), mini HOs per main scene and a riddle to solve at the end. After finishing a main scene you need to challenge the main ghost in a game connected to his/her theme. These are mainly easy but some take a bit of working out. You don't get a practice run either, so read the instructions carefully, finish the games and earn trophies. I needed a break from the ghost/spooky/mansion types of serious games and this is it !!! Fabulous fun, great graphics, great storyline, fabulous characters and hours of enjoyment. Do yourself a favour and try this game. i bet you can't stop playing either.
February 4, 2013
Mishap 2 ROCKS!
I fell in love with this game. Somehow I missed the first one, but I just downloaded it to try that one. This game has different chapters. Each chapter has one big room, then 3 smaller rooms. You can move back and forth in the first room which is cool. The other rooms are stationary. The little characters are cute and some of them move. The sound is really nice and has super sound effects. One of them sounded so real, I yanked off my headphones because I thought it was outside (playing at night, lol, got spooked). I don't know who did the art work, but it is fantastic. I couldn't help but look at each and every little thing in each room: I was mesmerized. The only problem I had was, after you complete each chapter, you have a mini game. I'm older and have arthritis in my hands and the first game killed my fingers, trying to shoot quickly. I finally gave up on the first one. It lets you choose "complete" so you don't have to keep doing it, which I liked. The other mini games weren't so difficult on my fingers and hands. There is also a riddle after you complete all of the rooms and you have to figure it out. It's not difficult at all. I enjoyed it so much that I'm going to play it all over again #I bought it right away after falling in love with it.# Age doesn't matter in this game. I think any age will enjoy it. I'm a grandma and I did.
October 20, 2013
So Different!
I get bored with hidden object games and usually enjoy a lot of adventure. WoW! This one had SO MANY fun twists. I am so glad I found it!!!! I was by myself feeling blue, and this game was a real pick me upper! Yes, some of the objects are tiny, but it is so rewarding!!! I loved this game, almost as much as the beautiful new Christmas one.
December 30, 2012
LOVED THIS GAME!
This game really surprised me. I didn't play the first one so the concept was new to me. It really was a lot of fun to play with the most imaginative mini games I have ever played. After playing hundreds of games to find something new and unusual isn't easy. This is new and very unusual! In my modest opinion it is well worth the buy Happy Gaming guppies :)
May 17, 2013
I originally thought this was cheesy...
and it is! But well worth the money. There are action games that resemble the bosses so this is not just a simple hidden object game. There are rewards for those that can get perfects and want to go for the goal. But you can get the whole storyline without being perfect. Graphics are detailed and different music with every level.
December 15, 2012
Tooo much fun
I first played this game about a year ago and loved it. There is so much going on you really have to pay attention to the scene. The mini-games were fun and went with the story. The graphics were very colorful and I actually jumped a few times when things come jumping out at you. Really fun, fun, fun.
March 8, 2013
The Apple logo is a trademark of Apple Computer, Inc.
The Windows logo is a trademark of Microsoft, Inc.