Murder Island: Secret of Tantalus
Exclusive
Welcome to a world of danger and suspense in Murder Island: Secret of Tantalus, a thrilling Hidden Object Adventure game! You're invited to a gorgeous, isolated Greek island for your high school reunion. Upon arrival, you notice that something isn't right. One by one, your former classmates get killed—all the murders mirroring tragic Greek myths. Discover clues, locate missing objects, and solve dangerously perplexing puzzles to avoid being next on the mysterious killer's list!
Incredible gameplay
Terrifying atmosphere
Stop the murderer!
Check out more PlayFirst Games!
Game System Requirements:
OS:

10.5

CPU:

1.2 GHz (INTEL ONLY)

RAM:

256 MB

Hard Drive:

116 MB
Game Manager System Requirements:
Browser:

Safari 4.0 or later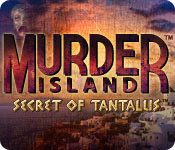 NEW299
The Big Fish Guarantee:
Quality tested and virus free.
No ads, no adware, no spyware.

Reviews at a Glance

Murder Island: Secret of Tantalus
0
out of
5 (
0
Reviews
Review
)
Customer Reviews
Murder Island: Secret of Tantalus
22
22
Murder Mystery on a Sunny Greek Isle
PLUS = I got this game during a sale, really enjoyed it, and the ending surprised me. The story line is about a group of students who go on vacation on a Greek island and stumle upon a murder. Real actors are used for the cutscenes (which can be skipped). This reminded me of watching a movie and playing a game in between the scenes. I liked the use of real actors, their voices added to the overall game experience, helped me feel like I was actually a part of the cast (so I enjoyed the very last page of the game). The game kept me interested, the graphics were great, and the setting was bright, sunny and colorful. As a gamer who loves Hidden Object games, there was more than enough of these for me. In the Hidden Object scenes, I also enjoyed the "guess what the item is" riddles, and also the interactive ones where 1-2 items had to be added together to obtain the item. During the game you gather green titles, somehow I missed getting two of the tiles, so I will play again and try to get them all. One of the best parts of the game was the map, which showed you where you were, and what areas still had tasks that needed to be completed. As you gather tiles you will open an area that provides very interesting information on ancient Greek. MINUS SIDE = If you are looking for an intense, complex game playing experience, or a game with occult or supernatural elements, this might not be the game for you.
November 30, 2011
Enjoyed It More Than I Should Have
This is a solid and altogether fairly unexceptional hidden object game. The best thing it has going for it is the plot, which is an Agatha Christie-esque mystery that seems loosely based on the short-lived Harper's Island TV show, including the rampant cheesiness. Since I enjoyed that program, it's no surprise I also liked this. Fairly straightforward gameplay. Hidden object scenes are decent, though size of some objects is the only thing making them difficult. I did like that they had an increased level of interactivity, as sometimes you had to do two or three things before collecting an object. Puzzles are nothing you haven't seen before, and there's really only one or two difficult ones in the bunch, so it's a good play if you're new to the genre. The game features full voice acting, and there is more in it than you might expect, which I personally found a nice touch. Graphics are good enough. A bit of extra gameplay is found in collecting tiles (3 in most locations) which give you information on mythology. You'll find the myths far more believable than the plot itself. There is a fairly ridiculous amount of backtracking in this game, but the developers smartly included a "jump" feature on the map that allows you to go directly to a place of interest, so you won't have to wander around in search of a new hidden object scene. All in all, it's an enjoyable little game that offers something different and has pretty high entertainment value. Not much in the way of difficulty or replayability, but you could do far worse.
January 22, 2012
murder mystery hidden object adventure game on Greek Isle!
This was a fun game - set on a Greek Isle, a group of eight classmates meet for a class reunion. The graphics are good, music and sounds are, too. Actors voices and photos used for cut scenes; make it seem more real. Puzzles are mostly challenging; map hints and fun because helpful AND puzzles in themselves. Storyline is a little different from many of this genre...realistic enough to capture interest, yet departs from reality enough to make it an enjoyable, engaging game.
December 23, 2011
Challanging game with great plot!
This wasn't the hardest game I've ever played, but the plot and graphics were lovely! It is a modern mystery. It was really creepy to see all these dead bodies and creepy occurrences happening on a pristine Greek island. I really felt like I was a part of the action. This is also not gender specific; men and women can play this and have equal fun because it is definitely not girly or masculine, just a good story. There were HO and puzzles galore, as well as tidbits about Greek culture. The map was extremely helpful. I was never bored. I will play this again and again just to try to find all the green mosaics (play the game to see what I mean)!
January 6, 2012
Fun story, not super challenging
If you like a mystery, this is a fun story. It isn't the most complex of games, the puzzles aren't all that challenging, and even the hidden objects rarely take hints to complete. That being said, i still really enjoyed this game. It was a fun mystery about a series of murders on an island during a class reunion. I got it using a free game credit, so maybe I'm less harsh than those that paid full price for it.
December 5, 2011
not bad
The story line was cheesy to me but most of them are. the hidden object scenes werent too difficult. I actually thought it was a bit slow. definately a good game for someone that just wants entertainment without having to think too hard.
March 13, 2012
4 1/2 STARS EASY
A little over 4 hours to complete game. STORYLINE: Just as you arrive for a reunion with several classmates on Tantalus Island, Greece, you see a ?SOS? written on the beach and your plane explodes. You find there is no way off the island. Then your classmates begin dying one by one. All evidence points to a classmate?s uncle, who owns the island. GAMEPLAY: For every 12 mosaics you find (3 per location), you learn a little history. You aren?t told about the mosaics until you accidentally click on one. You have a jump map which shows where you are and where there are activities to do. The map works slightly different than most ? you have to click on the location (for which you are given a preview of what it looks like) and then click a white arc next to the hint button. HOS are not very crowded but do have slightly darker spots and objects are not always distinct. Puzzles are not too difficult ? in fact, if you need something to complete them, you only have to look at your jump map to see what new areas of activities to do have appeared. You?re usually given clues of what needs to be done and, in conjunction with your jump map, you should have no trouble getting through the game. OTHER: Graphics are very nicely done. Most of the dialogue is written but, near the end, some of the characters had rather nice voice overs. The voice overs should have been done throughout (which is the deduction). ENDING WAS QUITE A SURPRISE!
July 18, 2013
Mac OS Mountain Lion - freezing
I completed the game and really enjoyed it. Sometimes I get sick of the dark and dreary HOG and want bright sunlit beaches. I really enjoyed the plot and the puzzles. I am operating on a mac airbook with OS Mountain Lion and the game froze 10 times or more during the game. Normally, I would have just given up but I wanted to finish the game.
November 27, 2012
Good plot, not so good game.
The plot of this HOG is great -- You are invited to a class reunion and horrible things keep happening. Clues lead you to believe that there's something sinister going on -- and there is. But it's not what you expect. The plot has some great twists. However, as a HO game, the play itself is lacking. You are often seeking for teeny tiny objects in very busy screens, some of which are no more than a few pixels in size. Completely insane, and extremely difficult for anyone with vision issues. As is common with most HO games, if you return to a HO scene, the things you found previously [including things you've used] are still in the scene. The map is useful and lets you teleport around, with a small cool-down period between uses. It is supposed to tell you in which areas there are things to do, but at least once HO scenes exist that the map doesn't tell you about. The worst part of this game is that it punishes you for so many wrong clicks, even if you make successful ones in between the wrong ones. The game is a nice length. It's not a bad game, but it has issues.
December 1, 2012
Not too good
I recently discovered that kind of game. Fortunately, I bought this one with a super special I would'nt have pay full price for this. Story is not very good, the characters are a bit boring, difficult to follow sometimes, the hidden objects parts were very easy. Won't play a second game on this one.
May 2, 2012
The Apple logo is a trademark of Apple Computer, Inc.
The Windows logo is a trademark of Microsoft, Inc.