Bounty Special Edition
Join Mirabelle on an exciting puzzle adventure on the high seas. In search of treasure that once belonged to the infamous Captain Black Jack, you will travel through more than 100 levels, encountering challenging obstacles and amazing powerups.
3 gameplay modes.
140 levels.
More than a dozen themes.
Game System Requirements:
OS:

Windows 2000/XP/VISTA/7/8

CPU:

600MHz or faster Processor

RAM:

128 MB
Game Manager System Requirements:
Browser:

Internet Explorer 7 or later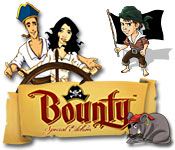 NEW299
The Big Fish Guarantee:
Quality tested and virus free.
No ads, no adware, no spyware.

Reviews at a Glance

Bounty Special Edition
0
out of
5 (
0
Reviews
Review
)
Customer Reviews
Bounty Special Edition
1
1
A Hidden Gem! Fun, exciting and unique M3 game!
I am surprised at the lack of any reviews, both on the Game's webpage. and in the forum! Guess it's up to me to get the ball rolling! This review is of the TRIAL. I played 35mins of it so far, and knew it was a buy. There is literally NO other game, on BFG, like this one! Seems to be an old release, but plays and looks like a modern new game. Developer's, were way ahead of thier time when they made this! First, most important in a game for me... YES, there is a timer. WAIT! Don't run away yet!! (later there is an untimed play mode# I HATE timers, having severe painful hand and eye problems.. they kill a game for me, cause me pain, and stress me out. However, there is always the VERY rare exception. This game is one of them. It didn't bother me, plus, there are plenty of time increases and other power-ups. After a few levels, I didn't even know it was there and relaxed. You can also turn off time sounds!! YAY! So this wasn't a game killing one. I'd love a re-release without, but I can play it with! Very few timed games can I say that about! Though the game play looks odd, it's not as hard as you think. It's also not too easy or boring. You'll need your little gray cells for this one. Thank goodness they gave us a very funny, friendly, hungry and smart beaked side kick, to guide you through the Tutorial, and game. I think the tutorial is well done. Better than most I've seen in fact! In 20 minutes, I was getting the hang of it and actually smiling. I prefer darker games, but love to come across one, where the writers add wit and humor! The story is well told so far..You play a young woman, stuck on an island. It's not deserted as there seems to be other homes, your castle, shared with your sweet Mom and a market to pick up your moms requests.. this is the storyline not the game play mind you. The young Lady #Our heroine), is bored and seeking something besides picking up produce and praticing her sword skills. Meanwhile, in the games opening..we see a rather sinister battle for a Treasure map between a rough Pirate and a not so nice himself wig wearing "dandy" man and his men. Something tells me thier stories, will all colide..I can't wait to see more! AND.. no one seems lost yet.. just a mysery left by a Father who seems to have passed away and left to his Daughter to solve. The story and game are done in very easy to see, in clear, crisp, soft edged, comic style hand drawn graphics. The colors are bright and all very pleasent to the eye! I felt very immersed in the game and story. There are TONS of options! Not even kidding, an entire FULL screen of them! You can turn on/off out Herones voice, 2 forms of music, and sounds. Cursor and it's speed, Graphcs options, a map, and widescreen are just a few. This game WILL fit, play, run and work for any computer screens, or new/old PCs with this array of setting! Bravo to the Devs for this! The game play, as I said is like no other M3 I have played. Your sword weilding Heroine, pushes matches to the bottom row where you must match 3, or get a power up. Again your Cracker loving companion explains this complex at first, way to play, so well, you'll be swashbuckling though the levels in no time! You do have 3 lives, but I only lost one. It looks as though you replay the same level if you lose them. Levels are the normal set up (1-2, 1-3, 2-1 etc etc) of level 1 through 6 of Level 1, as seen often in M3 games. There also is great replay value in this game! You start with playing the Adventure Mode, then when you have won that, there are many other gameplay choices, zen, timed... and take on a highscore. The Highscore is not your usual offline, preset beat the Developer's score! You can actually submit yours ONLINE, and you can even see the top 10 scores in your area! So far I'm not even on the worldwide board.. but I am at the top for my local area! ;) There is a lot I'm leaving out, because there is so much to explore in this game. It's a shame more people have not tried it. I'm guessing a lot gave up too soon, before your feathered smart.. umm "tailed" (lol) little friend has you understanding how to play. I also saw just enough of the GREAT story, to be totally hooked on wanting to know what will happen to our heroine on her Adventures! This game has many levels too, and looks to be a very long one, with days or weeks even of gameplay. Your going to get your moneys worth, so use a credit, buy full price or on sale, or use PCC. It's worth it! At the very least, give it a try, and play through a few levels. I'm glad I didn't quit the trial quickly, because the game play did get easier to understand. By the 3rd level I had it down. Yup, I wholeheartedly, unequivocally, absolutely and most definitely recommend this game! ;) Happy Gaming!
August 29, 2013