Nancy Drew - Last Train to Blue Moon Canyon
The Hardy Boys have invited you, as Nancy Drew, on a train ride out West hosted by beautiful and prominent socialite, Lori Girard. Lori has gathered the greatest minds in mystery to solve a century-old secret and the haunted train is their best clue. The luxurious train once belonged to Jake Hurley, who set out long ago to find the mother lode during mining mania. Years later, Jake's train was found in Blue Moon Canyon with the engineer slumped over in the car - dead. Jake had mysteriously vanished... Climb aboard as Nancy Drew and see if you can uncover the truth at the end of the line!
Gather clues and interrogate suspects.
Ingenious puzzles to test your sleuthing skills.
Choose Junior or Senior detective levels.
Game System Requirements:
OS:

Windows 2000/XP/VISTA/7/8

CPU:

600MHz or faster Processor

RAM:

128 MB
Game Manager System Requirements:
Browser:

Internet Explorer 7 or later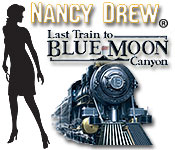 NEW299
The Big Fish Guarantee:
Quality tested and virus free.
No ads, no adware, no spyware.

Reviews at a Glance

Nancy Drew - Last Train to Blue Moon Canyon
0
out of
5 (
0
Reviews
Review
)
Customer Reviews
Nancy Drew - Last Train to Blue Moon Canyon
14
14
I absolutely Loved This Game!!!
This is the 13th game in the series so it has the larger newer format and updated electronic gizmo's. Excellent game from start to finish with all the twists, turns puzzles and hidden passages we've come to love and expect! I want to re-play it since I wrote this but just started Phantom of Venice! I should write these as soon as I play them because my re-call isn't very good, but here goes.. Game setup.. Lori Girard Is a wealthy, spoiled, bored girl who loves attention and finds a HUGE train at her fathers new place of business, Huh? Okay, it is a game so it?s possible.. Anyway, she insists her father restore it, he does! When it?s ready she plans a trip to search for the lost gold of Jake Hurley the original long gone owner of the train in Copper Gorge, CO! Jake's wife Camille is supposedly still haunting the train.. ehhhhh! The train includes: The caboose, sleeping car, dining car, Camille's car, Jake's car, bar/ lounge car, engineer's car, coal car. As well as the long halls on each side of each car. Lori invited the following guests on the voyage.. The Hardy Boys: Who invited Nancy and Lori wasn't very happy about it! I think this is the only game Nancy is not the distinguished guest but more of an unwanted guest! Frank and Joe?s first visual appearance too, I think? Charleena Purcell: A romance novelist who specializes in the Old West! That pops up in a few ND games i.e. Shadow Ranch. John Grey: Has a TV show about Ghost Hunters and is a Scientist. Tino Balducci: A bumbling Chicago detective who thinks he?s superior! Nuff said.. Bess and George: Are phone contacts Nancy can call if she wants for hints or just chit chat. The Engineer: I can?t remember if you see him but Nancy does call him . All aboard, the cast is gathered around the table just as things get underway the lights go out for a split second and Lori disappears and launches what is reminiscent of a locked room mystery. So now it?s up to the invited guests to figure out what happened to Lori, solve all the mysteries of the train and find the treasure? As usual that means Nancy does all the work while everyone else just sits around in separate cars on the train. Has to be that way so when she needs to speak with one she has to do a lot of back and fourth! The train is visually pleasant from the cars, long hallways and the ever loved hidden passageways so it?s easy to take a wrong turn and end up back where you started or I did many times! There are things like a giant mounted Deer head when you open a door that should make it easier to know if your going the right way! SHOULD!! It?s packed with non mind numbing yet fun challenging puzzles and everything we expect in a fun ND game! And don?t JUMP to high when you see something in the window of the moving train, is it the ghost of Camille? You?ll find out! Also a pleasant stop at Buell's Museum and Taffy Shop in Copper Gorge where you get off the train stretch and go in the shop. Of course there are more puzzles and arcade games to play but still enjoyable! Don?t forget to buy the Taffy on a stick!! Pros: The game is so good it out weighs my cons below.. Cons: Creepy Doll Puzzle-Game at Buell?s which requires quick reflex?s and the worst one with Sheet Music playing the piano? Must piano playing be in nearly every Nancy Drew Game? On that ?Note? No pun intended ?-) YES!
May 13, 2013
The one that hooked me!
Way back when this game first came out, I was intrigued. I had always loved Nancy Drew books, and had recently gotten into casual gaming. Five minutes into this game I fell in love and was ecstatic to learn that there were more games in the series! I have played every other game since, and anxiously await new releases. I loved the allure of "old-timey train", the "ghost" story (I'm fascinated by the paranormal), the challenging (yet not TOO challenging) puzzles, the music, the characters, the plot, the in-game hint system that doesn't just spit out answers. I really don't have any complaints about this one. Always my favorite Nancy Drew game, because it's the one that started it all for me!
May 8, 2013
Love Nancy Drew Games!
I am a big fan of the Nancy Drew series and this game is definitely one of the better ones. The scenery, characters, etc., are top-notch.
December 8, 2011
Nancy Drew at the Height of her Powers!
This puzzle-laden game was vintage "Early Drew," with Nancy at the height of her powers! She certainly didn't need that "fop" of a would-be detective, Tino Balducci, and she didn't need the Hardy Boys, although they added action and activity. This was a "Nancy" for "Everyman," a game that could be played by anyone, without a lot of frustration and hair-pulling. Rather, this exciting game, which ended up in an old mine, proved to be marvelously interesting. There were many "connect-the-pipes" puzzles, but they weren't unduly difficult. There were other areas of the game that really tested the player's ability to think and solve logically. I played in "Senior Detective" mode, and had the opportunity to really roll up my sleeves and THINK! I loved this game and would tell anyone to download it because it is so worth it! CONGRATS, HER INTERACTIVE! BRAVO, BIG FISH GAMES!
January 8, 2013
Wonderful Adventure Game with Fun Puzzles
This game is probably one of my favorite ND games -- I just wish that they could redo some of the graphics and make it more new. However, overall, this was a great game. Some of the games were hard to understand......Like the hiker and the yeti AND the slugs. In the slugs, i didn't understand (i.e., it wasn't clear that the first symbol needed one slug and the second needed two. That wasn't really made clear until i consulted a walkthrough. The yeti, well, you just have to get lucky. But on the bright side, there were none of those evil arcade games (except for the yeti -- and i don't really consider than an arcade game). You should get some paper and a pencil and write down the names of the dolls and something descriptive for them. You will also need to pay attention in the mine -- so keep that paper/pencil ready. The saddest thing is that i didn't know where any easter eggs were..........This game is short if you just shoot right through -- but if you take your time and look at everything, it seems to be more like a normal-length ND.
July 13, 2013
One of the Best Nancy Drew Mysteries!
An all around fun adventure! Though this game does not have the suspense and 'jumpy' moments others like Message in Haunted Mansion or Blackmoor Manor, it more than makes up for it in entertainment value. You're on a moving train destined for Copper Gorge, and Nancy's hostess disappears! It's up to the player to find her, then find the gold mine located somewhere in the old west. Story is alright, isn't the most creative but generally engaging. The puzzles are very fun and up to snuff, and theres always so many things to do that theres not much need to constantly wander the train cars which would take some time. If you're looking for a good adventure I would definitely recommend this game for all Nancy Drew fans its a must play!
August 28, 2014
enjoyable game
Overall enjoyable game. This isn't one of the games with a theme, throughout. Give you a list of pros and cons so you can figure out your own taste. pros -plot but it wasn't the best - the mystery had nothing to do with people involved so compared with others is why I gave it the rating I did. -variety of puzzles -no clock in game -more variety of places than in some games - train then you make two stops so you have two places to explore in one place and a mine. -end 'minigame' adventure I love doing that cons - interface, although it does take up slighlty less room than the old clock game. -backtracking down the train, it took loads of clicks just to get to one end of the carriages, and most of one carriage you don't go into. Also you have to exit and enter each carriage very time consuming. -Don't want to give away too much but it is a bit obvious re plot side. -in the general store there are two games that are pure random, one I was ages at (the yeti) very annoying. If it could have been made some skill in it, it would have been fun. - don't get why the hardy boys are there, didn't really help Good length, good variety, if the interface was gone and like the modern ones, and the plot integrated the characters better, I'd have preferred it. But it was very enjoyable and would give it a B+. Nancy drew games I have played and the order I enjoyed them: (so you can see my taste) 1)White wolf of icicle creek 2)last train to blue moon canyon 3) Trail of the twister (although shorter and less variety than others) 4) Legend of the crystal skull (but great adventure and graphics) 5)Secret of the old clock (I like puzzles and there was more variety than other games) 6) Ghost dogs of moon lake (although the graphics and adventure side was better) 7) Danger deception island 8) Message in a haunted mansion
February 11, 2012
Great series of games!
I'm a big fan of the Nancy Drew games. All have been well made. They're usually challenging and the puzzles are realistic. (When doing detective work, why would you pick up items - pizza, bell, tire - in a junky dining room if the items don't even pertain to the case? *cough* hidden object reference *cough*# I think the Nancy Drew game developers try hard to think through the games before making them. Rearranging a photo on a puzzle box to open it or making a connection between a date written in a notebook to a lock code are more realistic. Pros: Nice music #You can hear the train running!#, graphics are okay, challenging puzzles. If I'm remembering correctly, you can skip dialogue too! You get to work with the Hardy Boys! #Is it me or did they look different than when they were in the Kapu game??) Cons: It gets a little tiring being only on the train. Since a train is built with one room after the other in a line, you have to walk back and forth between the train cars a lot. Make sure you save often too. There are one or two instances where you can die! I hope the developers make more Nancy Drew games. Overall, they are really fun!
January 8, 2012
Great game - intriguing and challenging
I loved the setting, the story, the background, and the characters. Some of the challenges were a bit frustrating, but overall, I wouldn't say this was too difficult. There were plenty of clues to help you figure things out and keep you going in the right direction. If you got stuck, just run around and see if there was someone to talk to. You get a good amount of play time out of this game too. The only part that bugged me was the nav system which seems to plague most ND games. I really had fun playing this one. While I do recommend the game, I do not recommend it for novice adventure players. This is more suited to intermediate and advanced level I think.
December 8, 2013
Too short!!
This game has a lot of potential.. lots of interesting characters, good storyline, exciting ending, but too bad the length of the game does not really measure up. I can finish this game within 4 hours and it is just way too short for a large file game. It should have been better .
May 10, 2012