Mystery Valley
A rash of murders has struck, and it's up to you as an FBI agent to find the murderer in Mystery Valley, a dark and spooky Hidden Object game! Explore an eerie mansion and find clues and the motive behind the murders. As you dive deeper in the case, you realize that you're more connected to the murders than you ever would have imagined.
Eerie atmosphere
Gorgeous gameplay
Solve a rash of murders!
Game System Requirements:
OS:

10.4

CPU:

1.2 GHz

RAM:

1024 MB

Hard Drive:

242 MB
Game Manager System Requirements:
Browser:

Safari 4.0 or later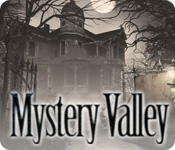 NEW299
The Big Fish Guarantee:
Quality tested and virus free.
No ads, no adware, no spyware.

Reviews at a Glance

Mystery Valley
0
out of
5 (
0
Reviews
Review
)
Customer Reviews
Not a great game but it's certainly not bad either!
I love spooky games with vampire themes and the title intrigued me, so of course I had to try it. The hour demo sold me on purchasing so I waited for the next sale since I'm financially strapped right now. I bought it during the Thanksgiving half off sale but the very next sale that came only a week later offered it for $2.99! I wish I'd have gotten it for $2.99 instead. Not only to save needed funds, but also because I don't think I would have paid the $4.99 if I'd played the entire game first. It's not a bad game by any means but it's certainly not up to the standard of "great" like many games deserve to be named. The story starts off interestingly enough but seems to grow thin during the last chapter. Maybe it's because I didn't realize that I was so close to finishing it that the ending seemed so abrupt and anticlimactic and the vampire theme seemed almost nonexistant to me. Although the ending provided closure, it just didn't seem to be enough and the story could have unfolded more and better at the end. With that said, there was a lot that I liked about Mystery Valley. I loved the look of the artwork. The scenes are hand-drawn and very gothic looking. It reminded me of the way pictures looked in storybooks I read as a child. It was very different to see this in a game and I appreciated seeing it here. I hope Big Fish has other games that use these kind of illustrations in them. Mystery Valley is an older game so I don't want to criticize too much, but I know computer graphics were still very good 2 years ago so the character animations could have been done better. Especially towards the end with the guard. His movements were embarassingly sophomoric looking and very choppy. It distracted me from the story because I noticed how bad his movements were. The scenes with the other characters when they were in conversation looked to be of another kind of design, very cartoonish. I didn't like this much because it didn't contrast well with the other drawing style that was presented in the background (the gothic backdrops). The cartoon drawings with its pale colors against the dark, gloomy backdrops were just too much of a contrast for me to keep from being distracted and it took some enjoyment away from the game for me. Yes, the settings are somewhat dark and gloomy as they're supposed to be for this story, but there are plenty of burning torches around that give enough light to see well. It looks especially beautiful in the final chapter when you're faced with a hallway with passages opening to the sides. I just really enjoyed exploring there and there is plenty to do. The hidden object scenes were challenging with some items blending a little too well into dark corners but the hint button was always there to point them out. And the puzzles/minigames were not too difficult but required patience to figure out but the skip button was always available as well. Sometimes I just used the skip when I wanted to get on with the gameplay even though I knew how to solve a particular puzzle. I just grew impatient. The music is lovely throughout and appropriately moody for the type of environment you are exploring. The one glitch I found in the game is during the final chapter when all the sound just cut out. It just stopped...all the music and ambient sounds just stopped! I checked the options to see if somehow the bars were reset to the off position but they were still all the way to the right like the last time I moved them there. I had to completely close out of the game and open it again to get all the sound back but at least it worked! Speaking of the sounds, there are wonderfully creepy ambient sounds all around, including whisperings at one point, to increase the spook factor. And let's not forget those scare moments like you see in the preview. Unfortunately, those are few and far between and are seen early in the game. I wish there had been more of them scattered throughout. But what you do have scattered throughout are the ghosts that suddenly appear. They hover and move slowly in and out of random scenes so just when you've forgotten about them, another one appears! It's fun and they look like the spooky girl from the movie "The Ring". Another fun thing that cranks up the creep factor are the passing shadows that frequently occur. Like the ghost images, they appear in random scenes but are very effective in maintaining the mood. These are the things that I loved about this game. It's visually and audibly atmospheric but the glitches bring it down a notch and are too distracting that it interrupts the enjoyable gameplay. The typos and misnamed items in the HO scenes add to it, as well as the abrupt and unclimactic ending. I just think the ending could have been developed better and longer. So overall, it's not a bad game by far, but just not enough to give it more than 3 stars for a really fair evalution by me. Like I said, if I'd known I could have bought it for $2.99, I would have as I like it enough. It's definitely worth playing the trial hour but definitely not worth the full price for it. Not even the half off price. Use a coupon or wait for another $2.99 sale. I'm no longer buying games at the half off price. I have a stockpile of played trial versions that I'll wait to buy for $2.99 and I'll just play my other dozens of games until then.
December 6, 2012
JUST OKAY
It kept me busy for just a few hours. I am glad that I bought it at the special price, if I had payed full price I would have been a little disappointed. It wasn't very difficult in terms of challenge and when finding the hidden objects the size of a needle could be larger than a computer (just an example).
December 22, 2011
NOT WHAT I EXPECTED
This game was not to my liking. I listed the storyline as ok, was going to go with good because I believed it to be a subject I enjoy. I'll never find out because this review is based on about two hours game play. Animation/Avatars/VOS - At start of game only then changed to still characters with text dialogue. IHOS - Grey and murky. Small items and hard on the eyes Hint/Skip - Slow to recharge No hint outside of HOS but journal acts as guide Misclick Penalty - Cursor circles for a few seconds If the devs had continued the avatars and VOS throughout the game, I could have overlooked the other annoying issues. Storyline was good. You're an FBI agent who had the same nightmares as a child. While investigating a case, it seems your nightmares are coming true. I may attempt to replay this game if I can get through the small HOs and the decline of the avatars/vos. I must admit I'm anxious to know the ending. :-D
November 2, 2012
not for me
All I can say is read the reviews. Lots of better games out there than this one. Not fun at all.
August 23, 2012
I agree just OK
This was an ok game not the best. If it was a special price I would think of buying it.
January 30, 2012
Not Actually Terrible But...
It's not that good either. The story is not bad, though too much reading involved. The graphics are well done but far too dark and dirty and gloomy. Many objects were difficult to find because they were hidden in a pile of rusty dirty junk. I find this tedious after a while. There are typos throughout, which makes the game seem amateurish compared to some of the really GOOD games available for hidden object fans. I played it through and kept it back when I first discovered HO games, but I couldn't go on with it this time.
December 7, 2011
Disappointing and Frustrating
This seemed like a really good game, I bought it after previewing it and the preview went really well. But there are some very serious mistakes in this game (even grammar and visual mistakes), puzzles that are literally impossible to solver without hint or a walkthough (I am not being arrogant, they were impossible!) and the plot was subpar at best. I did like it a bit but these issues really ruined it for me.
December 2, 2011
Uninteresting
If you want a game that's easy almost to the extreme, Mystery Valley is for you. The only highly relative difficulty will be found in the HOS's where some items are not easy to spot, one because some are tiny, two because others are buried in junkpiles, three because most scenes are dark. But on the easier of the two levels, hints recharge so fast that you should complete each HOS almost at warp speed. No challenge in the puzzles which are as simple as pie; I found one that was interesting, though. Actions are a piece of cake, you only have to find a couple of useful items per scene and using them is also child's play. The game is totally linear. A voice-over comes up at the beginning, but all the rest is in the form of scripts. I actually liked the artwork -it is quite good, and the dramatic music in general, except for one tune which got on my nerves. There is an element of horror popping up every now and then, but there's nothing scary about the rest. Skipping the cutscenes, I reached Scene 4 of Day 4, that is Chapter 4, in the one hour allotted by the demo, even though I didn't skip any of the rare puzzles, and only used the Hint Button 4 times in the HOS's. And you have... 6 Chapters in all ! Do I need to say more ?
December 19, 2011
Discouraging Game
Starts well but it gets boring and tiring. It's slow, dark and confused. The challenge is being able to see! Unable to do a few things without help, but there is no help! Just a question mark and nothing else. Neither the free trial is worth playing to the end. Don't waste your time !!!
January 7, 2012
Bad game
The whole game is amaturish - story, graphics, format and presentation. I did get a few laughs out of the spelling errors and bad "acting". I really think that Big Fish should be ashamed to charge anything for this thing called a game.
December 24, 2011
The Apple logo is a trademark of Apple Computer, Inc.
The Windows logo is a trademark of Microsoft, Inc.