Serpent of Isis: Your Journey Continues
Find the Tomb of Isis and finish the search that Robert's Grandpa started! Travel the globe and find clues that will help on your search! After Professor Thomas Penroy is kidnapped, it's up to you to take over the hunt for the legendry Tomb of Isis in this perplexing Hidden Object Puzzle Adventure game. Unravel ancient mysteries and solve incredible riddles in Serpent of Isis Your Journey Continues!
Incredible gameplay
Fantastic graphics
Game System Requirements:
OS:

Windows XP/Windows Vista/Windows 7/8

CPU:

2.0 GHz

RAM:

1280 MB

DirectX:

9.0

Hard Drive:

486 MB
Game Manager System Requirements:
Browser:

Internet Explorer 7 or later
Alcohol Reference
Tobacco Reference
Mild Language
Violent References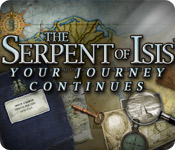 NEW299
The Big Fish Guarantee:
Quality tested and virus free.
No ads, no adware, no spyware.

Reviews at a Glance

Serpent of Isis: Your Journey Continues
0
out of
5 (
0
Reviews
Review
)
Customer Reviews
Serpent of Isis: Your Journey Continues
36
36
Great game!
This game took me a little over 5 hours to play. It was a great game and I would certainly recommend it. The reason why I did not give this game five stars is just due to the cartoon characters that did not move or talk through their actual lines. You will have to read through what is going on and click to view the next one. The movie parts are very interesting and the storyline was also nice. Overall a good game that is well worth it's price.
May 19, 2012
The serpent strikes again! Another good one.
Serpent of Isis: Your Journey Continues is the second HOG in the series and is just as good as the original. There are a lot of HO to find and some great riddles. This game will keep you entertained. Bite it(buy it) and have fun.
April 30, 2012
The Serpent of Isis, the journey continues
I was happy with the game until I hit an impasse. In the winery I just could not light up the dark space. I went to the walkthrough that told me to get the pyramid off the barrel but could not do it. HELP!!!!
October 29, 2013
Very good storyline!
I bought this game on sale and so it was well worth the money! Intriguing storyline and since it's a chapterbased HOG the locations never feel too many. So not so much running. On the other hand the amount of objects you need to find in the HOS are astronomous. I've played lots of HOGS and most games have twelwe objects to find. Here you have 16 and some of them are coming in large quantities which means in an average HOS you'll have to find like 25 objects. On the other hand there're not too many HOS and the minipuzzles are for once great and a bit out of the ordinary, which is a great plus. And since it's also quite a long game for a SE I really do recommend it!
January 28, 2013
Fun to play..wanted to give a 5 but....
This game reminded me of the old type mystery games I played quite a few years ago. I enjoyed playing it as much as those old ones. I like the scenes and the music...I didn't even mind the character's faces popping up and "talking"...there were words written for all they had to "say"...Their face reactions to some of the things which happened were quite funny. I like being able to find certain items for each chapter...and HERE is one part of this game I didn't like...If you don't find all the extra items in each chapter, and it gives you a hint for each one found, you can't go back into those places and try to find the ones you missed. Once you finish a chapter, you can't go back. I liked the HO scenes and there were, I'm sure too many of those for some people's liking , but for me, I really enjoy those. Another thing was some of the games were, for me, confusing and I ended up skipping some of them when I tried to use hints as to what to do...they weren't very helpful...some of those games I won by pure "accident"! But, I still give this game a 4 because of the fun factor for me. There are 7 chapters and it ended up taking me a little over 7 hours, but I was penalized 20 minutes as it records your time for each of the games I skipped. Overall, I really liked this game and will be playing it again someday.
January 20, 2013
Could Have Been a 5-Star
Based on entire game. Recently replayed. Music and Visuals are okay, but the main character looks more like a sleazy sinister villain. Storyline and ending were good. The GOOD: 1. There are tons of HO scenes. The scenes are not excessively cluttered and the objects are decent sized. 2. Game has 8 chapters (including the prologue which is a decent length) and is fairly long. Occasionally, a panoramic view happens automatically; it can be surprising if not expected. 3. Inventory: Occasionally, inventory items are used in the HO scenes and a few carry over into the next chapters. 4. Map: The journal has a map showing all locations in each chapter. Clicking on a location takes you there immediately if you don't want to go back and forth (though that is generally limited to a small number of scenes). Question marks indicate locations that aren?t yet available; a checkmark shows that the location is completed; an exclamation point shows where more actions are required. 5. Hints: Start with 3 hints; earn additional hints by finding ?Special Items.? And, if you find all special items in the chapter, you get a bonus of an additional 2 hints. If you run out of hints, the meter will recharge (don?t know how long that is). The NOT SO GOOD: 1. Too much dialogue. You can?t click an object, move in or go to another scene, or take anything from inventory until the dialogue has been exhausted. 2. Puzzles: Has many, none with instructions. Some were so obtuse that they make a ?challenging? puzzle from other games look like a piece of cake. Had to consult the WT for the solution a few times and still they made no sense. You could use a hint on the puzzles, but that was pretty useless. 3. Special Items: Unfortunately, you are not even told that there are special items to find and there is no clue of what the item is. It is different for each chapter (labels, masks, rings, scrolls). You find them accidently by just clicking items because the cursor will not change shape, but then you run the risk of the cursor turning into a whirling dervish. Some of the special items also appear in the HO scene, but are not listed among the objects to find. 4. Journal: The journal shows only the locations available and how many special items have been found; there are no entries of information found. So information needed to solve puzzles had to be taken from inventory, but also through pen and paper. Because of what I perceive to be so many and annoying negative factors that don't outweigh the good, I cannot give it the 4 or 4.5 stars it would otherwise deserve. Still it is a bit more than just a 3 star game.
June 8, 2012
Attack of the Pop-Up Character!
This game drove me absolutely nuts due to the fact that the main character from the storyline feels that it's necessary to pop up EVERY time you click on something or transition from one part of the game to the next. He comments on everything and blocks the lower third of your screen. It was like a sick jack in the box that just wouldn't quit. As far as the rest of the game goes, it was your run of the mill hidden object game. Mostly hidden object scenes with minimal puzzles in between. Graphics were very good and storyline was predictable, but solid. I can't recommend this game because there are other hidden object games out there that are much more dynamic, but it wouldn't be a bad buy for $2.99 or for someone who is looking for several hours worth of hidden object game play.
May 3, 2012
Treasure hunting HO game
This game mixed some good with some very bad. The teleportation map was lovely, even if it only took you to unspecific areas instead of exact locations. The story is a fun treasure-hunter type, different than your usual HO and set in the present time, which is so nice after many many fantasy/old world games. The puzzles are nothing I'd ever seen before, very unique and appropriate to the game, and the different characters were a nice touch too. And then the bad, the inventory was horrendous, your items don't show up by simply mousing over the area, you have to click on your suitcase or attempt to click on the inventory itself (which refused to acknowledge that I was clicking on it). If you get to a puzzle and need an inventory item, you aren't able to take the item out of the inventory for reference. You're instead forced to write down the information or click back and forth (made ever so frustrating by the difficulty in accessing the inventory to begin with). Then the HO scenes... there were a lot of HO scenes. The middle of the game dragged on forever, not only did you return to the same scenes but you will be searching for some of the same items you already found! I would love to play a well-done treasure hunter game, but this was worth it for the storyline and the puzzles, if you can overlook all the annoyances.
June 18, 2013
Really boring! Click...click...click to skip !
Could be an interesting game ... the story seems reasonable, graphics and sound are ok. Although they are easy, HOS have good visibility and are interactive - sometimes need to use objects from inventory. But ... impossible spend more than 40 minutes playing, my patience ran out with Robert popping up every mouse click, or every change of scene. To make things worse, he tells what you should do, or where to go, and says something about every thing that appears - ie every 5 seconds !! Very annoying, Robert has more time to talk than you have to play.
February 13, 2012
serpent of isis
this would be a really fun game if you could take out the guy that pops up on every click of the mouse. would not buy. even if it is on sale for $2.99.
May 1, 2012
The Apple logo is a trademark of Apple Computer, Inc.