Wedding Salon
Try your hand at the wedding business! Holly runs a chain of Wedding Salons, and your job is to help her develop it, while providing top-notch customer service. Once you find the right approach to each customer, your efforts will be rewarded with generous tips. Use the money you earn to hire staff and upgrade equipment in Wedding Salon, a fun Time Management game!
Fast-paced gameplay
Incredible action
Take over a Wedding Salon!
Game System Requirements:
OS:

Windows XP/Vista/8

CPU:

1.0 GHz

RAM:

512 MB

DirectX:

7.0

Hard Drive:

61 MB
Game Manager System Requirements:
Browser:

Internet Explorer 7 or later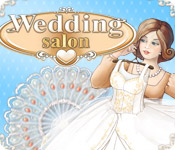 NEW299
The Big Fish Guarantee:
Quality tested and virus free.
No ads, no adware, no spyware.

Reviews at a Glance

Wedding Salon
0
out of
5 (
0
Reviews
Review
)
Customer Reviews
Great Salon game
This is a really fun game. How to play is simple, and it gets very challenging later on. Each level brings a new challenge. There are fun minigames, pretty new salons, and you can even customize the wedding room. Great graphics, customer types, and even music. BFG has done it again!
July 6, 2012
Nothing new but still fun!
As a seasoned BFGamer (Oh, bank account, I am so sorry.), this isn't anything new in terms of a time management game, but it doesn't mean I won't buy it and love it all the same. It's the standard time management game that reminded me instantly of 'Costume Chaos' another game which has a very, very similar set up. You pretty much handle the customer from the minute they walk into the store until they leave, and you have fun attempting not to make them angry and walk out on you. It's got some fun mini-games in the middle to break up the play a little and it also has a few insanely hard levels near the end that will take a few times. What I like about games like this is that although it may be easy enough for an expert gamer to get all the levels passed first time, there will always be a few that you need to replay for the 'expert' score, and that is what makes a game like this good!
December 21, 2011
Challenging only because of poor design
So, I started off really liking this game during the trial. Once I purchased the full version, it went down hill. There are a few things that are incredibly irritating about this game. First, this game is pegged as time management, but they have these "mini-games" pop up in the middle of rounds that basically involve matching. I don't think the matching is fun and they just add extra levels of matching as the game goes on, so the irritation about that builds. Second, you queue up actions that trigger mini-games. Once triggered, you HAVE TO finish it before they will let you click on anything else. You can't right click or get out of it and come back. So, you can watch yourself lose a customer because you picked the white fabric when the hat is a gray fabric. Third, even after you've finished the mini-game, there is an added couple seconds (while you watch something happen to keep you from getting expert score) for the mini-game to make some noise and have a heart swirl around on the screen. Fourth, there isn't really a challenge in the game except pure luck. You can't get better at timing the actions and the mini-games because the people that come in are completely random. I've replayed levels and gotten completely different characters. The same characters don't have a predictable order of requests to adapt to. There is no way to manage your time for the people that show up in your shop because they are all completely random. If you get lucky about the order (and click on the coffee a lot), you'll get expert. If you're unlucky, it is still really easy to beat levels. I this game is just a poorer version of others in this category.
January 6, 2012
Love it! Keep it!
I really think this game was well thought out and very challenging but not impossible. I love the beautiful graphics. The graphics are a little more antique-ish which gives the game a very elegant vibe. I love that the upgrades are just for our own wedding too! Very beautiful.
January 29, 2012
Wedding Salon?
Wedding Salon is a game where you put soon to be brides or grooms to rest by doing their hair, making them matching jewelry. ect. Whilst running your own wedding shop, you are getting married yourself! You have to pick the venue, dress, windows, floor, wallpaper and table cloth for your big day. Even though this game sounds cool, it's incrediably repetitive. Which makes it very boring, since the game isn't really that intresting anyway! However the graphics are good, they have some detail but the music is is annoying, it's like one of them annoying tunes you cant get out of your head. Also this game is not challening!!! If i was going to recommened this game it would be to 7-12 year olds.
June 9, 2012
Standard time management game with wedding theme
Just your normal time management game, really. Must serve as many customers as possible without losing any or making them too angry. As the game progresses, it gets more and more fast-paced and you really have to try to keep every customer. Expert scores are rewarded with upgrades and personalising your own wedding venue. There are a few mini games which help to keep things fresh.
November 20, 2011
Time Management
This game was unique in the way it was designed, you have a lot of different items your customers want and they request them in any random order, that is where the challenge comes in because you have to serve certain ones first and you have to always have an available waiting chair or the customer will walk out. You get to choose from 3 different locations for Holly's wedding and decorate it I love that part, you also match differences on jewelry requested by the customers as well as any bridal gifts they choose there are mini games, upgrades for the shop and for Holly -the sales chick and the only chick serving customers- which depend on your scores all while keeping their hearts up which is normal in any TM game. There are several locations to open up so the length of game play is descent and levels can be replayed to better your scores. It was fun but their wasn't a slow increase in levels it became busy before the first level was completed, you definately have to keep up right off the bat! I only played the trial version but this is definately a future purchase cause of the story and other store items and planning, etc. Plus I love weddings... :)
February 19, 2012
My favorite Game!
This is truly my favorite time management game. It's challenging, but not difficult. The game is user-friendly and motivating to play over and over again. It's fun to get through all the levels and then have your dream wedding at the end. A must have!!
June 29, 2012
Such a great game!
This is the best time management game I've played in a while. The game is definitely a challenge, which I like. As far as basic gameplay goes, it's very similar to many other games in that you rotate your customers through stations. I enjoyed the matching minigames, because they kept things interesting. Also, I like that you get rewarded for completing expert levels. Definitely more challenging than most, but I love it!
June 3, 2012
Excellent time management game!
This is one of the few time management games that I play over and over. It is well written, fun to play and challenging if you choose it to be.
June 9, 2012
The Apple logo is a trademark of Apple Computer, Inc.