Phantasmat Collector's Edition
Exclusive
After crashing your car in the middle of nowhere, you stumble upon The Drowned Dead Hotel, a lonely forgotten structure leaning from a cliff. Beneath lies a dark and cold lake that used to be a lively town. What secrets are buried at the bottom of the muddy waters? Who are the mysterious inhabitants of the hotel? Dive into Phantasmat, an incredible Hidden Object Puzzle Adventure game, and get to the bottom of a long forgotten tragedy.

This is a special Collector's Edition release full of exclusive extras you won't find in the standard version. As a bonus, Collector's Edition purchases count toward three stamps on your Monthly Game Club Punch Card!

The Collector's Edition includes:
Bonus adventure
Wonderful wallpapers
Replayable levels
Interesting backstory
Game System Requirements:
OS:

10.4

CPU:

1.0 GHz

RAM:

512 MB

Hard Drive:

246 MB
Game Manager System Requirements:
Browser:

Safari 4.0 or later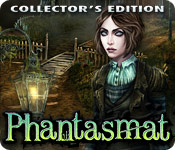 The Big Fish Guarantee:
Quality tested and virus free.
No ads, no adware, no spyware.

Reviews at a Glance

Phantasmat Collector's Edition
0
out of
5 (
0
Reviews
Review
)
Customer Reviews
Phantasmat Collector's Edition
71
71
Fantantasic
A great game that gives two ways to play! should be more like this!!!!
February 12, 2012
ENJOYED GAME..... BUT ....
I REALLY ENJOYED THIS GAME, THE STORY WAS GOOD IT WAS QUITE SCARY ALSO BUT STICK TO THE CHEAPER ONE AS THE COLLECTORS ADDITION ONLY OFFERS ABOUT 15MINUTE MORE GAME TIME & ITS NOT WORTH AN EXTRA FIVER, I KNOW YOU CAN PLAY THE HO SCENES AGAIN & AGAIN BUT WHY WOULD YOU WANNA DO THAT, I NEVER DO ANYWAY I JUST WANTED THE EXTRA LEVEL BUT IT WASNT WORTH IT.
January 27, 2012
A macabre HOG and M3 tale.
Phantasmat is both a HOG and a M3 at once. That initially intrigued me but I found out quickly that in any HOS one can solve it the HOS way OR switch to a M3 game and one can even find as many HO as they can and then switch back to a M3 to finish. Switching back and forth is unlimited. Since both HOS and M3 are favorites of mine, I had some trouble deciding which to do. However, the M3 games were relatively small for my eyes and they were rather difficult. They had an explanation screen that did not explain everything, so I ended up doing mostly HOS. The HOS quality was mixed. Several had very small items to find and were very dark. Those just aren?t fun. However there were others that were much clearer and much more fun to do. So the HOS were mixed on quality. The puzzles were to my liking. I dislike puzzles but at the end of the game it gave me a ?trophy? for having solved all of the puzzles without skipping any. I was surprised because I usually skip most of the puzzles in a HOG. I guess these pleased me more than I realized. The story line is macabre, with twists and turns in the plot. The cut scenes were fair but long. Without them, the plot would have been too twisted to follow, so I can?t recommend skipping them. The art work is pretty good and often pretty disgusting. Unfortunately the game play doesn?t move smoothly from one scene to another. I had to keep the walkthrough open all of the time and switch back and forth because one scene often did not lead to the next, but left me hanging, trying to figure out what should be next. That fragmented the action and significantly reduced the fun.
March 8, 2012
(almost missed it D: )
The beginning wasn't impressive enough for me, to the point of thinking about don't bother to play it. It seemed boring - and it was predictable, some times. But glad that I kept playing it O.O I loved the characters, specially the adorable, sweet, old lady. Loved their stories, their mysterious and eerie traits and manners and wanted to know more about them. This game has a deep sadness, and a dark, perhaps sometimes oppressive, atmosphere, very suited to the story. Everything is painted so you can see the caring the artists have put on everything. My favorite bonuses were the bonus game, of course, and the concept art - this feature has a little comment below each image, which I felt as a delicious detail to include. The only thing I disliked in this section was not having a "download track" button in Music (there is a beautiful tune that i would love to be allowed to save). I really liked the option to have a 3 matching game besides finding hidden objects, that was unexpected and awesome. The down parts: Puzzles were too easy, most of times. Predictable. And the town should have more places to explore, more streets to wander through ;_;
April 2, 2013
A great HOG Adventure
This game has an excellent storyline. There's nothing that will make you jump out of your seat, but it has such a wonderful immersive feel and manages to pique and hold your interest. The mini games and HOS are fun and not too hard and anyone on a beginner or intermediate level should be able to handle them. For expert level players, the games will be very easy, but fun, and you will most likely be enthralled with the story to the extent you don't mind the simplicity. The only thing about the HOS I didn't like was the hazy effect which strains the eyes ever so slightly. If you play casual mode, you can skip what you don't like and for the HOS you have the Match 3 option which isn't my particular taste, but it's nice that the option is there. The graphics are beautiful but the animation could have been a bit smoother. The voice-overs were decent. Regardless of how you feel about them, they don't detract from enjoying the game and mercifully you have the ability to speed them up without losing any tidbit of the story. Progression in the game is fairly straight forward. While it is linear in nature, you don't really mind it; and yes, there is some going back and forth, but it's not excessive. It would have been nice if there was a map, but again it's not like it took a lot to move from one place to another. Over all, a very enjoyable game that really does entertain and leave you with a sense of satisfaction. You won't regret buying it. I have the CE version and while it is nice, the SE is probably the better deal. I say this because the epilogue bonus play is entertaining, but not necessary to the story. Total play time was about 4 hours for everything. I highly recommend this game.
May 26, 2014
One of the Creepy Game Ever
Phantasmat Review Developed by Codeminion One of the creepy game that I have to play. *Creepy and dark atmosphere *Realistic characters *Chalenged hidden object game *OK storyline Good game... :)
September 7, 2013
It could be better
As a big fan of horror stories, i find this game a bit disappointing in that sense. The plot is weak and you don't really get to buy the story. PROs: Soundtrack and graphics are very nicely done. CONs: It's entertaining, but not really challenging.
January 11, 2012
A Five Star Dud...
I'm in the minority here. Most everyone that has played this game and posted a review here have given it a 5 star rating. Not me - this is one of those games that goes into my "retired early" pile; started but never completed. The Good: The storyline was intriguing, and kept me interested in the game... at least for a while. The graphics were decent; not stunning, not spectacular, but easy to look at. The music was bearable, and the sound effects added a bit of mystique to the game. It wasn't especially hard to get around. The hint system is good. Takes about a minute to recharge in HO scenes; 3 minutes everywhere else. They have in game achievements if that's your thing. The Bad And The Ugly: There's no map... not that you really need one for this game, but it would have been an added enhancement. There's no journal... I like to have a journal so that I can read where I've already been. Additionally, a journal allows me to "refresh" my memory if I haven't played the game in a while. This game, however, does provide a player with a task menu that lists whatever objectives they may have acquired. HO scenes were crowded with junk. Some objects were hard to see (poor lighting). Although this game provides a player with the option to switch to and from match 3 (at any time during a HOS), I found that match 3 just wasn't worth the time (because it takes up too much time). The idea is to get a golden eye to the bottom of the board in order to get credit for and object (one object per eye). That sounds easy enough. Problem is that the golden eyes don't always spawn right away, and when they do it's almost always in an area where nothing matches up... so getting them to drop down the line is long and drawn out. Fact is, at one point it took me 40 minutes to get one eye to drop at which time I received a credit toward 1 hidden object. Why do I want to spend 40 minutes doing that when I can complete the entire HOS (in hidden object mode) in around 8 minutes? So I can get an achievement? I'll pass, thank you very much. There isn't a long list of achievements (when compared to other games that I've played). Not that I really care. I'm really not interested in acquiring achievements in HOGS (or MMORPG's for that matter) because they're just a time sink as far as I'm concerned. There are plenty of cut scenes in this game (too many imho). The voice overs are good, but it just got to a point where I lost interest in them (most of them took a while to get through). First I watched them. After a bit of time I sped them up (a mouse click allows a player to advance the cut seen). Finally I just skipped the cut scene altogether. The number of cut scenes actually began to lead to my disinterest in the storyline as well. MY BIGGEST GRIPE! HOS, HOS, HOS, HOS and HOS, followed by HOS, HOS, HOS and more HOS. As you can probably guess, I'm not a big fan of HO scenes (the less the better) because I prefer the adventure aspect of any HOG that I play. The number of HO scenes in this game was just too overwhelming for me, and is the main reason why I retired this game after having completed 48 percent of it (the game tells you what percent of the game you've completed). Between cut scenes and HO scenes, this game just started to get boring, boring, boring. As I said, I prefer the adventure aspect of a game, If you like HO scenes this game is definitely up your alley. For me, the game wasn't very much "phun".
June 24, 2012
Expected much more...
After seeing the good reviews I expected a much better game. I thought the story line was poor and the game didn't follow logic. Basically you spend all your time running around trying to find HO puzzles to get you the next tool you need to open something. Lacks imagination.
June 22, 2012
Very disappointing
I purchased this game during a BigFish Special weekend after seeing it received so many 5 star reviews. I was very disappointed and cannot understand how so many people felt it deserved 5 stars. I too, am in the minority by giving it 2 stars- and I felt I was being kind in that. I found the graphics terrible. Some objects were so small and non-recognizable that I found myself exclaiming, "Oh, that's what that is!" upon finding them. The story was gruesome- but so many these days are. I did not play the Match Three mode. I am of the opinion a HOG is a HOG and a Match Three is a Match Three. What is the purpose of combining them? - just my opinion, though. The best thing about this game was the three punches I received for the purchase. I would not recommend it and certainly will not bother to play it again.
October 26, 2012
The Apple logo is a trademark of Apple Computer, Inc.
The Windows logo is a trademark of Microsoft, Inc.