Clutter
Clean up the Clutter in this amazing Hidden Object game! Take on minigames and put everything in order again! Progress through countless levels as you dash through each stage and try different modes of play. Randomly created levels and puzzles give you hours upon hours of fun! Can you take on the Clutter?
Tons of levels
Gripping gameplay
Clean up the Clutter!
Game System Requirements:
OS:

Windows XP/Vista/8

CPU:

800 Mhz

RAM:

256 MB

DirectX:

8.0

Hard Drive:

109 MB
Game Manager System Requirements:
Browser:

Internet Explorer 7 or later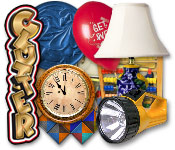 NEW299
The Big Fish Guarantee:
Quality tested and virus free.
No ads, no adware, no spyware.

Reviews at a Glance

Clutter
0
out of
5 (
0
Reviews
Review
)
Customer Reviews
Great way to unwind
Relaxing, upbeat, and highly recommended. Very different from most HOGs, and I found the difference refreshing.
February 16, 2014
Enjoyable
I enjoyed both Clutter 1 & 2, the graphics were good and as the game levels went up, decluttering became a challenge especially if you didn't want to use the hint button.
October 24, 2013
Don't recommend
I find it difficult enough to find the odd objects, without doing them in different sizes, different colors, and with a moving strip across the bottom. I don't recommend this game. Sorry I bought it.
February 22, 2012
Extremely simplistic and redundant
If all you want to do is match up two identical items, or the halves of an item, then you might like this game. I found the "life lessons" annoying - I don't play games to be preached to, and I have no idea why the author's picture comes up at the end of each and every game - very bizarre. No story line at all - just pile of objects that slowly dwindles as you find matches.
June 22, 2012
A true junk pile game dominated by the creator's ideals about life
I hate timed games but what I hate more are the games with true junk piles requiring you to sort through and find the matches by sheer luck of the removal of the right pieces or in some piles by the movement of the right piece so you can see the pieces beneath it. And there is no method to speed up this process such as a "de-clutter" button that allows a piece of junk to be moved or be "seen" through. You can click on a piece in most screens and it will move in a random direction a short distance but it often moves back or becomes part of another clump hiding even more pieces. Another frustrating type of pile of junk provided for you to click through involves objects blurred on purpose that allows you to see something under it but then trying to find the right place to click to select that item was difficult. Add to that another pile of junk where half of the items were in color and the other matching half were in black and white all mixed together. Oh, and of course the items were not oriented the same and were often two different sizes adding to the "suspense" I guess. The one redeeming factor was the hint system that maxed out at 99 hints by completing screens and mini games and winning hints. The mini games sprinkled between "chapters" were of the same 6 types ranging from placing groups of coins from various stacks filling a checkerboard in a specific order to finding specific items flashed on the screen in a random order. This was the only part of the game that had a skip button. On top of all this, the game creator's head shot appears throughout the game offering his "bits of wisdom" on how you can do better next time or learn from these screens that life is one big junk pile but you can deal with it if you "de-clutter" yourself. If you want true junk piles to sort through and don't mind the "preaching", this game is for you.
July 11, 2014
Might have been fun without the preachiness
I tried this game because of the 5-star ratings. Definitely not my cup of tea. Gameplay is pretty simplistic, and got old pretty fast. I have nothing against games that are fun and not all that difficult, but there was not enough variety in this game to keep my interest. Still, it might have been OK without the self-help dude preaching at me about decluttering. I play games to relieve stress and decompress from my very busy workday - I don't need a lecture with my "fun," especially when it wasn't very much fun to begin with.
February 17, 2014
I'm sorry I bought this game.
First off, it's not really so much a 'game', as it is an interactive self-help book put into play. The soul purpose of this game is to teach you that things are easier with less clutter, therefore you should declutter your life. It's set up like an early 90's style game. The visuals are awful. Very pixelated, with no sharpness and dull colors. The game play is very repetitive. You are constantly matching items. They go on a conveyor belt. The man's face pops up, tells you a 'tip' and you move on to yet another round, or a 2 minute mini-game. Overall, I cannot think of one reason to purchase this game, unless you are that desperate for peace of mind and some tips for decluttering your home.
May 27, 2012
Just Awful
This is not a hidden object game! It's the most annoying, repetitive piece of programming I've ever encountered. Truly awful. Self-appointed, self-help guru with nothing better to do that to lecture people about the importance of decluttering your life.
July 1, 2012
Sanctimonious bloviating
I can do without the self-righteous preaching in the narration, not to mention the extremely difficult-to-understand instructions for the minigames, and the migraine-inducing bouncing when you click on an item to match it. I played 20 minutes of the demo hour and uninstalled the game. I won't be trying either of the sequels. This one got one star only because there's no way to give it a zero.
April 5, 2014
Turned out to not be my cup of tea
Worst money I have spent here at BigFish thus far. Annoying pop-up guy being "helpful" ... for me, game just was not all that fun, and at the end of the last round I played, I got this huge purple shiny rock in the middle of the screen which won't go away and is blocking stuff. Exited, went back in, rock still there. Looks like I'll have to reinstall to fix it, but I think I'll just delete the game and add the lost five bucks to my "idiot account" since I feel like one for buying this one. Guess I'll recheck the policy on a possible refund but imagine I'm probably just out the dough, my tough luck. Oh well, still plenty of other games to play that I do enjoy, so other than the upcoming membership fee, I think I will curtail any further spending here for this month. This game really left a sour taste in my mouth.
February 3, 2013