Clutter
Clean up the Clutter in this amazing Hidden Object game! Take on minigames and put everything in order again! Progress through countless levels as you dash through each stage and try different modes of play. Randomly created levels and puzzles give you hours upon hours of fun! Can you take on the Clutter?
Tons of levels
Gripping gameplay
Clean up the Clutter!
Game System Requirements:
OS:

Windows XP/Vista/8

CPU:

800 Mhz

RAM:

256 MB

DirectX:

8.0

Hard Drive:

109 MB
Game Manager System Requirements:
Browser:

Internet Explorer 7 or later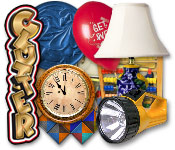 NEW299
The Big Fish Guarantee:
Quality tested and virus free.
No ads, no adware, no spyware.

Reviews at a Glance

Clutter
0
out of
5 (
0
Reviews
Review
)
Customer Reviews
JUST MY CUP OF TEA I LOVED IT !!!
this made a super-enjoyable change from the usual hidden object adventures I usually play. Basically there is a pile of clutter to clear by matching two and variations on it, like sometimes everything might be round things / or cut in half, or you have to pick from shadow shapes. Its a real challenge watching the screen so closely and hunting against the timer for colours and textures and shapes that match, and such fun when you miss by one match or one second and have to try again. The level of challenge against success was just right for me and I loved the life tips and quotes and messages from the developer. It made me feel like a friend was helping me, she sounded so kind when she says 'I know you can do it, have another go' oh lol. And the humour of the objects in the clutter piles themselves is so funny, all can be recognised from boot fairs, charity shops and your granny's shelf over her mantelpiece, lol. who buys this stuff ??
December 24, 2014
Great way to unwind
Relaxing, upbeat, and highly recommended. Very different from most HOGs, and I found the difference refreshing.
February 16, 2014
Enjoyable
I enjoyed both Clutter 1 & 2, the graphics were good and as the game levels went up, decluttering became a challenge especially if you didn't want to use the hint button.
October 24, 2013
Very enjoyable game, I recommend this for a relaxing play.
I found this game to be really fun and relaxing. I really enjoyed clearing up the clutter, I also appreciated that variety. There are really fun mini-games mixed in between every couple of levels that kept the game from getting stagnant. Every different chapter also had a different theme which also contributed to keep the fun and challenge level high. I found the levels where the items were blended together and the pick two and leave one levels to be the most challenging. Visually the game left a lot to be desired, the images themselves were not cutting edge quality, luckily this did not impact the play at all. The visuals over all were rather crude and elementary. I gave this section a two star rating because I did enjoy the beautiful pictures and postcards. As for the storyline, I almost didn't play this game as some of the reviews talked about it being nothing more than a 'self-help' book. There was a lot of advice about reducing clutter ingrained into the game itself, however, those portions of the game were for the most part easily skipped if you did not want to read them. I actually enjoyed them, I used to be a clutter keeper myself so I was able to identify with a lot of the advice he gave. Others also said it just told the story of the creators family ancestry. This was kind of true, but I found it to be an interesting read and if you read all the parts you could easily tell it wasn't a serious family history but more a whimsical quest for the stones. I appreciated the creator's mention that a lot of the 'clutterisms' were taken from his father's journal. Whether this was true or not, it thought was really nice as the game itself would in a way be a tribute to his father. I am definitely going to go and check out the next installment of this game.
October 19, 2014
Don't recommend
I find it difficult enough to find the odd objects, without doing them in different sizes, different colors, and with a moving strip across the bottom. I don't recommend this game. Sorry I bought it.
February 22, 2012
GOOD PRACTICE
This game provided me some good practice to keep my hidden object skills honed. Otherwise, it doesn't have much to recommend it. The storyline has something to do with 12 stones that a family supposedly descended from Ponce De Leon searches for over centuries. These rocks do something, provide something, or maybe not. Never did figure that one out. The stones didn't seem to have much to do with the gameplay itself. The actual game play centers around learning to remove the clutter from your life and reap tons of benefits, such as having more time to play games. I will say that the mini games and the HOS were at times challenging enough that I was unable to solve them or finish them in the time allowed and had to play them over. Food for thought: if everyone unclutters their life, where will we find any antiques?
December 24, 2014
Extremely simplistic and redundant
If all you want to do is match up two identical items, or the halves of an item, then you might like this game. I found the "life lessons" annoying - I don't play games to be preached to, and I have no idea why the author's picture comes up at the end of each and every game - very bizarre. No story line at all - just pile of objects that slowly dwindles as you find matches.
June 22, 2012
A true junk pile game dominated by the creator's ideals about life
I hate timed games but what I hate more are the games with true junk piles requiring you to sort through and find the matches by sheer luck of the removal of the right pieces or in some piles by the movement of the right piece so you can see the pieces beneath it. And there is no method to speed up this process such as a "de-clutter" button that allows a piece of junk to be moved or be "seen" through. You can click on a piece in most screens and it will move in a random direction a short distance but it often moves back or becomes part of another clump hiding even more pieces. Another frustrating type of pile of junk provided for you to click through involves objects blurred on purpose that allows you to see something under it but then trying to find the right place to click to select that item was difficult. Add to that another pile of junk where half of the items were in color and the other matching half were in black and white all mixed together. Oh, and of course the items were not oriented the same and were often two different sizes adding to the "suspense" I guess. The one redeeming factor was the hint system that maxed out at 99 hints by completing screens and mini games and winning hints. The mini games sprinkled between "chapters" were of the same 6 types ranging from placing groups of coins from various stacks filling a checkerboard in a specific order to finding specific items flashed on the screen in a random order. This was the only part of the game that had a skip button. On top of all this, the game creator's head shot appears throughout the game offering his "bits of wisdom" on how you can do better next time or learn from these screens that life is one big junk pile but you can deal with it if you "de-clutter" yourself. If you want true junk piles to sort through and don't mind the "preaching", this game is for you.
July 11, 2014
Might have been fun without the preachiness
I tried this game because of the 5-star ratings. Definitely not my cup of tea. Gameplay is pretty simplistic, and got old pretty fast. I have nothing against games that are fun and not all that difficult, but there was not enough variety in this game to keep my interest. Still, it might have been OK without the self-help dude preaching at me about decluttering. I play games to relieve stress and decompress from my very busy workday - I don't need a lecture with my "fun," especially when it wasn't very much fun to begin with.
February 17, 2014
More than a Game .... You'll See.
You know, I really liked playing this game. Making matches of terribly cluttered piles. Even the match the correct halves of each item wasn't too bad. The bonus games were tremendously fun, especially the one with the coins. But, unfortunately, this game had so much potential to be a great declutter game and it failed .... miserably. What I liked: The games were great. The mini games were fun. The background scenery of where you were going (but never got there?) was beautiful. What I Disliked: Being told hold how to run my life. The terrible amount of time it took to FINALLY open the mini game. If it's MY game, don't show me what to pair, etc. unless I ask for a hint, which are very easy to accumulate. How very long it took for the game to actually start. This isn't a game about matching anything, really. It's not a game at all, really. This is a grown man's ego at work. He tells the autobiography of his ancestor's. Write a book, if I''m interested I'll buy it. It's a self-help book, an inspirational book full of condescending platitudes to make my life better. I'm pretty satisfied with my life, thank you. A motivational speaker who tried to make a game out of it and failed miserably. This game insulted me. It should have been described as exactly what it is: motivational, inspirational, self-help nonsense that I can go ANYWHERE to find if I wanted it. A bookstore, a library, the web, even my Pastor. It's a definite "NO" for me. But, go ahead, try it. Maybe your personal life needs cleaning up. Because it's not about the actual "clutter" of belongings, it's about YOUR PERSONAL LIFE!
September 17, 2014