Garage Inc.
Angelo Marito has just opened up his very own auto garage and needs your help to succeed in the Roaring 1920s! Guide Angelo as he struggles to balance fixing his customers' cars, hiring employees, growing his business and dealing with the mob in the exciting Time Management game, Garage Inc! Unlock new cars, hire new workers, and keep the mob at bay as you build out your garage!
Fantastic atmosphere
Incredible gameplay
Run your very own auto garage!
Game System Requirements:
OS:

Windows XP/Vista/8

CPU:

600 Mhz

RAM:

128 MB

DirectX:

6.0

Hard Drive:

194 MB
Game Manager System Requirements:
Browser:

Internet Explorer 7 or later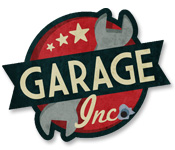 NEW299
The Big Fish Guarantee:
Quality tested and virus free.
No ads, no adware, no spyware.

Reviews at a Glance

Garage Inc.
0
out of
5 (
0
Reviews
Review
)
Customer Reviews
And to think that I almost missed this one!
This is a unique TM game set in Chicago in 1928...in a country on the brink of depression, and a city being run by the mafia. The graphics are appealing, the music is wonderful and true to the period, and the game play is fun. You play as a young father who has just opened his own garage, and is trying to make enough to support his family. I would not have expected a game centered around auto repair to appeal to me, but I really enjoy it. It is a nice change from restaurant and farming TMs, which are available in abundance. This one has a personality all its own.
May 23, 2012
Almost
What a great idea for a car shop game. I love the idea of the old days and old money value system in place. But the game just feels as if it is missing something, the game play is just not smooth feeling. I cant recommend someone to buy this game, but you might give it a shot yourself.
April 19, 2012
enjoyable, but needs work
it's 1928. you are a young mechanic trying to earn a living as a mechanic in mafioso-infiltrated chicago. you work hard for a few dollars each day but the mafia is determined to eat up your profits faster than you can earn them. graphics: the graphics were nice, but the animation was annoying because it was slow and klunky, involved too much clicking, there was no possibility of queueing tasks for each of the mechanics and the mechanics' movements were nonsensical (they walk towards a pallet with boxes stacked on it and are in danger of tripping when they abruptly change direction go to the car -- what is the point of this? why this unnecessary movement??). music: fabulous! i absolutely loved the music. storyline: believable. my interaction: one hour demo in story mode and in endless day mode. i enjoy the idea for this time-period time management game, but the execution needs work. as it is, i am giving this game only a "meh" -- a tepid thumbs up.
May 30, 2012
Needs Improvement, But Amazing Game!
I LOVE the idea of this game. It has an exciting storyline and the game is just challenging enough to really keep someone's attention. But there are a few problems with the game. The intro glitches a lot, it completely skips over words when it's reading. Another quality issue i found had to do with moving the cars from space to space. it was fairly difficult to move the car from the parking lot into the shop diagnosis spot. I had to click multiple times before the car would recognize that I wanted to move it. Besides the quality issues, I found it ridiculously annoying that I had to keep clicking the people to the space and back. There's way to much clicking back and forth for my liking. Another thing that would improve the game would be having more workers at a time. But other than that the game is very exciting and interesting. Defiantly recommendable!
August 10, 2012
I really wanted to like this game because it was about cars!
When I first saw this game, I thought, wow, a TM game that isn't about dashing around a restaurant serving food or planting and harvesting crops! Instead, this one has you dashing about an auto shop fixing cars! It looked promising and I really wanted to like it, my husband having been a self-employed auto mechanic himself. It's got a great story line, takes place in the 1920's during the heyday of the Chicago mobsters and speakeasys. It has great voice-overs and jazzy music. The graphics are cartoonish, but appropriate for the time period. However, a few things made it hard for me to play this game. Maybe it's just my mouse, but I found that when I clicked on an object, I had to center it just right. Even slightly too far to the left or right or a little off-center and I'd have to click my mouse again. I'm not the fastest person on TMs, but that made me even slower. Even so, I did make most of the challenges in the tutorial. The other thing that frustrated me was that even though I had 2 repair docks and 3 employees, I could only have 1 employee working at a time, I guess, because I wasn't making enough money to pay more than 1 employee at a time. Maybe that changes as you progress through the levels. But it did slow me down more because I couldn't get the cars repaired fast enough and kept losing customers. POSSIBLE SPOILER ALERT: And this is just my personal opinion, but it bothered me that Angelo has to do tasks for the Mafia guy because his cousin Sal couldn't pay back the loan shark the money he loaned Angelo to open up his shop. Didn't Angelo realize Sal was mixed up with the Mob?? END OF SPOILER It's nice to see a game for the guys, about cars instead of food or farming. It's just not for me. But do give it a try, if only for the hour trial. You just might like it. A nice change from the typical diner-dash type TM and I do hope that developers will continue to design TM games with alternative themes like this.
May 31, 2012
C'mon - it's not that bad!
All the clicking gets a little tiresome, but once you get the hang of it, it's kinda fun. It's the story that's got me hooked - I'm going to buy it just to find out what happens to this guy. It's the 1920's and he got the money to open his garage from his cousin - who owes money to the mob. After that he just keeps getting in deeper and deeper. It's pretty funny, too. For $2.99, I just have to see what happens to him in the end.
May 30, 2012
Could be better
Kudos for an innovative idea for a game. The graphics were fantastic for the time theme of the game. However, constantly clicking on Angelo was irritating and as well I kept forgetting when I had to click on him and when I didn't. Hiring is a pain as Angelo has to take the money all the time. At the beginning you only get one stall for new customers. Angelo stands too far away and there was too much clicking. I didn't enjoy it all I did was listen to the music and look at the graphics.
December 29, 2011
Far too much clicking
This game got relatively good old comic book style type graphics - if you like that. However the game itself I really find more a pain than fun. One have to click on the game character "Angelo" (and other) constantly , which is extremely irritating , this is not made better by the fact that when "Angelo" stands behind a car he may be hard to hit with a mouse click. So this is NOT the type of game where you just click the object to send the character , here you must first click the person and then the object to send the person to the object. Same goes for the objects (cars) on must first click the object and then the destination to send the object to the destination. It were something that I quickly got very tired of. Game might have been improved if there had been sidebar icons representing the characters so that one could just click the icon for the character and then the object and then que actions... Further more I think the game lacks settings in the sound department as it is either on or off for both SFX and music, so one can not turn down the the volume levels or set them relatively in the game.... In short, as someone else have written, there is far too much clicking.
May 30, 2012
Eh time management game
I wanted to love this because of the 1920s era feel. It had clunky game play and poor controls. I'm OK with car games, but this was just not fun and it was sometimes hard to click on the proper thing as well as requiring far too many things to click per car.
October 5, 2014
BORING
I PLAY BIG FISH GAMES EVERYDAY AND THIS WAS THE WORED OF SEEN YET :( !!!!
May 30, 2012
The Apple logo is a trademark of Apple Computer, Inc.