Luxor Bundle Pack
In this two-game pack, Isis has enlisted your help to battle against Set and his evil minions. Use your mystical winged scarab to shoot colored spheres and make matches of three or more. Stop them all before they can reach the pyramids at the ends of the paths or all of Egypt is doomed! Use the magic of Isis to catch talismans, gems, and Ankh coins. Unique power-ups, fun gameplay, and an original musical score make this game hard to put down. Are you ready to thwart Set's diabolical plans? This bundle pack contains two games, Luxor and Luxor: Amun Rising, for the price of one!
88 challenging levels.
Two games for the price of one!
Exciting power-ups.
Individualized personal profiles.
3 difficulty levels.
Game System Requirements:
OS:

Windows 2000/XP/VISTA/7/8

CPU:

600MHz or faster Processor

RAM:

128 MB
Game Manager System Requirements:
Browser:

Internet Explorer 7 or later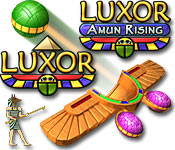 NEW299
The Big Fish Guarantee:
Quality tested and virus free.
No ads, no adware, no spyware.

Reviews at a Glance

Luxor Bundle Pack
0
out of
5 (
0
Reviews
Review
)
Customer Reviews
Wow... this is a fun 2-in-1 game!
I have to say, Luxor Bundle Pack has been entertaining to me ever since I first got it. It looks appealing, but the graphics look sort of dated, and the levels are somewhat more-than-very-hard on the original Luxor. The sounds are dated, but still good. It plays out well. However, the spheres shoot a little too fast with the Speed Shot power-up on. Overall, I love this game!
January 18, 2012
my fourth big fish review
these are the best marble popper games out there. hands down. the luxor sequel games are okay, but these 2 are the very best. i have owned all the luxor series for over 6 years and i still play these 2. the music is even tolerable. the graphics are great and the powerups are great. it's not easy at all to win. i remember when i first played luxor, i was stuck on a level for a month. i had almost given up hope of ever beating it. and it still challenges me. great game. if you like marble popper games, i think you would really enjoy these 2.
November 5, 2012
Oldies But Goodies
Pros: smooth gameplay, innovative concept, varied difficulty options (Amun Rising only) Cons: dated graphics, soundtrack Go back to the beginning of the Luxor legacy and find out what's made this series one of the most popular marble popping franchises ever. Although the graphics on these two initial releases are now dated looking, that doesn't mean the developers didn't put any effort into the games. If you haven't ever played a marble popper before, the premise is simple: Keep marbles from reaching the pyramid at the end of the track by shooting additional marbles in such a way that a matching group of 3 or more like colors is removed. There is a set number of marble chains you must clear to advance to the next level, and you will receive powerups sporadically as you work on clearing the chains. You will also want to catch the bonus coins dropping down every so often, since getting enough coins rewards you with an extra life. Uncomplicated, but surprisingly addictive. As mentioned earlier, the graphics are pretty retro since these games have been out for a while, but it's refreshing to look upon them since the screen isn't very cluttered and makes focusing on the game action easy. The programmers obviously had a warped sense of humor when designing the backgrounds, since you'll see animals with the stereotypical ancient Egyptian painting eyes (and body drawing), people sliding down steep pyramids for fun, "large fish tales" depictions, people turning pyramid ramps into gaming halls, the "Queen of Denial" (pun intended) and even a holiday themed scene, just to name a few. The sound effects are either intentionally or unintentionally funny too, an assortment of angelic cheers and wolf howls mixed into the blips and pops of the marbles. I don't remember how the actual game music in Amun Rising went, probably because I tried to listen to the original Luxor's music a few times and had to turn it off completely. The music has nothing to do with the game theme at all and almost seems like a rushed afterthought. The difficulty level in Luxor is about average when compared to other current MPs available. Amun Rising features three different difficulty levels with Normal being at about the same level of difficulty as Luxor, and Expert being perhaps 25% more challenging. There isn't the profusion of marble colors seen in some of the later Luxor installments, so if you're curious about the marble popping genre, the Bundle Pack is a cost-friendly and good way to find out.
November 24, 2011
Wow - Was I Surprised or What?
I LOVED this game. This is a bundle pack consisting of the ORIGINAL Luxor game (and that's going w-a-a-a-y back there, and Luxor Amun Rising. I was so enthralled with the Original Luxor game I did not get to Amun Rising before my hour of power was up. I call it the Hour of Power (wasn't there a game show that used that phrase?) because it certainly was. Even though it was an older game without all the bells and whistles of the newer games, it was old school fun. Without a doubt. Storyline: There is none. Graphics: Considering how far back we had to go to dust the cobwebs off this game, I was impressed with how bright the colors were. This is especially necessary when the game your playing relies heavily on you breaking strings of the same colored balls. Sound: Background music was ok. Sound effects were incredible. GamePlay: The premise of the game is to destroy strings of similarly colored balls by shooting a ball (exact color) at a string of 2 or more balls. For instance, if I have a red ball in my shooter, I would strive to shoot it at a string of 2 or more red balls. You need a minimum of 3 balls for them to disappear. Or explode, as the case may be. Pay close attention when the runes fall. That means you have succeeded in doing something wonderful. Also, these runes are more powerful than the gems, gold coins and Ankhs that fall, because they have marvelous powers, such as reverse, stop, stop and reverse, lightning bolt and all sorts of magical wonders. I've played shooter ball games before and I'm pretty good at it. They've just never appealed to me. Until I discovered the Luxor series of games. Now, it's just a matter of trying them all until I find the one that suits me the most. This Glam-ma says give it a whirl - all you have to lose is an hour of your time. I thoroughly enjoyed it. Sorry I didn't get to play Luxor Amun Rising. If you found this review helpful, please click on the "yes" button below. If not, there is the "no" button. Avoid the no button......avoid the no button.......you are getting sleepy......avoid the no button. I'm hypnotizing you - is it working?
May 18, 2014
Fun but very tough near the end...
This is a good marble-popper, but it starts to get very tough at Level 10, and by Level 12, it is nearly impossible. Getting six and seven in a row of the same color (in the shooter) is not good; this should *never* happen, as it makes advancing much too difficult, especially as rows of marbles are coming out at break-neck speed. I like a good challenge, but this is too much of one. Maybe teenagers can do it, but my teens are several decades behind me. I still recommend it, but not for those whose reflexes have aged.
December 17, 2013
Frustrated
I can't get past the level 10=6 and then I have to go back to beginning. This is my first buy this type of game and not good. I buy HO and love all of them
March 31, 2012
Awesome Quailty Game!
COOL I LIKED THE GAME :D IT WAS COOL
December 7, 2013