Stray Souls: Dollhouse Story Collector's Edition
Welcome to a town where something that should not exist runs free; where a desperate wife will risk her beating heart to find her husband; and where a terrible secret lies buried behind an orphanage. Search for clues, solve puzzles, and unlock new areas as you visit spine-chilling locations, play stimulating mini-games and locate Hidden Objects. Stray Souls – A Dollhouse Mystery will take you to a dark and spooky world!

This is a special Collector's Edition release full of exclusive extras you won't find in the standard version. As a bonus, Collector's Edition purchases count toward three stamps on your Monthly Game Club Punch Card!

The Collector's Edition includes:
Bonus prequel chapter
Concept art
Incredible soundtrack
Wonderful wallpapers
Game System Requirements:
OS:

Windows XP/Vista/8

CPU:

1.8 GHz

RAM:

256 MB

DirectX:

9.0

Hard Drive:

338 MB
Game Manager System Requirements:
Browser:

Internet Explorer 7 or later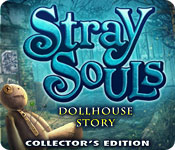 The Big Fish Guarantee:
Quality tested and virus free.
No ads, no adware, no spyware.

Reviews at a Glance

Stray Souls: Dollhouse Story Collector's Edition
0
out of
5 (
0
Reviews
Review
)
Customer Reviews
Stray Souls: Dollhouse Story Collector's Edition
24
24
Classic Horror HOPA
DEMO & COMPLETED MAIN GAME It?s been quite a while since I played Dollhouse Story, and it?s a delightful surprise to rediscover it. It?s a true horror game, and much of it is a little disturbing, but the story grabs you from the beginning and will still have you holding your breath to the very end. While the game starts as many do with the husband mysteriously disappearing, before you even leave the house, it gets different. You are confronted with a creepy voodoo doll who talks, and says he is here to help. Even when he perched up on the hint button, I had my doubts! Once we get to the town of hubbie?s childhood, we get the second item that makes this game unique. It?s a dollhouse, which, when you place dolls in it, tells a little of the backstory. Very intriguing. The final 30 mins of this game are an emotional rollercoaster and it is one of the best endings I?ve seen. That?s all you?ll get from me about the story. But, clearly the game sets you up well for the bonus prequel. The game plays very smoothly, you are kept constantly doing things. There are a lot of HOs in this one, more than there are puzzles, and you visit each twice, but you have so much to do outside the HOs, it doesn?t feel at all HO heavy. Graphics are a little fuzzy (this game is over 2 years old), but you don?t notice for long, and it doesn?t interfere with your ability to find objects. You also have 36 morphing objects to find, and these are mostly hidden well. There are rumours of a sequel, and I am sure I will not be the only one happily awaiting it. Bonus content, apart from the prequel, is the standard wallpapers and other art. Artistically, I think this game does really well, so if you?re into that side of things, I don?t think you?ll be disappointed.
April 21, 2013
Come To The Dark Side - We Have Cookies!
This game is like Redrum meets Phantasmat as far as the hairs on the back of my neck are concerned. And there are lots of moments when you will be "wierded" out. But that is a compliment to the developers. It's been awhile since I've played a game this spooky. The story line is different--you're a woman sitting on the couch with your husband one minute and the next thing ya' know, there's a knock on the door, hubby's gone and there's this creeped out little voodoo ragdoll talking to ya' telling you how to save your husband. But the story is fully developed and defined as you play the game. Also, the way you learn of your husband's past is very unique--it's done with dolls and, need I say it, a dolhouse! As for the rest of the characters you meet along the way - well, let's just hope you're not afraid of clowns. The graphics, atmosphere, story, fx, cut scenes and concepts are all fantastic and it all flows very nicely. The game play is fairly free roaming. Most of the puzzles are good and many are unique, but they made them too easy and this was a big disappointment for me. The only thing bad I can say about the game play is that there's not enough of it. It leaves you wanting more--and it won't matter whether you play in casual or expert mode. There are Morphing Objects (referred to as "Beyond" Objects)-but you don't know about them (or at least I didn't) until I literally stumbled over one. So then, being OCD, I had to backtrack and make sure I found them all, only to find out there are no achievements. Once I finished everything and was looking over the Strategy Guide (which is nicely done and complete with puzzle solutions) I noticed that they didn't list the location of all the Beyond Objects. This is a good game. It's solid, it's beautifully done and it's a Dark and Eerie game lover's dream. The shortness in length doesn't make it unworthy of anything except CE status IMHO. My recommendation - save your money, buy the SE. The bonus story isn't all that and it doesn't affect the main story. So unless you like the artwork and tunes, wait for the SE. Again, though, that's no reflection on the game--only on the CE status, Okay? Total game time for me was 2 hours and 45 minutes. The bonus chapter was 45 minutes. (P.S.-- I got a little fed up with the creeped out voodoo rag doll because he was in the corner of my eye all the time, but then at the end I felt bad for feeling that way--you'll find out why!)
November 14, 2011
Spooky Doll Makes for a Fun Game
PLUS = I loved the graphics and the eerie music. The storyline is different and slightly darker and twisted than other games I have played (and reminded me of an old Stephen King movie). Loved finding the morphing items! There are many HOG scenes. For the most part, it is easy to see the items, but in several scenes there were one or two items I could not find and had to use the Hint button. You are "Helped" in this game by a doll, who has a very unique way of showing you where the Hidden Objects are located. For the game, the SG will help you if you get stuck in an area of the town. Once you finish the game, you unlock the bonus chapter, which is a prequel. The bonus content includes extra concept art, wallpaper, media, storyline, etc. Great game! MINUS = Wish the game was a little longer (experienced gamers will probably complete game and bonus chapter in less than four hours)
November 27, 2011
Favorite game
I'm drawn in by dolls and horror, they drag me in and won't let me out. Unfortunately I never found a game that balanced both and was actually good. This game impressed me. I loved the graphics, the music, the mere storyline drug me in. Even after purchased I replayed it a few times just because I enjoyed it. The times where the sudden videos are put in; priceless. The concept of collecting dolls to unlock the past; priceless as well. You don't have to get the CE to really enjoy the game, I did anyway though and was also impressed by the bonus chapter. I completely reccomend this game to anyone who wants a good buy. I've regretted a few games I've purchased, not this one.
December 15, 2011
GREAT GAME
INTERESTING STORY LINE. SMALL MOVIE LIKE SECTIONS ADD A LOT TO THE STORY. ONE OF THE BEST GAMES I HAVE EVER PLAYED. HIGHLY RECOMMEND THIS GAME.
November 17, 2011
Creepy Fun!
This is such a fun game. The graphics are amazing, the puzzles are great as well as the hidden objects. The storyline is fantatic. Needing to help save your husband and learning about his childhood and what happened to him. This game captured me right from the start and was not dissappointed one bit. Very much recommend this game!
May 17, 2012
really good game
What a fun game. You feel sorry for the victim an want to complete the game to help him. Good HO and keep you going finding clues to solve areas. If you get stuck the hints are good.
May 9, 2013
Different Storyline-Enjoyable
I really did enjoy playing this game. The graphics were great, the storyline, although not that unusual, has a some surprising twists which were very good. The HOS's were very good for the most part, but I find it annoying when the graphic artists purposesly hide objects that are so difficult to find that even if you use the "hint" button you can't see the object. Mini-Games, which I love, were mostly average and not enough of them. I did appreciate that there wasn't the constant running back and forth to locations, which is maybe why I thought the game was kinda short, and I did buy the CE version, which gave you an extra chapter to play, not worth the extra money. I would recommend this game to anyone who is looking for something a little different and not wanting to invest a lot of time playing a game, I would not recommend buying the CE, unless you want wallpaper and screensavers. The ending leads you to believe that there will be a sequel. I hope it does.
December 11, 2012
Not Up to Par
I have to say I am surprised by all of the glowing reviews of this game, as it doesn't even rate average in my book. The story (which is nonsensical) involves you playing as a woman in search of her husband who vanished one night. You drive to the town where he grew up and search for clues to find him and solve the mystery of his past and present. You are helped by a strange doll that occasionally will give you hints. The majority of the game is hidden object scenes with the occasional puzzle thrown into the mix. The hidden object scenes are all junkpile and none are interactive. The scenes repeat throughout the game, the items stay in their original locations, and you often end up finding the same object several times. The graphics in these scenes really aren't up to par, and in many cases appear dingy and slightly blurry. The plot of the story is completely linear, and you generally use inventory items that you find straightaway. There isn't any real room for exploration or discovery. As I said earlier, the plot is essentially nonsensical. You never learn enough about any of the characters to actually care for them, and the story isn't compelling enough to make you want to see what happens next. In terms of length, the game plus the bonus chapter took me only three hours, and I am not a fast player in general. The bonus chapter simply used the same junkpile hidden object scenes from the main chapter (generally with the same items on the list to find) and offered no new areas to explore or puzzles to solve. One last complaint: the game crashed twice while I was playing it. Two crashes in three hours are far too many. All in all, this game is just not up to par with the quality of most hidden object games released today. There are just so many better ways to spend your money than on barely mediocre games like this.
August 20, 2012
I love it.
The graphics are stunning, and the hidden object sections are very fun! I admit, some of the scenes are very creepy, almost gross, but it kept my attention!
November 16, 2011
The Apple logo is a trademark of Apple Computer, Inc.