Bubble Odyssey
A truly captivating bubble bursting adventure awaits you! Help the two little space guys in their perilous journey through three extraordinary game types and 70 exciting levels. Numerous explosive power-ups and unique bonuses will bring you the non-stop puzzle action you have always dreamed of. Enjoy the unlimited bubble bursting fun!
70 levels.
3 gameplay modes.
Endless gameplay.
Game System Requirements:
OS:

Windows 2000/XP/VISTA/7/8

CPU:

600MHz or faster Processor

RAM:

128 MB
Game Manager System Requirements:
Browser:

Internet Explorer 7 or later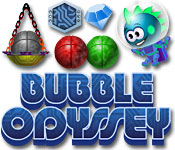 NEW299
The Big Fish Guarantee:
Quality tested and virus free.
No ads, no adware, no spyware.

Reviews at a Glance

Bubble Odyssey
0
out of
5 (
0
Reviews
Review
)
Customer Reviews
A must-have
I've tried a lot of bubble popper games over the years, but really haven't been interested in purchasing any of them until Bubble Odyssey. It's pure popping fun without a lot of unnecessary distractions, and you can progress through the levels quickly, accomplishing a lot in just 10 minutes of play. The graphics and animations are marvelous, and I enjoyed the sense of firing from the deck of a spaceship, while two aliens floated nearby. (They're not part of the game, but it would have been nice if they were.) There are three types of games to play, all equally good, but I especially liked the "puzzle" variation in which popping bubbles releases diamonds. Can't find a negative about this game, which is unusual, as most games have a little flaw or two. Easy enough for kids and seniors, but still challenging enough that it's hard to quit playing -- just 5 more minutes turns into 10, 15, then an hour.
July 1, 2012
Fantastic Marble Popper.
This was a great game, the levels get harder as you go along. I beat it eventually!
August 5, 2014
Just what I wanted in a bubble game
After blowing money on boosters for Facebook bubble games I wanted a game I could purchase and just have fun playing as long as I wanted. This is the perfect game for me. It has good graphics, "no" storyline as such to muck up my time, not too hard, just zen like bubble bursting. I can bust bubbles to my hearts delight.
July 28, 2013
Bubble Busting Fun ... with a few .... surprises
At least they were surprises for me. Let's get out of the way that this is just (well, not JUST) a regular bubble busting game wherein you shoot a bubble/ball from a shooter at the bottom of the game board into a screen of various colored bubbles/balls to make a match of 3 or more and destroy them - KA BOOM!!!!! Now, for the not too intelligent people such as myself, who it took a while to figure out some of the simplicity of the game, this is for you: The color of the ball that is going to come out of the shooter is NOT the little ball at the top of the shooter that is FACING the screen of multi colored balls. The color that is GOING to be shooting next is the color at the back end of the shooter. That's right, laugh, the shooting ball is coming out the BEHIND of the shooter. How they do that is beyond me but it took me about 10 levels to figure out how to tell what the next color was going to be. Another thing I had to figure out was ...... you CAN toggle a different color. Remember, there are 2 colors in the shooter. The BIG BALL in the BEHIND which is your next color ball and a teeny one in the front of the shooter (which is generally where balls would get shot from - but I digress). Well, say your BIG ball in the BEHIND is green and the teeny ball in the front is red. Well, say you don't want a green ball but that red one would sure come in handy. Click the right side of your mouse and, voila, red ball moves to the back and becomes the BIG BALL ready to be shot. In every level there is at least ONE BIG BOMB that destroys a really, really huge amount of bubbles/balls. However, (don't you hate the however/buts of a sentence?) do not send that bomb so high up into the bubbles/balls that it can't be seen because it won't explode. It just disappears. Wait for the screen to come down a little to so you can see all the bubbles/balls up there or just shoot it wherever you have bubbles/balls just hanging around waiting to be destroyed. There's also a really neat thing you can do with a rocket bonus that I won't tell you about. It's sooooooooooooo cool and helps tremendously. Just keep an eye out for a ball that you shoot that has a rocket picture on it. Then, just give it some thought, or not, and you'll probably accidentally figure it out - like I did. Now, let me tell you why this is not going to be a purchase for me. Because when I discovered how to tell what the next color ball shoots out the shooter, I thought, ok, things will get fun now. NOT. Then, when I figured out you could toggle the colors I, again, thought, ok now it's going to get good. NOT. THEN, when a brand new color joined the group, I thought, for SURE things would get a little harder. NOT. I made it to level 37 in an hour of playing without losing one little life. Boring. Now, just because that happened to me doesn't mean it will happen to you. You may actually enjoy endlessly shooting bubbles/balls up into the game board with no bonus levels, nothing in between some levels to liven things up. If that's you, you will love this game to pieces. So, try it before you buy it and enjoy. Happy Gaming!
August 12, 2014
Did not care for it
I did not care for this game. It is just too simple a game for adults although a kid may enjoy it. The graphics were ok but the game play is too repetive.
July 28, 2013
Nothing special here
If you want an old-time pinball type, truly mindless game, this is for you. I was bored after 3 rounds but played through 11 rounds to see if anything new happened. All the playing boards were the same. You shoot at marbles coming down from the top of the screen. I suppose if you do this enough times you might get additional colors to add to the challenge but basically this is a simple 'hit the marbles as they drop down from the screen' game. The best I can say about this one is the colors are nice and bright.
November 22, 2012