Death at Fairing Point: A Dana Knightstone Novel
Exclusive
Can you solve a 19th century murder? You are Dana Knightstone, an up-and-coming fiction novelist. While on vacation in Scotland, you are haunted by the ghost of David, a working-class painter in love with a rich heiress - until he was killed at Fairing Point! Uncover history as you travel across Europe to investigate David's mysterious death. Solve clever puzzles and follow the ghost's trail in Death at Fairing Point, a fun Hidden Object Puzzle Adventure game.
Game System Requirements:
OS:

10.8/10.7/10.6/10.5

CPU:

800 Mhz (INTEL ONLY)

RAM:

256 MB

Hard Drive:

186 MB
Game Manager System Requirements:
Browser:

Safari 4.0 or later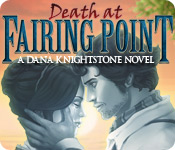 NEW299
The Big Fish Guarantee:
Quality tested and virus free.
No ads, no adware, no spyware.

Reviews at a Glance

Death at Fairing Point: A Dana Knightstone Novel
0
out of
5 (
0
Reviews
Review
)
Customer Reviews
Death at Fairing Point: A Dana Knightstone Novel
73
73
Low-key Historical Adventure/Hidden Object Game
Attractive scenes, but slow game play. The puzzles were fairly straightforward and for the most part easy, although a few were awkward and occasionally misleading. Some of the side quests were completely irrelevant, making the hint button necessary to figure out the next step in order to progress. There were some minor historical inaccuracies, although nothing egregious. The storyline was appealing, although confusingly resolved. Overall, I think this would be an excellent game for a younger or less-experienced player, but potentially frustrating for one accustomed to, say, Mystery Case Files, with its high attention to detail and superior programming.
January 9, 2012
Not a bad game as a break from your other, better drawn and more challenging ones.
This is a simple, light game without any gruesome or really dark moments, and it is a love story. Some of the reasoning behind the minigames may seem contrived but they are all easily solvable and you are given everything you could possible need in your journal. One of my nitpicky points though: the font at the start of the game is very pretty - why not use it in the journal? Another point: there aren't THAT many characters, but, aside from the cutscenes (which you have to click through) they are not voice acted. If that's not a big deal to you then please ignore this paragraph. While generous, the hint system does penalize you if you click randomly too much, and the recharge is rather slow during HO scenes. You CAN ask for hints during minigames which makes me very happy. One last note, I begrudgingly gave the V/S quality a 4 and not a 5 because the images, while pretty, are somewhat line-y for my taste and the ghosts move extremely awkwardly. Do not think this reflects badly on the music which is amazing. I want to run this game in the background all day just to hear it. Scary? Not at all Good for kids? I'd say yes, but it is a romance story with a murder attached; they might not like the plot. Graphics are fine though Guide required? No, hints are sufficient Buy? Personally, get it as either a daily deal or a punchcard game Last line: Not a bad game as a break from your other, better drawn and more challenging ones.
March 31, 2012
puzzled at faring point
I bought this game after reading some positive reviews. I knew it wasn't a straight HOG which is my very favorite genre but I have been branching out into adventure hogs. This game started out promising with beautiful graphics and clear (though far and between) hog scenes. The story line isn't very clear, no VO's but there are ghosts that try to get your attention. After my trial went smooth i bought it w/a game credit. Then things went downhill. I got stuck and the hint button is not very helpful. The journal helps to a point but as I continued further in the game I needed the walkthrough more and more. Not enough clues for me I guess. Then it got monotenous. Puzzle after puzzle. Turn the wheel, match-ups, move the mosaic puzzles, luckily the SKIP button kicks in after a minute or two. Finally I quit and deleted it. Too much frustration for an uneventful game. My opinion only, this game wasn't my cup of tea.
June 15, 2012
More Like A Puzzle Game
Good Parts: A beautiful musical accompaniment, fitting in to the theme of the game. Great, modern graphics. A great intro setting the tone for a great storyline. The same ghost-like storyline, but not gloomy. The Hidden Objects I had to find were not in scenes. Most of them were scattered around and I had to find them in groups. This was a unique twist and I really liked it. Unlike the hint, the skip button did recharge quickly. OK Parts: While the hint was valubale, it took way too long to recharge. I would've prefered voice-overs for the whole game. Bad Parts: The puzzles in the game were way too hard. I was constantly waiting for the skip button to charge. This game is in desperate need of a startegy guide. You have no idea what you need to do, so you just sit around waiting for the hint to recharge. I seemed to come across a lot of puzzles. I thought this was supposed to be a Hidden Object Game. Had there been a strategy guide, I might jhave given this game a four. I strongly recommend you play the Collector' Edition.
June 24, 2012
I really didn't like this game.
I was looking for something different from the usual 'haunted manor' games - and from the preview video and images of this game, I thought that it looked different enough to give it a try. Unfortunately the storyline was so unexciting, that I was pretty much bored the entire time I played, and tried to get through it as quickly as i possibly could. I read a review that said "great love story" but I did not find that at all! The scenes were pretty - but the challenge level was seriously lacking and the tasks were downright boring. Sorry - I don't recommend this game for people who want a good challenge. And if you don't like romance novels - you probably won't like this game either. ;-)
February 28, 2012
Meh...not so much
I was disappointed in this game. The puzzles were too easy and rather juvenile (paint by number or find the wrong things with this picture). Others were boring and I skipped them rather than waste time. The story line was uninteresting. I just wanted to finish it but not that I cared about the resolution to the story.
November 22, 2012
a little odd
It's a bit odd how some of the items used to click on other items only work if used in a weird way. If I'm reaching for something I expect to use the other end to reach- in this game it's the middle. A little frustrating. Once the game has ended it tells you how long you played. Mine was a touch under 8 total hours. Bear in mind I also got up in the middle of playing and made risotto and ate then cleaned up. That's the play time.
February 12, 2012
For the casual, relaxed gamer
One definite point in its favor is that it only has a handful of HOS. The puzzles are almost too easy; a fair number are jigsaw puzzles with only a dozen pieces or so. Graphics are nice and clear. The settings are well-thought out and well-designed. They fit the theme of the story very well and create the right type of atmosphere. Nothing frightening or violent. The cursor is very touchy. You have to get it in the precise spot, which can be frustrating. The storyline leaves something to be desired. For a romance novelist, the narrator seems quite unfamiliar with one of the standard plots. There really isn't much mystery or tension. But it is a nice, relaxing game for a hot Sunday afternoon.
June 16, 2013
was it suicide or murder?
A very good mystery, but I only played this game twice and hope to again, if I am in a patient mood, because the game is continually interrupted by lots and I mean lots of puzzles. It would be a much better game without so many puzzles. So I recommednd this if you like puzzles, lots of them but if you don't like so many puzzles, this one's not for you. But it was a good story.
April 10, 2013
Death At Fairing point: A Dana Knightstone Novel SE
Usually I like the games in this series however, this game was just "off" for my tastes, it seems more like a sappy, cheap romance novel with a lot of piano music. There are no voiceovers, just dialog boxes to read other than the occasional narration of Dana's thoughts spoken out loud. This is the first game in this successful adventure series and things sure have changed for the better. Dana is an up and coming fiction novelist on vacation at the Halward Manor in Scotland. This is a pivotal moment in Dana's career, because today is the day she realizes her true calling. Not only can she see the dearly departed, but she uses this talent to help the dead move onto the afterlife by solving long forgotten unsolved murders. David was a working class painter in love with a rich heiress until he died at Fairing Point. Dana must find out who killed David and hopefully reunite the two lovers so they may live (or die) happily ever after. There aren't a whole lot of Hidden Object Scenes in this game, and they few I came across were actually kind of boring such as placing inventory items into a packed suitcase where they logically belong such as placing a single sock with it's matching counterpart. There are however a ton of mini games, such as finding 6 broken mirror fragments and replacing them into the frame in a jigsaw type puzzle, and there are a lot of puzzles where you swap or rotate puzzle tiles to create a picture. The Collectors Edition doesn't seem to be much different, you don't have access to the bonus content unless you actually purchase the game. According to the description page the CE has wallpapers, music an available strategy guide and a bonus chapter.
November 7, 2014
The Apple logo is a trademark of Apple Computer, Inc.
The Windows logo is a trademark of Microsoft, Inc.