Serpent of Isis: Your Journey Continues
Find the Tomb of Isis and finish the search that Robert's Grandpa started! Travel the globe and find clues that will help on your search! After Professor Thomas Penroy is kidnapped, it's up to you to take over the hunt for the legendry Tomb of Isis in this perplexing Hidden Object Puzzle Adventure game. Unravel ancient mysteries and solve incredible riddles in Serpent of Isis Your Journey Continues!
Incredible gameplay
Fantastic graphics
Game System Requirements:
OS:

10.4

CPU:

2.0 GHz

RAM:

1024 MB

Hard Drive:

474 MB
Game Manager System Requirements:
Browser:

Safari 4.0 or later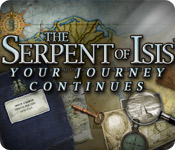 NEW299
The Big Fish Guarantee:
Quality tested and virus free.
No ads, no adware, no spyware.

Reviews at a Glance

Serpent of Isis: Your Journey Continues
0
out of
5 (
0
Reviews
Review
)
Customer Reviews
Serpent of Isis: Your Journey Continues
36
36
Played 1st and 2nd back to back!
I bought both Serpent of Isis and Journey Continues on the same day and on sale. I played the sequel right after finishing the first game. This was fun....since we usually wait so long for a sequel to get to BFG. I enjoyed the travel through Europe, the adventure of finding historically significant objects and the characters were all good, however, by the time I was about 2/3's through JC's....I was a bit tired of the story. Parts of it moved a bit too slow with quite a bit of dialogue; unfortunately not spoken. I did like the fact that the sequel switched from the main character, Robert to his sister for a while. Overall, I would say the games were above average for enjoyable, but probably not good enough so to replay, but then again.....I own over 100 HOG's and don't need to replay any for a very long time. Thanks to the great sales BFG runs, I have about 25 games in my yet to be played file.....Happy Gaming!!!!
December 21, 2011
A Great Buy !
This game has a great story line and is quite long too. I am on chapter 4 and it has taken me 5 hours so far. (I do get up and throw another log on the fire and let the dogs in and out !hehe) 7 chapters in all~WOW~ A great buy ! And today BF is offering it for only $2.99 !!!! I would be happy to pay the regular price for this fun game. Taking a break now and wanted to let you know that you will be very happy buying this game if you love tons of HOGs and a story that is pretty good too. Happy Gaming ! I found the puzzles very hard, but can skip those. I play these games to relax after work . This game hit the spot!
February 25, 2012
great sequel
This sequel picks up where 2009 BF HOG of the year "Serpent of Isis" left off. It's very similar to the original game except the gameplay is untimed, which is no big deal to me. Anyone who loves traditional hidden-object scenes would love this one. It begins with a prologue that has extremely easy H.O. scenes. But after that, you get nicely done H.O. gameplay.
December 6, 2011
Good sequel, but has its annoyances
I would rate this a 3.5 rather than 4. I had fun playing it, but had to overcome a major annoyance factor in doing so -- every single time the characters appear onscreen, you must click them away, click them through their dialogue, click them click them click click click. Your finger stays on the button and rarely rests. They appear constantly, whenever you look at something in detail, and why that is? No idea. Felt really silly and pointless (and annoying :) ). And the characters tell you what to do more often than not when it's really not necessary. If I'm looking at a lock, I think I can figure out that I need to find some way to open it without Robert popping up to tell me that ::sigh:: . That said, I enjoyed switching between the two characters; I loved the HOG scenes; I enjoyed the story and the immersive hunt; the length was good; I loved the artwork and the general ambiance of almost every location. I would have liked to explore the places in Venice more - the movement there was very limited (made me wonder if the game devs were running out of time by that point in the process). Puzzles were sometimes challenging and sometimes very easy. Ending section was too brief, and too easy, imho. Would have liked a little easier way to deal with the inventory, as well. Click (on exactly the right spot) to open it, click (on exactly the right spot) to look at something, or grab it, and if you miss the inventory closes..... etc. Mixed feelings about this. Has the bones of a *great* game, and instead it is a good (and annoying) one. Recommend, with reservations.
March 28, 2012
Pleasantly surprised
This game was available as the Catch of the Week, and as I'd never played it before I thought I'd read the reviews, then decide whether to download the trial or not. I wasn't expecting much, having read what the reviews had said, but I must say I was pleasantly surprised. At first I was annoyed with Robert constantly popping up, but once you get used to that, you get engrossed in the game and it becomes not such a nuisance after all. I found the HOS to be fairly easy, but not so simple as to be boring. This was actually a pleasant change to some of the games I have played recently where the HOS were practically impossible. The puzzles are fairly easy also, although the puzzle in the bookshelf had me stumped for a while, and even though I figured out the combination, I still couldn't get the key to turn, so had to skip - I'm still not quite sure how it worked! Just when I was getting into the game, the demo edition ended, so I have decided to purchase the game. It's not like I need more games, but I figure this one was a good game for a day when I didn't want to be overly challenged, but just wanted something to while away the time. I'd recommend it to people just starting out in HOG or for those who are after something that doesn't tax the brain too much. But, I warn you, Robert popping up all the time may annoy you, so download a trial version first!
May 4, 2012
Addictive Classic Styled HOG
BASED ON COMPLETED GAME Note: This is a HO only game MY IMPRESSIONS Well, yeah, the graphics are pretty awful. Things have changed a lot since Feb 2011. But once you get used to the distortions created by widescreen, they certainly don?t look as bad as many others of that era. The game has the look and feel of a large file adventure game, with the 3D look, and lots of drab empty locations where little or nothing is happening. And the characters talk a lot. But in fact there is not much adventure gameplay at all. This game is all about the HO puzzles, which are generally well drawn and clearly lit (a bit fuzzy of course). They are all interactive lists, but variety is achieved through different styles of HO scene. For example, some are paintings, some are manuscripts, some are unlit, etc. If you have ever played the Big City Adventure series, you?ll recognise the formula ? uncountable numbers of HO scenes, visited 3 times. I can?t stand those games, the totally purposeless meandering through meaningless locations, with no adventure or puzzle activity except at the end of each chapter. This game offers something better. There is a story that justifies the moves through the different locations and settings, and you get to choose where you go within the chapters. There are items to be found for inventory, which you'll need almost immediately, and the application of those items is sensible. The puzzles are, as per the formula, mostly at the end of each chapter. They are reasonably easy, well most are, I had to skip 4 of them. There is a penalty for skipping ? 20 minutes added to your time. My time (without the penalties) was 5 hours and a bit. Note: There are some puzzles that cannot be skipped, but they are ones that require you to use information you have gathered and have recorded on a document in your inventory. But they are not no brainers, you must do a little analysing of the clues. Another part of its appeal are the collectible hints. Each chapter has a different ?special item? that relates to the context and gives you extra hints. Your journal keeps track of how many you have found. FAMOUS LAST WORDS Ignore the graphics, the comic book characters, and the extensive dialogue, and you have a pretty amazing little game. I found myself unable to leave it till I?d finished the whole game. Fiendishly addictive.
September 2, 2013
Entertaining
fun but maybee to much talking, a solid game
November 20, 2011
Lack of Instructions
No time and no instructions to complete the puzzles they seem to be interesting but the rushing fo time makes scape them. Too long the tasks in each chapter. It was very difficult to complete them because the time was not enough. Hard repeting them withouth clues.
February 27, 2012
Fun Game with a Few Annoyances
Overall this was a fun game. The hidden objects scenes are good, the mini games are fun, the story line is enjoyable, the map is awesome and the graphics/sound effects are great. I played part one of this game on my Nook and really enjoyed it. Part Two is nice, but there was so much "talking" and so much clicking to get through all the "talking." I did enjoy the sister being incorporated into the story line.
June 10, 2012
pleasant surprise
I bought this game with zero expectations and was quite surprised. After overcoming a few glitchy things.. like figuring out that nothing in your inventory or anything else can be accessed while dialogue is up for example, I found this game very entertaining. A decent story with a good amount of chapters (8) and a lot of interaction with a cast of characters. My one peeve was that none of the mini games had any instructions what so ever. geez. But there was some good adventure style play with inventory objects, a ton of HO scenes and even collectibles along the way that increased your hints. The story flowed well and there were some good cut scenes at the end. It was way more than I had expected and I really enjoyed it. Enough that I may just buy and play the first in this series.
August 15, 2012
The Apple logo is a trademark of Apple Computer, Inc.
The Windows logo is a trademark of Microsoft, Inc.