Jewel Match 3
Journey through the mesmerizing world of Nevernear in this exciting Match 3 adventure! Match dazzling gems and restore the land to its former glory in Jewel Match 3. Seek and find through numerous fantasy locations to discover new spells! Plant magical gardens to ward off evil as you rebuild the 5 castles of Nevernear and dive into gripping gameplay!
Incredible minigames
Fantastic soundtrack
Explore the world of Nevernear
Game System Requirements:
OS:

Windows XP/Vista/8

CPU:

600 Mhz

RAM:

256 MB

DirectX:

7.0

Hard Drive:

80 MB
Game Manager System Requirements:
Browser:

Internet Explorer 7 or later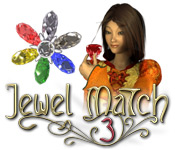 NEW299
The Big Fish Guarantee:
Quality tested and virus free.
No ads, no adware, no spyware.

Reviews at a Glance

Jewel Match 3
0
out of
5 (
0
Reviews
Review
)
Customer Reviews
Great game except...
Love the crisp graphics and sparkling details except for the big ugly guy's face at the top of the page, which I have been trying to whack with the hammer, but so far no luck. Like the strategy of having to go from one page to another to complete. Makes you have to think and overall it is a very relaxing and soothing game to play.
May 5, 2013
Stunning and Relaxing
This is by far one of the best match 3 game on the market. The gems are so beautiful, in the beginning, I was hardly making matches because I was looking at them. This is a big deal, most games make unremarkable, unappealing pieces which makes for an unremarkable game. I couldn't believe what a difference it makes when you enjoy looking at the gems, it was very pleasing. Also, the music is so beautiful and relaxing, most games use very fast music but this was so nice, I really appreciated the peace it gave. I don't think anyone would be unhappy with what they have done here. Unusually, the story is good too. I like the garden growing, water earning, building rebuilding process they have introduced here. It gives a nice added appeal to a great game. With all this, one might wonder why the 4 stars instead of 5. It is simply for two reasons: 1) the pieces that must be removes sometimes have a gold ring that goes round and round, overe and over on them, which is very distracting and annoying for someone like me (maybe not you) and 2) I cannot stand games that FORCE hints on you. If I am not making a match right this second, it does not mean I cannot find one, or need help of any kind. I am simple setting up my next move and I don't care if it is Puppy Sanctuary, Bejeweled or any other game, it drives me crazy! That is why, but that doesn't make it a bad game and No Way should it deter anyone from getting it.
January 15, 2013
Great Match 3
Loved matching all the jewels. Good mix of seek and find scenes mixed in with the match 3 scenes. Easy to play and complete.
November 14, 2011
Jewel Match 3
Nice little match 3 game, although there seem to be a lot of levels to play before the second wizard is released. I found this a bit annoying - no information on how many crystals need releasing to open the next wizard, for example. Not hard to play - I chose relaxed - and would recommend the game.
March 24, 2012
Another great sequel, but...
Same great fast pace gameplay, beautiful screens and loads of power ups. The story line is what you expect in a game like this and growing the gardens was the part I liked the least. My only criticism is a relaxed free play should be available after you beat the story mode. I had no desire to replay through the story line, but still wanted to play and I could only do it in a timed mode. Other than that, great game overall.
May 12, 2012
Great game
Games seems kind of adventues.
December 26, 2014
Not my type of game
I bought this after I had tried it for a while, and it seemed to be a good game, but I had trouble understanding when I could buy parts of the castle, and when I could use the keys. I was unable to find any useful information in the forums. I'm glad it was on sale, so I didn't waste too much money on it. A player who is more used to this style of game might like it.
November 14, 2011
Not your simple match game
Sometimes you just want a simple match game. This wouldn't be it. There are a LOT of specialty things going on with the matching games. Then in between match games you plant magic seeds, water them, and keep bugs away with pesticides. You also have to restore humans to their original form. There's a lot going on. I came back to this trial after not having played it for awhile, and couldn't remember what was going on. And the Help didn't cover all the info necessary to play like the tutorial did when first starting out. Unfortunately, I wasn't captivated enough to start over.
January 26, 2012
For M3 fans - A Guy's Review
The Jewel Match series seems to be quite popular among the M3 fans, as can be seen by the high rating this game has. I am not a typical M3 fan though, and find this game merely OK. I did play Jewel Match 2 before playing this, and can clearly see an improvement and a developer that at least tries to make something more out of its franchise. To me it doesn't quite work though. They've added a sort of storyline which the previous one lacked, but it is a totally uninspiring one. It does not grab me at all. Luckily the game play is more important than the story in a game like this, and this has become slightly better. It is still the same type of match 3 and it offers little new in its main feature. The boards look a whole lot better than what they did before and this time you play on several boards at the same time each level. You jump between them using arrows on the screen (sometimes blocked until you release a key on an available board). One thing this causes is for each level to last pretty long compared to similar games I've played. You can easily spend 10-15 minutes, at least, on one single level. The skipping back and forth between the boards adds something new and interesting, but it also adds some frustration. Especially when playing in timed mode. Yes, you can actually play this game without a time limit as well. That alone makes the game more interesting to more people. A feature that all games like this should have (even though I like to play timed myself). They've also added a couple of other game elements here. One is more or less HO scenes where you need to find objects on a screen to get an upgrade to one of your powers. You also need to plant seeds and care for plants to progress through the game. I don't know, but to me that just seemed way off. They look cool, but I did not find it entertaining at all. As with the previous game you build castles/palaces on your journey, section by section. I have to say they look much better this time around, and it is not as grainy as it was in Jewel Match 2. You earn the power ups through the game play here and can't buy them through the store like before. The store this time has items for the "gardening" and lives, jewel boxes and the "try your luck" box. To me the game is an OK time filler. Beware though, that it is nothing to fill few minutes, as the levels take 15-20 minutes as mentioned before. You might get caught up in the "just one more" phase while playing it, but it becomes somewhat boring after a while. If you are a M3 fan than this game might offer a lot, but for people who likes more things happening (Like Heroes of Hellas) you might want to try this one before buying. TJ
November 30, 2012
Very Similar to Babylonia
If you liked Babylonia, this game is by the same programmers with the same features, except there are more rooms to each level. You plant seeds and must tend them. Good game for beginners.
August 1, 2013
The Apple logo is a trademark of Apple Computer, Inc.