Catwalk Countdown
Ever wanted a shot at Fashion Fame? Now is your chance! Catwalk Countdown invites you to play as an aspiring fashion designer, as she designs and launches her own collection in New York. Help her navigate the challenges and opportunities of the fashion industry to earn her an invitation to Fashion Week in this challenging Time Management game.
Gorgeous locations
Colorful characters
Climb the ranks of fashion!
Game System Requirements:
OS:

10.4

CPU:

1.8 GHz

RAM:

1024 MB

Hard Drive:

28 MB
Game Manager System Requirements:
Browser:

Safari 4.0 or later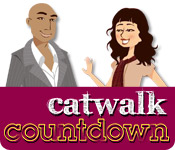 NEW299
The Big Fish Guarantee:
Quality tested and virus free.
No ads, no adware, no spyware.

Reviews at a Glance

Catwalk Countdown
0
out of
5 (
0
Reviews
Review
)
Customer Reviews
There's more to the game than just creating fashionable clothing.
The gameplay is fun. I love getting to decide on my choices throughout the day, and those choices affect if I will make my goals on time, which is actually very challenging. I bought this thinking it was going to be longer than it was. The con to the game is ... at least to me ... the game was not a very long game. By the time I finished the demo, I had no clue that I was probably halfway through the game. It is actually very challenging, but it will not leave you to a point that you will not be able to complete the game by getting stuck. This reminds me to the similarity to Caio Bella game. Enjoyed the game play, regretting using one of my stingy credits because of the shortness of the game duration. Other than that, I can say it was fun while playing it and it's alright if it was a fast game.
November 11, 2011
Challenging Strategy/Time Management game
This was a refreshing time management/strategy game. Simplistic graphics, light-hearted story-line. Different answers you choose can affect outcomes. One of the more enjoyable fashion-related games, but really difficult; quite challenging. No help or hints option in game, but still fun. Would need to get the full version game to try more out. It is an engaging game.
December 17, 2011
IT was good
this game is very good. It does have a bit of a challenged and is lots of fun. I really liked it.
August 25, 2012
Way to short
It's a really fun game, so i bought it after the demo was up. But the game nearly lasted any longer than the demo. Not worth it...
January 1, 2012
Didn't live up to my expectations
I bought the game because the online demo version was promising. I particularly like the simulation-style time management games (where you have to take care of a character's needs), and the storyline seemed interesting. However, there were several major problems: 1. Apart from your collection and reputation, the stats were useless. What was the point of inspiration? What did well-being affect? I have no idea. And shouldn't a fashion game focus on.. fashion? The only difference between sketching and sewing was how much time they took and how many points they added to your collection. While I understand that actually letting you choose clothes for your fashion line would have been cost prohibitive, I would have much rather have had the "inspiration" stat removed and had the "collection" stat been divided into steps (how many pieces completed, and maybe even have a % completion for each piece, which would let you know if you needed to sketch, sew, or fit). Not to mention that after the first quest with your uncle was over, money was useless (easy to get, but nothing of value to spend it on). You had no rent, no bills, eating at home was free, no need to buy any fabrics... 2. The game was a bit buggy and wasn't good with giving you relevant information. When I moved on in a way the game didn't anticipate, all of my To Do list vanished with no explanation, including currently open tasks. Failing something was frustrating, because half the time I'd be where I needed to be but be 30 minutes early, but all the tasks I did took an hour which made me fail! Not to mention that when I failed the game by giving the wrong dialogue options, the game plopped me at the beginning of the week with no To Do list and no guidance aside from "get your collection ready". I did so, failed again, and then by chance got back to the original dialogue that I had failed (but then had to go through ANOTHER week of doing nothing just to get the ending text). Not to mention that it was hard to figure out which dialogue options mattered and which would give you the same response no matter what. 3. The story started out strong but fizzled out pretty fast. There was a lot of potential for interactions between you, your uncle, your two friends, and the fashion guy. None of them really panned out; your friends and uncle just kind of faded out, and the dialogue with the fashion guy started getting weird at the end. Not to mention that the ending text was underwhelming and made me feel like nothing I had really done up until then had really mattered. Yeah, she got her collection and fulfilled her dream, but that was guaranteed to happen by winning the game. I would have liked better development of and an actual resolution to the various plots started with the supporting casts. *** Honestly, though I can't recommend this particular game, I would be willing to check out another game in this style by the developers. The engine itself was relatively easy to use, and aside from some useless fripperies (the celebrity photos was unneeded), I felt it helped with immersion. The dialogue itself was pretty well written (though there were a couple of typos), and if the storyline were better developed it would have helped make this game a lot more fun. Solid gameplay would have also helped to smooth out some of the gaps left by the lack of story content. I would recommend for any developers who are thinking of publishing this style of game to take a look at some of the popular games as models for what to do (The Sims series is a good example of solid gameplay, while Visual Novels like Matches and Matrimony are a good way to get an idea of the level of story content needed).
June 30, 2012
Failed version of Ciao Bella.
When I first played the demo I loved it and was so excited that it was so much like 'Ciao Bella', a game I love! So I broke my mom down and she bought it for me... I finished the story in an hour. TOPS! It became very boring and repetitive after awhile, wanting you to basically do the same thing's over and over again just different reasoning's in the story or higher level of challenge. It was very easy and way to short! I liked the game a little but overall the plot. Well I saw it coming, the game itself was boring and to easy, and most importantly too short. This is one of those games once you finish it your only option is to replay what you completed all over again and you can't pick a harder level setting... I would play it for free online, but I wouldn't recommend buying it! At first it may seem great but as the story continues it was pathetic. I wish it would have been longer, a lot longer. More in depth plot, and maybe even had you help design the actual clothes. If every time I worked at the shop or picked 'sew' or 'fit garment' and I could play mini games and even design them myself then it would have made it even a little bit worth it. Don't waste your money... :(
September 6, 2012
Short, Easy Game for New or Easygoing Players
This game seemed long when I bought it, but I was actually almost done with it. It's really easy and I recommend this game for new or easygoing gamers.
June 13, 2013
WAY TOO SHORT
When I first played the game I loved it and bought it right away but the game ended way too fast and it does get abit repetitive. Other than that the game was fun but I wouldn't recommend you buy this game.
January 20, 2013
not worth buying this catwalk catastrophie
very short game, with no challenge whatsoever very booring game
December 9, 2011
Catwalk Countdown?
Catwalk Countdown is a game where you quit a fashion assistant job, since you've had enough of your Boss. You have to look after yourself by chosing to eat and sleep on your own accord. Whilst trying to give yourself a name in the fashion business, you have to work at your uncle's shop so you will have money for food and materials. However this game was VERY confusing as you had to talk to many people, which means you had to reply to people. Basically you have a choice of what to reply and most of the time you get the reply's wrong when you didn't even know what they were on about. Also your uncle or Boss tells you something to do and it takes a while for you to know how to do it! The graphics are rubbish as well as they have no detail. I woudn't recommened this game.
June 7, 2012
The Apple logo is a trademark of Apple Computer, Inc.
The Windows logo is a trademark of Microsoft, Inc.