Farmscapes
Help Joe restore his ranch! Breathe in new life into a formerly prosperous farm in Farmscapes, a fun Match 3 game! Earn money by selling fresh veggies, juicy fruits, eggs, flowers, and honey from his old farm to the townspeople, and spend it on restoring the landholding back to its grandeur and beauty. No need to make this lawn story short - indulge yourself in sun, color and blue summer skies!
Fantastic gameplay
Exciting action
Help Joe restore his ranch!
Game System Requirements:
OS:

Windows XP/Windows Vista/Windows 7/Windows 8

CPU:

1.6 GHz

RAM:

1024 MB

DirectX:

8.0

Hard Drive:

402 MB
Game Manager System Requirements:
Browser:

Internet Explorer 7 or later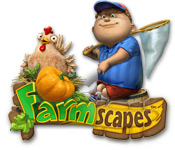 NEW299
The Big Fish Guarantee:
Quality tested and virus free.
No ads, no adware, no spyware.

Reviews at a Glance

Farmscapes
0
out of
5 (
0
Reviews
Review
)
Customer Reviews
Farmscapes- a fun match 3 game
I have played a lot of games on big fish but never a match 3 game. I really enjoyed it. Lot's of fun
August 20, 2012
farming has never been so much fun!
I only wish that there were more games like this. This is one that you can play over and over and still have fun.
August 9, 2012
Match 3 Delight
Great Match 3 with some scavenger hunt elements. Good fun, great storyline and not over the top difficult. A little gem!
August 9, 2012
So Cute!
I really loved this game! The characters are adorable and the gameplay was a lot of fun! I built my first farm and am currently working on my second. I wish the 2nd and 3rd farms added to the storyline, but that's ok. It's still fun. Make more of these!! Loved it!
August 7, 2012
Fun Match3 game
very enjoyable game with a good storyline and a very colorful gameplay. If you are looking for something clean and fun without all the horror and paranormal then you should try this one. You will be hooked after the trial download.
August 6, 2012
Charming and polished Match 3
This game is full of cuteness, clever little details and an uplifting attitude. The match 3 boards have enough variety and challenge to keep you going after the main story ends. The occasional interludes of easy, but attractive hidden object scenes and light adventure puzzles keep you from getting bored. I particularly enjoyed the urbanized, modern setting for the farm.
July 9, 2012
Could have been a little different
OK, I have both Gardenscapes and Fishdom games,loved them both so I thought this one might be a good one to try. The match 3's keep getting harder and a couple of times got downright hard to get those odd spots collected until you can place a bomb close enough to clear it. Like Gardenscapes & Fishdom, you have to earn enough money to buy upgrades to the farm and only 3 choices per item. The story line is good, with the small farmers winning out over the huge mega mall so it keeps it interesting. At the end of the first part - 100 levels - you are done and go on to a new farm to rebuild and upgrade. This is where it fails as it has you do the very same farm all over again and repeating yourself three times seems like a waste of time and energy. If this game has three sections then why not set it up like Fishdom and have three entirely different themes so that each farm is unique from the other instead of just good, better & best choices of the same items for each one. That's why I only gave it a 4 rating overall although it is a good game if they had just made it more expanded like Gardenscapes or themed like Fishdom.
May 29, 2012
Fun on the farm - A guy's review
It's a lighthearted and rather easy Match-3 game that offers a little extra. You join Tom on his summer vacation at his grandfather's farm, and have to help them upgrade it and to fight off a big mall development. You do this mainly by selling products through collecting them in match-3 games to make money to buy upgrades. The upgrades themselves will then again add to what you can collect in the match-3. Along the way there is a whole story going on about a big corporation wanting to buy the farm to make parking lots, and a whole set of characters you'll meet on the way. In addition to the Match-3 play, you get to do some hidden object scenes and a selection of other mini-games, including to have several options on each upgrade. There are even trophies to collect. The whole concept is rather lighthearted and fun, not so much as an engaging game experience, but more as a go-to game when you want to relax, or just kill some time. The graphics are well done in a cartoony way, and you get to see the characters running around on the screen doing there thing, and even talk to you. Mind you, there is no voice-overs, and communication happens through speech bubbles. The music is lighthearted jazzy tunes, similar to what you usually find in games like The Sims etc. Not my cup of tea, but it is not too intrusive, especially not when turned down ;o). The game is very suitable for kids, as it easy and easy to understand the concept of. But, adults might have fun here too, especially the ones who appreciates developing/decorating aspects in games. You can play in untimed (relaxed) or timed mode, and i suggest timed for at least some kind of challenge. Especially for us older "children". Recommended as a family game or easy lighthearted fun, not recommended if you are looking for a challenge. TJ
June 5, 2012
An almost perfect game
I purchased Farmscapes before I began writing reviews, and never made it back here. It's an outstanding game, well worth purchasing even at full price, as I did. The artwork, colors, animations are all exquisite. The matching games and hidden object scenes are bright and colorful and fun. Nothing gloomy, nothing too tiny to see. The best part, like Gardenscapes, is designing a marvelous farm, with choices for mixing and matching. The animations of the farm are a lot of fun to watch, and you can interact with the farm buildings and people by clicking on them. This is nearly a perfect game, but... There are no power-ups during the matching games. Yes, you can earn bombs for matching groups of four or more, but you have no control over where the bombs land on the playing field. And some of the playing boards have tricky designs with trouble spots, and you'd really like to have an easy out with a power-up to get rid of it. Instead, you end up matching and matching, sometimes, waiting for the icons to drop in just the right way to break the crate. This shouldn't hold you back from buying the game. It's just a little grumble that I hope Playrix will fix if they make a version 2 of Farmscapes...and I'll be one of the first to buy it if they do.
August 17, 2012
BEEHIVES and LONNNGGGG LOADING
I gave this game a 4star rating mainly because I felt that I was spending MORE TIME WAITING for the scenes to load 1 after the other than I was in actually playing the game! This L-O-N-G, L-O-N-G, L-O-N-G loading of scenes in between the farm scenes and the Match3 play just made the momentum sag and become somewhat frustrating. As for the Beehives -- these will show up during your Match3 game play (not sure if they'll show up BEFORE buying the beehives for the farm or not; if not buy as soon as possible) after you've used quite a few of the firecrackers, bombs, and explosives and are OBJECT eliminators. I stress the fact that the hives are OBJECT eliminators because you'll come upon levels wherein you either are LUCKY enough to get a bomb or explosive close enough to blow-up those squares that are NOT part of the main board or you'll need to use a beehive on those objects that MATCH said objects that are in those squares that are NOT connected to the main board to clear the yellow tiles. My point being -- don't be too quick to use the beehive (as they ONLY appear after you've used MANY firecrackers, bombs, and explosives which only they themselves only show up w/5 or more matches) because you may need to try to work objects close to those beehives (no, you don't need to have 3 matches to use the beehive) in order to get those off-to-the-side squares cleared.
January 30, 2012
The Apple logo is a trademark of Apple Computer, Inc.