Blood and Ruby
On the edge of unearthing a centuries-old secret, Marcus Sinclair was abducted. As his sister Ruby, it is quickly revealed to you, that the darkest of creatures wait at every turn! Face your destiny as you decipher the clues set forth by your ancestors. Bring peace to a world on the edge of an evil destruction in Blood and Ruby, a fantastic Hidden Object Adventure game!
Dark, brooding atmosphere
Incredible gameplay
Find your missing brother!
Check out our Blog Walkthrough
Game System Requirements:
OS:

Windows XP/Vista/8

CPU:

2.0 GHz

RAM:

1024 MB

DirectX:

9.0

Hard Drive:

154 MB
Game Manager System Requirements:
Browser:

Internet Explorer 7 or later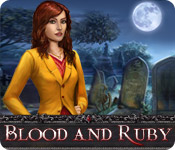 NEW299
The Big Fish Guarantee:
Quality tested and virus free.
No ads, no adware, no spyware.

Reviews at a Glance

Blood and Ruby
0
out of
5 (
0
Reviews
Review
)
Customer Reviews
Relaxing Game, Vampire-Light
Plus = Nice break from "dark'n'eerie", intense games. Graphics are cartoonish-style, but well-done, crisp, bright and clear. Has a Brightness option, and fills my wide sreen monitor without having to make any adjustments. Easy-to-follow storyline, and game flows smoothly betwen scenes. Story is set in Venice, and I enjoyed the colors/details of the different game locales. Sufficient Hidden Object scenes, and items are fairly easy to see. Puzzles are not difficult. I liked the main characters (I would like to see a sequel that includes Stratton!) Minus = If you are looking for a hard and challenging game, this is not it
November 27, 2011
short, simple but sweet
This is what I call a filler game. A easy, lighthearted game that you play between large file games, or dark IHOGS when you just want something quick, very easy, light and fun. Even though this is a fairly recent game, don't expect a modern HOPA it's not or you will be greatly disappointed. It plays and feels like the old type hidden object games, which mostly didn't have junk pile scenes but more cluttered scenes. Although the graphics are nice. There is an interactive/transporter map although there aren't that many places to visit. plot was simple but I really enjoyed it. I love those type of graphics (not the cut scenes) it's just adds to the feeling of lightheartenedness and fun. Although I don't know if I would recommend it for young chidren even though it is easy, as someone had been murdered (but you don't see anything) and I know some people don't like anything re occult, this does have a few references sprinkled about. Although saying all that I would put it in the cheery category, it just is. The hint button replenshies quickly, the sparkles are faint. There is no choice of settings of hardness. The puzzles are very easy, and you do have to repeat hidden object scenes. But maybe it was the graphics of some of the scenes as although I usually don't like straight hidden object scenes, because they weren't really junk pile and had clear graphics - I enjoyed them. It is super short - I would say a 2-3hr game. 2hrs or maybe less if you are a really quick gamer (I'm not) My personal opinion is don't buy this at full price. But if it comes up as a DD and knowing all this information, then it's worth a look or If you have loads of punchcard credits needing to be used up. Maybe when I played it was the right time, between harder large file games and I wanted a quick brain relaxer, it made me enjoy it. Certainly not a very good game but I did find it enjoyable. (I gave it 4 stars as the 4 stars said 'liked it') other easy filler games I recommend (more so than this) is 1 penguin 100 cases, and avenue flo adventure games (not the TM)
February 20, 2012
Big Sis needs to save Little Bro
Vampire stories are not my favorite, however, this game didn't show any blood except on some papers so I could deal with that. I purchased at a sale price and that effects my review...in other words, this was a good value for $2.99 as are many of the older games on BFG (they run fantastic sales btw). This story was interesting to the point it had me trying to hurry a couple of times to get something done to save a situation from disaster. When a game can draw you in like that....it is doing something right! It also included a map that you could jump from scene to scene instead of backtracking and for an older game this was awesome....some of the newer games need to do the same. I really liked the characters in this story and how well they interacted. Enjoyable game, especially at a discount price so give it a try!
December 26, 2011
I've Played Better Games
This game was ok. There are definitely better games out there. The sound is cheesy gothic, and the game play is short. The hidden object scenes are short and not too challenging, and there are not a lot of puzzles. It feels almost like a teaser of a game compared to the bigger games out there. That said, it was still a fun break from the darker, creepier, more in depth games. I recommend this game if you want a short little jaunt into some cheesy vampire slaying fun. It would be nice to see a more in depth story done with the hero characters.
January 23, 2012
Dreadful
The first in the genre that I played and did not like. It's terribly short and barely even worth it even on a $3 special. Characters are 2 dimensional and uninteresting and the art is rather sub-par.
November 21, 2011
Fun vampire hidden object adventure game!
This was a fun game! Not sleek or super graphics like other similar games, but no less enjoyable. Sound effects and music good. The puzzles and hidden objects are challenging, storyline lightly scary, engaging.
December 22, 2011
lighthearted fun
This game was all about fun. It certainly didn't take itself too seriously. There was a vampire element but there was none of the more grusome stuff associated with that. it was all pretty lighthearted. Bright with tons of color, this game offered mega HO scenes, lots of interaction with the characters, a pretty good storyline and very easy puzzles. No stress or racking your brain to solve this mystery. It is fun, bright and has some cheesy italian music that I liked. I bought this on a three dollar sale and enjoyed it even if it was a tad short. If you are looking for a not too difficult game that's bright and fun then Blood and Ruby is a good choice.
April 1, 2012
vampires!
vampires= good fun! easy easy game where theres lots to do, (as in mini games that are quite amusing), but, as usual, i dont like hogs around every corner, (very distracting from the plot after awhile). but the game is fun and i like it reguardless... :)
February 28, 2012
It is I, Ruby, who has come to save the day! Beware vampires!
Graphics: The graphics are cartoon-based and are beautiful. I know not many people like this type but sometimes with the right game, the cartoon-based graphics can add to the storyline. I really liked all the different types of atmospheres and colors used with each scene. Music/Sounds: I thought the music was adequate with each scene but I have to admit the epic music made me feel like I was really fighting vampires. Most of the sound effects were good except during some of the mini-games when some of the sounds were kind of annoying. Puzzles/HOS: The HOS were very basic, which was a letdown because the game could have been better with more interactive HOS. The puzzles were mostly on the easy side so don't expect too much of a challenge. Length: I finished the game in about an hour and 45 minutes so this is a game on the short side. Characters: I felt the characters were a little typical so I wasn't too surprised by anything that they did or said. Also the dialogue wasn't the best. Story: The story starts off with Ruby's brother going missing and he asks for her help. She goes to Venice and finds that strange things are happening in the wake of her brother's disappearance. She discovers that her brother came upon an ancient item that vampires have wanted for some reason. So Ruby has to rescue her brother and stake some vampires. Overall: The game really isn't bad, it's just okay. I think it could have had more potential if you made the game more challenging and add more dynamic characters. But this game could be enjoyable if you want something on the lower end of the challenge pool. Happy Gaming :)
March 25, 2012
Just oK!
Started off enjoying this game but after half an hour i got bored! Same thing over and over and much of a challenge at all, it does have potential and with Vampires being trendy at the moment it could of possibly been a better game, it's like the developers got lazy and couldn't be bothered after a while and the HOS were quite frustrating because some items were just too small to locate and the scenes were junk pile that looked copy and paste! Won't play again.
April 18, 2012
The Apple logo is a trademark of Apple Computer, Inc.