Relics of Fate: A Penny Macey Mystery
Newtowns local PI Jack Macey is kidnapped while investigating a series of robberies linked to a mysterious set of relics discovered in the town. You take on the role of Penny, his daughter, who discovers hes missing after finding a letter addressed to her at his office. Explore the town, talk to its inhabitants and solve intriguing puzzles in Relics of Fate A Penny Macey Mystery, an exciting Hidden Object Puzzle Adventure game!
Intriguing storyline
Fantastic gameplay
Save Penny's father!
Game System Requirements:
OS:

Windows XP/Windows Vista/Windows 7/8

CPU:

1.6 GHz

RAM:

512 MB

DirectX:

8.0

Hard Drive:

483 MB
Game Manager System Requirements:
Browser:

Internet Explorer 7 or later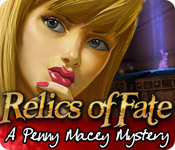 NEW299
The Big Fish Guarantee:
Quality tested and virus free.
No ads, no adware, no spyware.

Reviews at a Glance

Relics of Fate: A Penny Macey Mystery
0
out of
5 (
0
Reviews
Review
)
Customer Reviews
Relics of Fate: A Penny Macey Mystery
26
26
An adventure that should not be ignored
Always on the lookout for criminal investigations -and any type of good game- I delved once more into BFG's treasure trove and met Penny and her cute little dog...who sleeps a lot. It seems that this game has gone unnoticed; that's a pity because it is quite enjoyable, refreshing and makes a happy change from dark stories....save one skull in one HOS which has nothing to do there but is there nevertheless. Will I ever find a game WITHOUT a flippin' skull ??? Anyway..... Everything is simple in this game and even though the puzzles are easy classics they do provide a good amount of fun. The start is rather conventional and not particularly original or exciting. But things get better, more enthralling, more inventive and a bit more difficult as you progress through the game especially towards the end. Yes, I'll admit it, I took a quick sneak peek at the walkthrough. I often do that in order to get a maximum of information. If you want a higher challenge, you can play the harder of the two available Modes. The storyline is straightforward, the actions also, as once you have found the useful objects all you have to do is put them in circular boxes that pop up over their place of destination. The rest is automatic. This doesn't involve much thinking though, but it has the advantage of giving your brain cells a good rest. One feature I appreciated was the fact that the use of these items is perfectly logical and natural. Finding the useful objects is no problem; first the tasks are clearly stated and come one by one, second the cursor turns into a magnifier when hovering over the location of the item. You cannot explore the various locales at will because of the linearity; each scene is given to you one after the other, but what you need do in each one is quite interesting. HO Scenes come up there an then, in small numbers, as the emphasis is placed mainly on the adventure and the minigames [which, btw, can all be skipped]. The HOs are often hard to find but the little dog will give you hints in between two siestas. There is no voice-over, but cutscenes and dialogs are kept to the strict minimum thereby providing information without being annoying. I played the demo for 35 minutes which allowed me to complete the first chapter, then I exited because I decided to purchase this game and keep the surprise complete as regards the 8 subsequent chapters. As for the graphics, they are all neat, mainly photos, with some animation; the kind I like. Though not sophistated enough for a 5 star rating, this Mystery is good fun, relaxing, guarantees a few pleasant hours and is worth getting for a mere 7 bucks [jump on it if it is offered on the Daily Deal].
January 14, 2012
Old School Mystery HO Game!
No scary stuff here--no vampires, ghouls, or scares--just HO scenes and a mystery. Jack Macey is a PI on the trail of some mysterious relics. His daughter, Penny, arrives at his new office to find it's been tossed and her dad is missing! Playing as Penny, we follow the hints and clues her dad has left (& we find) to beat the bad guys/robbers to the relics. Nice HO scenes, some figuring out where something is hidden or what to do next (such as how to dust for fingerprints) is involved in each level. Overall, I found this a nice, sort of 'Old School' HO game--no blood and guts, but a good mystery beat the bad guys to the relics and rescue your dad game. If you like mysteries, like HO games and are as tired as I of the scary/spookie/eerie and gross HO games that seem to be all the rage just now, then this is a game for you. Not too easy, not too hard, just plain old fashioned fun!
January 28, 2012
Short and Semi-Satisfying
I would best describe this game as an entry-level primer to more intricate hidden object/adventure hybrid games. It does everything adequately and just about nothing incredibly well. You play a Nancy Drew-type character who is trying to solve the case your father, a detective in his own right, was working on when he disappears. The adventure itself is extremely lighthearted, with not a lot in the way of scares or suspense. Music is passable and forgettable, and there is no voice acting. Graphics are pretty good on the whole, and there are several animated cutscenes. As to gameplay, it's very standard. Hidden object scenes are large junkpiles where you'll do things like find 10 combs or 8 coins. One thing I did like was the mix of elements, like picking things up from the surroundings and also during the HO searches and having to manipulate the environments around you. Minigames are nothing you haven't seen (and beaten) before, with only a couple of puzzlers at the end to possibly trip you up. Skipping them can be done rather quickly but will add time to your score. That doesn't hugely matter since it doesn't unlock anything, but even on the "challenge" mode you'll likely clock in well under three hours with no skips. Plot is what you'd expect, but the whole thing wraps up tidily enough. These may be the most careless crooks ever in the history of video gaming, but you can't have everything. The only thing that rates this game above average at all for me is the fact that the villain uses "toots" to describe your character about 17 times during the dialogue. And you wonder that he's a bad guy. Forgettable fun.
January 28, 2012
A Great HOG
Thoroughly enjoyed a few hours chilling with this game. Loved the idea of when you had a few things to collect they went into your inventory so you could put them all in the correct place at once instead of keep clicking and putting them into the circle (I know what I mean LOL). The graphics were great and the music was lovely - I normally turn that off. I was really taken in by the game and found myself rushing to find the HOs when the bin was on fire and the alarm was going off, and again when the burglar was in the shower! Didn't want to get caught! I would have liked the choice of voice-overs but that didn't spoil the game for me.
January 27, 2012
Fun game, but short.
This game was fun, but on the short side. With no skips or hints and some time away from the computer, it ran me at almost exactly 3 hours. Visual quality is good, but some of the hidden object scenes were a bit dark. The puzzles were on the easy side with one or two exceptions. I liked the story line, and it had a satisfying ending. Worth it for the Daily Deal, but I would pass at full price.
January 27, 2012
Ok, but no cigar!
This was an easy, easy game! There were some complaints because of no hints. I played the whole game on the higher lever w/o any walkthru help and it was pretty straightforward except for the final puzzle which I had to look up what the game was going for. HO scenes were easy and what-to-do-next puzzles were very linear and kinda' dragged you to the next clue.The end was fine. This was a relatively pleasant game with not a lot of brain power expended. Because of its simplicity, it is over pretty quickly. I give it a very mild thumbs up.
February 17, 2012
An Average Game
This is an average mystery game, quite enjoyable and not overly long. I skipped some of the puzzles which were tedious and had no directions, but the game itself was nice. Penny has to find her father and 8 relics, plus find the criminals, and she does a good job of it. This game is worth playing. :)
January 31, 2012
Relaxing, not exciting.
I felt this game had a relaxing feel to it as you move through the game to find the missing relics. It never did have a sense of excitement to it even when Penny was confronted by the villian in the story. As a daily deal, it did give me value for my money. It is a game that you could where you could play a few "chapters" and then come back several days later and not worry about having to remember everything that happened previously. Some of the puzzles could have had directions. One feature did annoy me though. As you moved from scene to scene, the screen would black out as the next part was loading. The first time it happened, I thought the game had frozen my computer!
April 7, 2012
hidden object game
I liked the fact that this game had a choice of casual or challenge plays. The Hidden Object games were too dark and some of the things were impossible to spot, But the mini games were fun and entertaining .
February 13, 2012
Lots of fun, not too challenging
About half puzzles, half hidden object scenes. The puzzles were fun, not too hard, a little bit out of the ordinary. The HOS were nothing exceptional but were clear and nothing was impossible to find and there were always hints available from the cute dog. No penalty for random clicks that I could see. The plot was pretty silly but pleasant. It took me under 4 hours to finish without skipping any puzzles so I would say it was on the short side but it was thoroughly enjoyable and I would recommend it, especially for newcomers to the genre and those who want to fill a pleasant couple of hours.
May 17, 2012
The Apple logo is a trademark of Apple Computer, Inc.