Scratches Director's Cut
Help writer Michael Arthate explore the legendary Blackwood house! Follow mysteries through the house and dive into secrets of the past! As he is drawn deeper into the story, his sleep is shattered by mysterious noises, and he is plagued by nightmares that cross into reality. Whose shadows lurk in the dark corners? Is that lonely house inhabited by restless spirits of the past or something more sinister? Find out in Scratches, a dark Adventure game!
Spooky atmosphere
Incredible gameplay
Explore the Blackwood house!
Game System Requirements:
OS:

Windows XP/Vista/8

CPU:

1.0 GHz

RAM:

256 MB

DirectX:

9.0

Hard Drive:

1000 MB
Game Manager System Requirements:
Browser:

Internet Explorer 7 or later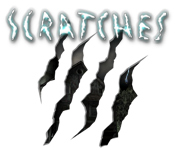 NEW299
The Big Fish Guarantee:
Quality tested and virus free.
No ads, no adware, no spyware.

Reviews at a Glance

Scratches Director's Cut
0
out of
5 (
0
Reviews
Review
)
Customer Reviews
Scratches Director's Cut
50
50
Perchance To Dream!
The other night I had a dream that my sons and I were in the mansion from Scratches and they had a huge wrench (ah, the ubiquitous wrench) and were trying to open the secret door in the fireplace. I knew there was a monster down there and I was trying to stop my sons from going and didn?t know what to do, so I woke up! That is how profoundly affected I?ve been from this game which I?ve played twice. It is truly suspenseful and I have the clenched jaw to prove it. There are just two problems: one is the 360 effect that doesn?t bother me but will probably make some people dizzy. The other is the access violations that periodically appeared. I liked the game so much that I just shut it down and then opened the game and continued where I left off. Everything else is wonderful. The game takes place inside and outside the mansion, so it is never tedious. I really like the main character?s voice, the graphics (although some may feel that they are too dark), the story line (what a surprise toward the end), the additional story that continues a few years later, and everything else about the game including the tasks that are quite do-able for the not-so-experienced Adventure gamer So if you don?t mind a few minor problems, it is well worth the money and time. I?m Romani (Gypsy) and my gran always told me to look out the window after waking from a bad dream and you will not remember it . I forgot to do that but if you dream of the game, don?t forget!
November 22, 2011
Scratches Director's Cut
I read the reviews and I think the problem most people are having is that this game is very different. It is unique, once you become spellbound by it like I am. I'm going to make some notes for those having trouble with getting into the home: 1) I think you have to go through the process of looking around in the woods for a few minutes, to become familiar. Then go to the car, open the door, and get a key from the glove compartment. Then click on the door again and leave the car. 2) Go to the front door of the house. You have to have the game view on the door lock and handle. Now right click the mouse button and take the house key. It's important to right click a SECOND time to make the inventory disappear, and then right click a THIRD time with the mouse (while holding key). This tells you that the door is now unlocked, so you click on the door to open it. 3) Any time you are tired of the credits in the beginning or end, simply click escape. 4) To save a game, click save, and there is a small list of numbers 1 through 10 below. Save and then return back to the main menu to exit. You can save over a game any time you wish. Don't give up on this game or pass it by. Once you're in the home, you won't believe how beautiful the home is, and how intriguing this game is. It's absolutely wonderful.
February 6, 2012
My all time favorite spooky game!
I've played a lot of spooky games but nothing beats this game. It has everything that a creepy, scary game should have - atmosphere, great gloomy graphics, desolate and isolated setting mixed with comfort and a sense of "safety" when talking with your friend on the phone. And best of all, no violence. A great game that will live on forever no matter how old it gets (like myst) but for the spook lovers.
December 1, 2011
Scary First Person Adventure
Scratches places the gamer in the environment. I enjoyed the graphics and the way in which the user can look around, up and down, it makes the experience very realistic. The creators of Scratches are masters at establishing suspense. One constantly expects to be surprised around each corner and behind each door. Scratches will remain one of my favorite games.
November 16, 2011
You must play this!
If you want a scary game, with a GREAT frikkin story, this is it. You won't find anything like it. The panoramic view, is just fine, the game is phenomenal. The MUSIC, is to die for. I bought the soundtrack.. but that is not all that makes this game so amazing. It is so intense.. I can't even explain how it makes me feel or WHY I can never get it off my mind, it's just such a fantastic game. I played it, and couldn't stop thinking about it. Enough said. The details in the story, are unbelievable because it is SO believable. Make sense? Probably NOT! Because you HAVE to play this game by yourself, Or at least with the lights off & the volume up :D Side note: I thought it was extremely hard because this was my first real adventure game since I grew up,I was really young when Myst came out & couldn't get anywhere. I'm sure people who have made it through many adventure games could do this without use of a walkthrough (don't read ahead of course), but either way, the experience is amazing.
February 2, 2012
Terrific Game
Wonderfully creepy atmosphere. I was on edge with fear every time a door creaked open. Beautiful graphics and unbelievably atmospheric sound and music. It took me a while to get used to the panning motion, but I persevered and did get used to it. This game is so good, I am actually sad that it's over. I miss it. A unique and wonderful game.
February 12, 2012
Loved It!
This is an excellent game. Challenging, beautiful with realistic and eerie atmosphere. I definitely will play it again.
November 23, 2011
Old Style flavor
I love this game due to the old school style it uses to explore your surroundings. Takes me back to the adventure games I use to play and love before HOG's
January 18, 2012
Have these people even PLAYED this game?
I am honestly surprised at how many people are complaining about motion sickness in this game because there is an option to play it as a standard "Freeze Frame" adventure. This won't be for everyone and certainly not for tablet or ipads users as it is one of those games that is a long haul. However when conected to a large screen TV with sterio headphones this is certain to creep you out. It's difficult to go into details because most actions here are spoilers but I can say the progression is mostly logical with LOTS of reading required. If you are stuck at all it's worth playing the secondary game that comes with this "The Last Visit" to find out what to do but that's all I'm saying here. The Storyline is your classic "Lunatic in the basement" mixed with African folklaw and ritual, so those of you who have seen old Hammer films such as "The Goule and The Shuttered Room" will know what to expect here. The voice acting and sound effects are movie quality with the graphics varying from average to exellent and there are no silly puzzles (putting crowns on frogs or finding fried eggs in fountains etc) to spoil the atmosphere of the experience. In conclusion the closest game I can compare this to is "Barrow Hill" but much better done. People will either like this or they wont and "Scratches" is best played in Freeze Frame (slide show option) mode in a dark room connected to a large TV with a good set of headphones. Enjoy!
December 13, 2012
Scratches a true gem; don't miss this one!
Sadly, the team from Argentina that created this gem have disbanded so there is no foreseeable possibility of a part 2! This game is something else! I was so distracted by the relationship between the game's 2 lead male roles (Jerry and Micheal) that I failed to appreciate what was going on right under my fingertips! I've rarely experienced better game mechanics! The way the gamer operates the character is intuitive and effortless. It really reminded me of the Penumbra/Amnesia games in that and other respects. Absolutely everything is tight, from the audio, soundtrack through voice acting, to scenery, stills, visuals and gameplay, there is no area left undeveloped! How this game never got picked up by a major company is a mystery! Don't miss this one; it's a true treasure! Plenty of replay value. Not only will I not forget this game by next week, I'll be comparing other games to this one from here on!
November 10, 2012