Scratches Director's Cut
Help writer Michael Arthate explore the legendary Blackwood house! Follow mysteries through the house and dive into secrets of the past! As he is drawn deeper into the story, his sleep is shattered by mysterious noises, and he is plagued by nightmares that cross into reality. Whose shadows lurk in the dark corners? Is that lonely house inhabited by restless spirits of the past or something more sinister? Find out in Scratches, a dark Adventure game!
Spooky atmosphere
Incredible gameplay
Explore the Blackwood house!
Game System Requirements:
OS:

Windows XP/Vista/8

CPU:

1.0 GHz

RAM:

256 MB

DirectX:

9.0

Hard Drive:

1000 MB
Game Manager System Requirements:
Browser:

Internet Explorer 7 or later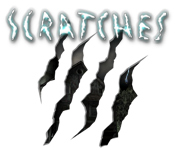 NEW299
The Big Fish Guarantee:
Quality tested and virus free.
No ads, no adware, no spyware.

Reviews at a Glance

Scratches Director's Cut
0
out of
5 (
0
Reviews
Review
)
Customer Reviews
Scratches Director's Cut
50
50
Great game
Loved this game, tricky enough to keep you interested yet easy enough to enjoy.
March 14, 2012
FRIGHTENING!!!
I've played many games that were labeled scary and they somewhat lived up to the promotion, BUT never have I been as freaked out as with Scratches, Director's Cut. This game literally made my heart stop. But, of course it didn't make me so scared I won't play it again in the future. There is a CD game out that doesn't include the Director's Cut. You have to play the Director's Cut to understand the entire game.
February 29, 2012
Pleasant Surprise!
When I first read some of the reviews regarding the 360 panning I almost didn't even try the demo. Almost. (You are able to slow the panning down some, by the way.) Once I began playing I grew accustomed to panning around and was able to control it. Okay, enough regarding that. I loved this game! It had me hooked once I went in the front door and left me wanting more at the end of the game. The atmosphere, dim colors and music really added to the experience and I was really freaked out at times! My recommendation? Try it, you just might like it! :)
October 26, 2014
FANTASTIC GAME!
this game is so real...i went through the house in my mind( in bed) trying to discover my next move!..it is difficult, i used the Walkthrough more than a few times...but well worth playing!
August 4, 2014
Amazing! WOW!
What an excellent game! If you are accustomed to 3D gaming, you should have no problems with navigation or motion sickness. Use RIGHT MOUSE BUTTON for inventory! The immersion level of this game makes it stand apart from any other game I have ever played on BF. Rich, detailed graphics; eery music and a story that leaves you wanting to know more - to the point that even tho you are scared to open that door, you just can't stop yourself. This game will leave your heart racing and keep you on your toes. **If you are really brave, wait until night to play. Turn off all the lights and slap on those headphones for that extra immersion to feel your heart pound and your palms get sweaty. (and hope you don't have a sicko living in your house that can't resist the urge to sneak up on you and go BOO! - your neighbors will hear you scream 10 miles away if so!) LOL
October 14, 2012
Great Intellectual Endeavor by Developers!
This was a great intellectual endeavor on the part of the developers, who, unlike any other gaming team I've encountered, have managed to come across with a truly great game without once resorting to puzzles, HOGs or mini-games. Everything is plot. Pure plot. This is, perhaps, the most difficult game I have ever tried to solve. I played with "hints off," and that really made it tough going. And what a mystery! Even the mystery was a mystery because you didn't know what you were looking for or what the end result of the game could possibly be! I found myself wandering around in the dark, wondering what to do next. I only "heard things." That's all. And I became a bit paranoid. I suspected everyone in the game, and I suspected no one, after a while. It all rather reminded me of Chief Inspector Jacques Clouseau of the famous series of films made by the late, great Peter Sellers, who once said, in the midst of one of his bumbling investigations: "I suspect everyone, and I suspect no one." And that's just how this game is. It is quite long. It is also darksome, gloomy, and riveting. It provides the player with the very highest of challenge pinnacles. Many say they quit this game because they got motion sickness. Strange. They never said that about all the other non-linear games, including the entire Drew Series. I would encourage them to go back and take the game one step at a time. No hurry. I was, more than once, greatly frustrated, as I tried to retire for the night. Yet, my character kept repeating: "As tired as I am, I still can't sleep. I think I'll look around some more." I found that the reason I could NOT sleep was because I missed a step somewhere. Finally, after I found a needed object, I drifted off to sleep. I would again encourage those who have given up on this game to stay with it, if only for a few minutes a day. Eventually, you will win! And let me tell you, the ending is u-n-f-o-r-g-e-t-t-a-b-l-e. Just a caveat for the developers. There are many of us out here in gameland that deplore swearing of any kind. Actually, I'd prefer it if you'd use a four-letter word rather than the name of God because, then, that wouldn't be swearing. It would just be crude and rude. So c'mon! Clean that stuff up for us and for BIG FISH GAMES!
August 17, 2012
Great mystery game.
Loved every part of the game, certain part's were a challenge but kept me in suspense all the way. p.s watch out for scary part at end. Loved it. Taintedfury
June 28, 2012
one of my favorite games
we need more scary games like this
November 21, 2013
Oh my gosh, this game is still good for 2013
This puzzle Horror game makes my bones shake by just reading and listening to that Evil Genius Music. They know how to build suspense on top of you with the quite and wind. Its perfect for a lets play and the reading just gives you a bloody picture of the history that happened in that Horrible house. This game reminds me of Anna a lot by just music and sound. This is a game of Scary stuff that just builds you up and nothing happens. Then there is that surprise at the very end. (aka - Jumpscare) This reminds me of a lot of Horror games i Played so far in my phase of Horror games. That reading just reminds you and just makes other games scarier.
January 2, 2013
Scratches Directer's Cut Review
Its pretty creepy you should get it AND FIND OUT FOR YOURSELF!!! End result, this game is very good and very well made, its for sure a MUST BUY!!!
November 12, 2012