Scratches Director's Cut
Help writer Michael Arthate explore the legendary Blackwood house! Follow mysteries through the house and dive into secrets of the past! As he is drawn deeper into the story, his sleep is shattered by mysterious noises, and he is plagued by nightmares that cross into reality. Whose shadows lurk in the dark corners? Is that lonely house inhabited by restless spirits of the past or something more sinister? Find out in Scratches, a dark Adventure game!
Spooky atmosphere
Incredible gameplay
Explore the Blackwood house!
Game System Requirements:
OS:

Windows XP/Vista/8

CPU:

1.0 GHz

RAM:

256 MB

DirectX:

9.0

Hard Drive:

1000 MB
Game Manager System Requirements:
Browser:

Internet Explorer 7 or later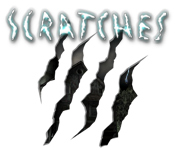 NEW299
The Big Fish Guarantee:
Quality tested and virus free.
No ads, no adware, no spyware.

Reviews at a Glance

Scratches Director's Cut
0
out of
5 (
0
Reviews
Review
)
Customer Reviews
Scratches Director's Cut
50
50
Made my hair stand on end...
Even though I am a HOG fanatic, I felt needed a change of pace, so I thought I'd give "Scratches" a try. I like spooky and after reading the reviews and synopsis to the story I thought, "Eh, what the heck." I was able to master some of what I needed to do - other times I had to "cheat" and follow the walkthrough. There were a couple of times that I literally "jumped" and at the end, my hair was standing on end with goosebumps to match! The "real life" graphics and the 360 look-about made the story even more interesting. And found myself very involved in the story line. I would recommend anyone who has motion sickness to use the "slideshow" mode, though. However, I am left with a couple of questions (and I may be slow here) but who was that person at the end of the story? Robin? James? Christopher? And I didn't get the "years later" story that I saw that someone else got. Was it because I chose the "Director's Cut" and not the "regular" game? If any one has the answers, please let me know. Thanks! All in all - I'd recommend this to anyone who likes mysteries, spooky atmosphere and has to use their noggin to figure things out!
January 10, 2012
Excellent Horror Adventure Game
Now, I'm a big fan of horror-esque games, the ones which include more exploring and less survival tactics from rabid zombie-humanoid monsters. Being a typical point-in-click game, you start as a writer wanting to explore a reported creepy mansion while trying to finish your book. While the story definitely gets a bit 'creepier' as it moves along, what really makes you jump is the sound track. Eerie, totally, and that is what kept me on the edge of my seat. While the story line itself didn't scare me as much as I would have liked, it was still enjoyable to play through. You have basically four days to figure out the history of the place, and depending on the limited choices made during the (grand total of about) six phone conversations with your agent, you get one of two endings. The included 'extra' is really, really, extremely short but does tell a little about what happened after you leave the house and the fate of the house itself. Any fan of the lets-explore-a-creepy haunted house and horror fan will want this on their shelf. Even if at times the puzzles were somewhat trying to figure out, the fact that you could explore the place during the day and night made me only try to push on more. While the ending itself is slightly anti-climatic, I enjoyed it none the less. Definitely pick this up if you enjoy horror adventure games.
January 20, 2012
Genuinely scary horror game
Many games claim to be horror games, much fewer games actually manage to scare me. This one did the job nicely. This is without a doubt the scariest game I've played, which makes it a great horror game. It also has good challenging puzzles and very good graphics. The game takes place in a large house which the main character, a horror writer, has moved into. Gameplay is divided into a few days, and importantly nights, were progression to the next day occurs when a few goals have been achieved. The game does a nice job of gradually building up a creepy atmosphere during the day, based on texts you find that descibe past events, effective use of music and ominous comments from the main character. The nights are when the game turns really scary, but I'll leave it at that since I don't want to spoil anything. Telephone conversations between the main character and his friend play an important role in the game by giving you an idea of what your current goals are and some hints on how to achieve them. These conversations suffer from somewhat worse writing and are the weakest aspect of the game. Also the ending felt a bit anticlimactic. The puzzles offer a good level of challenge and all puzzle solutions are logical. Puzzles are also fairly original and the game even pokes fun at of unoriginal puzzles that are overused in other games by letting you try a common solution to one particularly common puzzle only to have it fail miserably. The only issue I had with the gameplay was that a bit too much careful searching of the house was required. This kind of challenge doesn't appeal that much to me but I can see how it may appeal to other players. In conclusion this is a very effective horror game with good puzzles that was made somwhat less enjoyable by a somewhat excessive need for careful searching for important objects, some not all that good conversations and an anticlimactic ending. Still, it is a very good game that I would strongly recommend to anyone who likes horror games.
April 10, 2012
An atmospheric game so only for a certain type of adventure gamer
My reviews are of finished gameplay I demoed this game years ago and as I was playing quickly as you do in demos I didn't 'get' this game. The plot wasn't well defined at the beginning and just hadn't a clue what I was doing or what I was supposed to be doing. But after finishing the game I appreciate the different type of game, and the plot which was slow to start but was fleshed out well. When I say it's an atmospheric, spooky game I mean that, it's not that that is the background to the game that is the game. The character you play is Michael and you are a writer who needs to be alone to finish his book and your friend found you this old victorian house in England. It's set in 1976 and as you investigate the house - clicking on everything and reading everything you slowly learn the history of one of the last inhabitants of the house and the adventure begins. When you progress in gameplay the clock in the hall will move forward (or just save game it will tell you) and certain things are only available at certain times or when you have done certain things as that will trigger other things. So it's a very patient type of player that will keep going back over everything. If you can't get past a point it's because you haven't clicked on something to trigger something else. The slowest and thus the hardest is the beginning where basically for one real day all I did was investigate and click on everything as you can't progress beyond a certain point if you don't and it is frustrating finding out what you missed! There is a phone in the hall which you will use and sometimes I needed to phone again immediately the same person so keep phoning or try to often. You will also need a paper and pen to record numbers and things you come across. This game doesn't support windows 7 but I managed to play through the glitches and couple of crashes by saving a lot. To access main menu hit escape and save to save in one of ten slots available. Under setup if you don't want to play 360 which is default mode you need to do two things or it doesn't really work. Under slideshow set it to enabled AND ALSO alternative control set to ENABLED. If you only do slideshow it moves like 2mms a time but if you also do the alternative control it's how you expect a game to work. I did play a lot that way but it is a lot harder to scan a room and not miss anything out by doing it that way. I turned my camera to slow, kept the cursor in the middle and I was OK. Two things to note - if you don't like occult or dark things this game isn't for you and spoiler ahead - you have to do something to a crucifix which I'd have prefered if they used something else. (you put a nail in Jesus feet). It made me uncomfortable but dialogue and everything was respectful. Graphics and some parts reminded me of rhiannon but I much prefered this story and I never get creeped out or scared in games but this managed to do that to me a couple of times! By the end of the game you will never want to see or open another door in a game ever but that part alone had the suspense part! This isn't a game I'd recommend to beginners or the easily bored or for those wanting a syberia or return to mysterious island type game, it's not that type. There are no puzzles in this game. It surprised me as I ended up enjoying it and the mystery despite the slow beginning. I took one point of the plot as personally I didn't like one aspect of the ending. DON'T FORGET TO CLICK ON PLAY AFTER YOU FINISH TO ACCESS THE BONUS CHAPTER. So if you want a spooky game this is a must have and if you don't mind playing through a couple of access violation or crashes check it out.
November 16, 2012
Wow, Complicated Maze of Remembering
Fun factor of ok, because of the difficulty, resulting in frustration, and final need to use the walkthrough. I would have liked to hear final thoughts from the main character. I changed my skill level to intermediate after playing this Maze or requirements, and tracking where you have been and where you must go. A real blast.
March 26, 2012
Very creepy!
I gotta admit, of all the bfg games I've played, none have made me jump or sent that chill down my spine like Scratches did. And believe, me, I specifically look for the scary ones! I love that this game was so dark and eerie with the creepy music and shady ambiance. The story line was a tad confusing, and I didn't really get exactly what was going on until I'd finished the bonus chapter, so it left a lot of questions unanswered. The only other thing I didn't like, is that the game did not flow very well from one step to another. If not for an online walkthrough, I would have had no idea what my next moves would have been. Some items that you are get are gotten very early, but are used very late, so through most of the game I was pretty confused. Overall, I liked that it was creepy, which was my main goal. I do recommend it for those willing to switch back and forth between game and walkthrough, or do like I did and have both laptops side by side, one for game, one for guide! Liked it overall. Really good game!
December 5, 2013
An Interactive Novel
For me, this horror game is more of interactive novel, than anything else. First, the assistants obtained through the telephone, run counter to solitary self-reliance, I have found in other adventure games. Secondly, the dim light impedes all room searches, even with the cursor changes. When I did obtain some light, by opening a curtained window, I found a key. I concluded that, a portable light source was necessary. Later, I was encouraged to find a portable light source, by an assistant over the telephone. After a thorough search for this light source, I abandoned the game and reached for the walkthrough. In the walkthrough I discovered that, there would be a portable light source with very limited use, much later in the in the story. At this point I decided that the walkthrough was the only practical key. I would be reading the walkthrough story and going through the motions. The artworks found throughout the house as well as the house itself and the Panavision are worth the price of the game. Due to motion sickness, I had to go to the settings and restrict the Panavision somewhat. The settings for the Panavision could be better labeled.
January 2, 2013
Alfred Hitchcock kinda Creep Factor
I really loved the challenge of this game, but it's not for people that don't want to use the old noodle. The fun factor rating is only a three because this game will undoubtedly stump you and have you looking up puzzle solutions on the internet. This game required serious thought to work through the puzzles and there are two puzzles in particular that I felt weren't common sense solutions which is a bit aggravating. Overall the atmosphere that the game presents along with the story within a story was interesting and had me trying to figure out who dun it or if they dun it. The visual aspect of the game is like really being there which I liked but don't expect a musical score with this game. It uses sound in a subtle way, possibly not enough. Still overall I enjoyed the game and would recommend it to folks that aren't looking for a HOG style adventure game that can be completed in a day.
October 30, 2012
I'm torn about this game
The graphics are great, the atmosphere and music make the whole thing feel very creepy. HOWEVER I don't find that the game plays out in a logical fashion. If it weren't for the walkthrough, I wouldn't have a clue as to what to do next. <**spoiler**> I mean..who would think that when waking up in the middle of the night, the first thing you would do is go to the cellar and climb into the furnace?? The whole game feels like that, to me. Spooky game..just doesn't seem to have a cohesive story line..
January 3, 2012
Scary but Frustrating
This game has a good story line, but it was so challenging that i often felt like pulling my hair out! I had to use a walkthrough and constantly close the game down, pull up the walkthrough, close the walkthrough, pull back up the game....over and over and over. Sometimes there were subtle hints to pick up on and sometimes the next step was completely impossible to figure out without help. This game would have been more tolerable if there was a better in game hint system available. The game was scary - which is the only thing it really has going for it.
August 29, 2012