Scratches Director's Cut
Help writer Michael Arthate explore the legendary Blackwood house! Follow mysteries through the house and dive into secrets of the past! As he is drawn deeper into the story, his sleep is shattered by mysterious noises, and he is plagued by nightmares that cross into reality. Whose shadows lurk in the dark corners? Is that lonely house inhabited by restless spirits of the past or something more sinister? Find out in Scratches, a dark Adventure game!
Spooky atmosphere
Incredible gameplay
Explore the Blackwood house!
Game System Requirements:
OS:

Windows XP/Vista/8

CPU:

1.0 GHz

RAM:

256 MB

DirectX:

9.0

Hard Drive:

1000 MB
Game Manager System Requirements:
Browser:

Internet Explorer 7 or later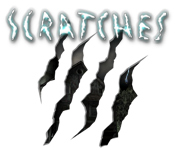 NEW299
The Big Fish Guarantee:
Quality tested and virus free.
No ads, no adware, no spyware.

Reviews at a Glance

Scratches Director's Cut
0
out of
5 (
0
Reviews
Review
)
Customer Reviews
Scratches Director's Cut
49
49
Kind of Blah..
I played this awhile ago and probably won't play it again. The story is a worn out one and don't be impressed with the words "Director's Cut". It was just blah.....:(
January 30, 2012
OK
Graphics were great, enjoyed the 360 surroundings, objectives weren't to hard to figure out at first but then found myself going back and forth to often to the walk through. I was enjoying this game at the beginning but for me it just got to complicated or maybe I just got to bored with it after realizing that sure, somewhat like Tomb Raider, not really...Tomb Raider is a much bigger game and heck, my graphics card can't handle a Tomb Raider game on this computer...I would need to install a stronger card. So maybe my expectations were to high for this game. No matter, I do recommend anyone trying it, because it wasn't bad all the same. Oh, I did get a good startle at the end there, good for you Big Fish. ;)
March 12, 2012
Motion sickness
After reading other reviews I decided to try the game. To be honost I only got 9 minutes playtime, before I HAD TO QUIT. Like other members have stated, with the cursor movement there is a chance of getting motion sickness. The setup in game for mouse speed nor the dpi setting on my mouse had any actual effect. So take that into consideration before buying. Concerning visual and sound, those 9 minutes were enough for me to think they are awesome! Truly beautifull. So if you never get motion sickness from games, this can be a game for you. If you do have a tendancy for it, than stay away. But since i cant last more than 10 minutes I have to say not recommend.
January 16, 2012
Horrible Experience...For Me
I have played a very large amount of games over the years, and this was the first I thought was horrible. Now, this is just MY opinion...others may like it. Navigation was dizzyingly hard to do, and spent the entire demo trying to get around in just three rooms! I never thought I would be affected like some with the 360 degree navigation, but after an hour I felt lousy. I would have gone outside for fresh air if I could have found the correct door again! *smiles* The only thing I can recommend is that others try the demo first before buying it in case it affects you the same way.
May 10, 2012
Not for me
I agree with other reviews that the scenery control makes you very sea sick. An old-fashioned adventure game. Very outdated now. Slow moving and dreary music. I ony played about 15 minutes and was bored to death. Sorry.
February 5, 2012
Not my type of game
I really enjoy HOGs and decided to try a different type of game. I have played a couple of times for a few minutes each time and cannot seem to get anywhere other than wandering around the same rooms. I do not understand what the objectives are or what the whole point of the game is since there are no hints or objective guides. I will try it again but with the walkthrough.
May 1, 2012
No go for me!
Just a few minutes in and I knew this WASN'T the game for me! This game caused me to get motion sickness. I simply hate 360 degree movement. I wasn't even able to figure out how to use the key to unlock the front door and I felt too dizzy to continue. The rest of the game may have been good, but it sure doesn't start out that way!
April 12, 2012
We did not like this game.
Although the graphics were excellent, we did not like this game! Was hard to navigate and the motion made us a bit nauseated. We also thought the game a bit confusing with no hints or instructions on what to do next. We will not be purchasing.
January 20, 2012
Not Fun
I rarely review games, but I decided this one needed some comments. It is so dark you can't see where to go, tasks are obscure and not intuitive, and to solve it you need to check the walkthrough constantly. It is not fun when you don't stand any chance at all in figuring out what to do, but instead have to just stumble around in the dark, hoping to stumble over something. I'm deleting it without finishing it. Like I said it's not fun.
February 18, 2013
It was worth checking out but then I checked out.
After fiddling with my computer's settings, I was finally able to maneuver around a little better with my cursor although it still seemed to drag. It was cool to be able to look directly up at the sky but I can see how others would get sick with the constant movements and even with my slow cursor, I could only play for a few minutes at a time. I'm a fan of the old style adventure games where you find items as you come across them and not in a hidden object scene with word lists so Scratches doesn't disappoint there, but soon you acquire quite a lot of items and you won't know where to use them without trying each one from your inventory. This becomes tedious very quickly and can slow down gameplay, but there are fans who savor this kind of adventure and who won't mind that it will take a very long time to finish. The rooms inside the house are dark and drab and are not environments that I would touch if I were actually standing there so the whole mood for me was very downbeat while playing. I guess the developers wanted to create an atmosphere of doom and gloom with Scratches as it is a stark departure from the current crop of games with their vivid color contrasts. Between the jerky motion of the cursor combined with the varying shades of black and brown that permeate this game, my imagination wasn't stimulated enough for me to want to continue playing Scratches so I didn't enjoy it. I prefer the newer crop of adventure games but from the high ratings that some players have already given Scratches, it's obvious that there's still a fan base for this old school style of games. And that's a good thing but speaking strictly for myself, I cannot wholeheartedly recommend it.
October 24, 2012