Dark Parables: The Exiled Prince Collector's Edition
Many centuries ago, a princess kissed a frog and transformed him into a handsome prince. Unlike the fable, they never ended happily ever after. It is rumored that the Frog Prince is still alive and now roams the deserted path in the Black Forest, capturing unsuspecting visitors. When the chancellor's daughter goes missing, you are sent to investigate her disappearance. Journey through the deserted forest in Dark Parables – The Exiled Prince, an eerie Hidden Object Adventure game!

This is a special Collector's Edition release full of exclusive extras you won't find in the standard version. As a bonus, Collector's Edition purchases count toward three stamps on your Monthly Game Club Punch Card!

The Collector's Edition includes:
Bonus Adventure
Immersive atmosphere
Fantastic gameplay
Extra Puzzles
Game System Requirements:
OS:

10.8/10.7/10.6/10.5

CPU:

2.0 GHz (INTEL ONLY)

RAM:

1024 MB

Hard Drive:

521 MB
Game Manager System Requirements:
Browser:

Safari 4.0 or later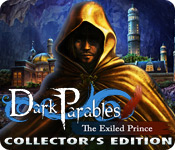 The Big Fish Guarantee:
Quality tested and virus free.
No ads, no adware, no spyware.

Reviews at a Glance

Dark Parables: The Exiled Prince Collector's Edition
0
out of
5 (
0
Reviews
Review
)
Customer Reviews
Dark Parables: The Exiled Prince Collector's Edition
62
62
I was expecting more!
I so so wanted to enjoy this game, having played the first and throughly enjoyed and playing the demo which gave me a good flavour of this game. In the demo I noticed that there was a lot of HO scenes but didn't think anything of it in particular as some others of this genre start off with a good few at the beginning but once a bit farther in to the game they get less frequent, here however they just kept going on and on and on. Also some of the pieces to find were perhaps a little too well hidden. With regards to the mini-games, while unique, they didn't seem to be well thought out and a bit confusing for me at times, thus they didn't seem to be any satisfaction with completing the games and when I had clicked on the correct button (to complete the puzzle) it just suddenly opened, thus there was no satisfaction of completing the puzzles, it was just a case of pushing buttons until the right combination came about. This was not the case in all the mini-games but certainly in the vast majority of them. This therefore left me very disappointed with the overall game as as I said I really wanted to enjoy this game. The storyline, graphics, voiceover, sound-track etc were all supurb, but it was just the general gameplay that left me feeling a bit deflated. I did finish the game, but only because I had paid for it, and to be honest I did want to follow the story through, but the general gameplay did let it down for me, big time.
July 5, 2012
Unchallenging, easy, sliding down towards boredom
I guess the Dark Parables series isn't for me. I had only been mildly happy with the first one, Curse of the Briar Rose, positively disliked the Snow Queen and can't find any real interest in this Exiled Prince. Besides it is much too similar to Macabre Mysteries: Curse of the Nightingale, which I reviewed and rated 2 stars, except that this one is slightly better. I didn't see a nightingale in the former, but there are plenty of frogs in this one. Other than that: - the puzzles I saw in the demo are not devoid of originality, but they are dead easy to solve - the tasks and actions are unimaginative and identical to those you can find in many other games - there are too many HFOGs [Fragmented Objects] for me. Nothing thrilling in all of this. It seems this developer came up once with a fairly new recipe that they are now re-serving each time they release a new game, with the same basic ingredients but with a couple of changes in the seasoning, and each nicely presented on a different plate. In other words, once you've played their first installment, you've played the rest of the series and the clone with it. Of course, the artwork is splendid, the musical intro almost fantastic, the in-game music not bad and not disturbing. But the wrapping of a present is not sufficient for me to like the contents when the said contents lack the essential. Since I found it a bit better than the other games I already mentioned, I am awarding 3 stars to this Prince, in the hope that, some day, this developer offers us a truly enthralling adventure, full of suspense, challenge and novelties.
December 24, 2011
Far too many HOS
If you like many, many HOS, this games is for you. As well, the HOS are all the same - pick object symbols from the scene. The scenes are all the same, just the objects change. There were so many HOS, I lost track of the story line. I bought the CE and the same stuff in the bonus game. Won't play this one again. The only thing that got me through this game and the hint refreshed quickly and I had the strategy guide.
February 15, 2013
Deceptive
Great background graphics. Good storyline. Hidden object art poor. When you show an object that needs to be found it should look like that object and not a different color or shape. Very misleading.
January 15, 2012
Why so Dark?
There are way too many frogs in this game. It is tedious since they are so dark that it is virtually impossible to play without hints. I played it way back in 2011 and thought I would replay but I think I am giving up instead. I do not wish to subject myself to more of this.
April 27, 2014
I debated on coming back to write a review
A always read the reviews before playing a game. The reviews for this game were excellent so I was excited to play. The first part was okay because I still had hope the HO games would slow down. They didn't in fact became annoying. It might have not been so bad if they weren't pieces of an objects. Most of them you can't even see so you end up just clicking randomly hoping to find a piece. The other thing that started to wear on me was all the unnecessary back tracking. I typically like that but there again it was excessive with no real reason. Why go clear back to the caves just to do another HO game for a piece that has nothing to do with anything in that area. I hate to not finish the game because I paid for it and the story really does have me intrigued. I guess it's each to their own.
May 23, 2013
Do NOT like sparkles!
I was able to turn down the offer of a tutorial (but still got one anyway when the map was presented!) but I was NOT offered a more difficult mode of play. Woodjay said that you play on hard mode the second time around... and that's too bad because I won't make it through the first time around. I refuse to buy any game that leads me by the hand with sparkles on every active area as does this game... with no way to turn them OFF. This game was just too easy. I play for the brain-exercise and this game offered none. Even the couple puzzles I encountered in the 20 minutes I played were way too easy. The only thing challenging at all were some of the FROG scenes where some of the fractured bits were very hard to see. That said, the music was nice, the artwork good. I didn't mind the voice-overs or the cutscenes... they were all good, too. I really wanted to like this game but... those sparkles made that impossible. At 15 minutes into the game, I went to "options" and the main menu to see if I could possibly find a way to change to a harder mode, but there was none, so I didn't spend any more time on this game. Sorry, devs, but not offering different levels of challenge is a deal-breaker for me unless the game is dang hard to begin with. As I think about it, another pet peeve is encountering a gate that needs a key... the very next puzzle... you GET that key and it's even marked that it's a GATE key so that there is not even a question about where that key gets used. How about a little challenge?
June 2, 2012
Really hated this game!!
I know this has a lot of glowing reviews, but I really hated this game. Why you ask? Well, for a CE game, this lacked a lot. Here is my list of things I do not like about this game: The very first thing is the lack of being able to choose what level to play....casual, hard, expert or custom. I love it when they have a custom mode....but this one had NO choice. The map was not interactive. It only showed little stars where you could go but did not take you there. On top of that, the map was so lame....not at all helpful. The directions were not clear at all as to what to do next and the hint button didn't even seem to work unless you were in a HO scene....what's with that?? If you skip a puzzle, the hint button won't work for FIVE minutes....now that sucks!! All of the HO scenes were fragmented...that's not so bad, but the objects were very small and very well hidden. I almost got severe eye strain trying to find them. The scenes were dark and very hard to see and you were going all over the place in this game....sometimes only one thing to do in a given scene.....another reason to have an interactive map. They did not tell you right off there were morphing objects in the game....I found one by accident and that's the only way I knew. The tutorial is not good at all. And again, WHAT is with the hint button? You can click all you want but I won't tell you where to look....no arrows, no dialog box appearing to tell you what to do....nothing!!! This is "supposed" to be a CE game....!!??? I could go on and on here, but this is NOT a good game in my opinion. In fact, I don't like any of the Dark Parables games and haven't bought any of them after trying the trial. Just IMHO.
February 14, 2014
Not my cup of tea, at all!
I played 40 minutes of the trial version and quit. Maybe some would like this game but I was totally bored. The hidden object scenes were all fragments of fabricated items so it is a matter of finding parts of "mystical" things by looking at the silhouette of the fragments and finding them in the scene. Most of them were super easy to find (think a part of some mechanism sitting in a bush) but some of them are hard because they don't necessarily look exactly like the silhouette and aren't in the same position. The graphics and music are pretty good but the story line was practically non-existant. The puzzles were extremely easy. No challenge and no fun for me on this one.
July 29, 2012
I?m sure I?ll get a lot of flak from the HO lovers, but here goes.
Based upon completion of game?and was that a chore! Purchased on BF special sale CE for $6.99. Since it had such high ratings and raves I did not demo, my mistake. I like a few HO with my games to break up the tediousness of straight adventure, but I personally do not care for games that only have HO and nothing else. This did have some mini games which I love, but that was not enough to make this an enjoyable experience. ?The story is a good one, the art work fabulous, game play not. ?Hint button that doesn?t work anywhere except HO scenes and there are A LOT of them, basically every scene! ?You have a map but it doesn?t tell you the name of the area so you better have a good memory of what?s where. ?Strategy guide ?Morphing objects ?HOS (FROG) are beautifully drawn, but the items are miniscule. Sometimes the color the item you?re looking for does not match the item displayed. ?Music, I just didn?t even notice. ?Voice overs are well done. ?A LOT of to and fro ?Bonus is locked until completion of bonus game. There is the usual concept art, music, screen savers and mini games. I guess the rave reviews are from HOG lovers and I can understand their love of this game, it has a lot (did I already mention that?) of HO and they are gorgeous. I want a good story with my games, and this one has that but it is lost when every (seriously) scene is a HO. So?.recommend for straight HO lovers only if you want adventure/investigation choose a different game.
July 29, 2012
The Apple logo is a trademark of Apple Computer, Inc.
The Windows logo is a trademark of Microsoft, Inc.