Shadow Wolf Mysteries: Curse of the Full Moon
Called into a small city from the capitol, you have been put in charge of solving a string of mysterious murders! Around the same time as the murders, a wolf has been appearing around town and spooking the townsfolk. With rumors of a werewolf swirling, it's up to you to get to the bottom of the mystery and set the record straight in Shadow Wolf Mysteries: Curse of the Full Moon!
Game System Requirements:
OS:

Windows XP/Windows Vista/Windows 7

CPU:

1.4 GHz

RAM:

1024 MB

DirectX:

9.0

Hard Drive:

490 MB
Game Manager System Requirements:
Browser:

Internet Explorer 7 or later
Alcohol Reference
Blood
Mild Violence
Use of Tobacco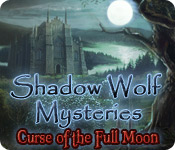 NEW299
The Big Fish Guarantee:
Quality tested and virus free.
No ads, no adware, no spyware.

Reviews at a Glance

Shadow Wolf Mysteries: Curse of the Full Moon
0
out of
5 (
0
Reviews
Review
)
Customer Reviews
Shadow Wolf Mysteries: Curse of the Full Moon
67
67
Curse of the bad endings!
Really enjoyed this game. Good murder mystery type game. Nice inventory based puzzles, not too many H0 scenes and the length was fair (not too short, but not the longest I've played). Not happy about the ending though. It just ended suddenly with not much closure on the story. Hate it when games do that. But overall, I would recommend it.
May 5, 2012
Good
Enjoyable game with easy to moderate puzzles. Hidden object scenes a bit on the cluttered side but not terrible. Haunting music and a good story line. All in all, a good purchase.
April 2, 2012
great game, disappointing ending
I agree with some others that this game kept my attention. Graphics were lovely, enjoyed the bunches of HO slots, and was able to pretty much follow the story line. At first was a bit lost as there were no obvious hints except on the HOs, but the more I played the easier it got to get in the groove of the story. If I left and came back some time later, my memory loss was a detriment and had to work to get back up to speed..but over all, am glad I got the game. A huge disappointment with the ending..
March 24, 2012
Curse of the Abrupt Ending
This is a good game that falls short of being great and it is a shame because of all the things it does so well. Before I begin grumbling, let me be clear, I fully intend to continue supporting this series and look forward to playing the sequel! The graphics are terrific, but some of the beautiful scenes are barely used. You go in, get what you need and get out. Fortunately this is not always the case. There is quite a bit of traveling between locations but I found it pretty easy to navigate and I am directionally challenged. Most of the puzzles and tasks make perfect sense within the context of the story but a few seem unnecessarily complicated. I resorted to a walkthrough at one point and was still left scratching my head. I appreciated the voice acting but how did Scarlett O'Hara wind up in jolly old England? The biggest disappointment for me was the final scene is gone in a flash. Hey! All that drama leading up to the big moment and suddenly the credits are rolling. For shame. Even standard editions should come to a satisfying conclusion. I will give the next game in the series a try. I just hope it will not become the bane of my existence.
January 20, 2012
Fun with Werewolves
I enjoyed this game. You play as a detective who is enlisted to assist the local Prefect in finding out who is killing the local townspeople. Game play is a bit slow with only one or two items found in most locations. The HOS are good and some of the items are difficult to find. The mini games are enjoyable and not overly difficult. The voice overs are well done and the music is nice and not over powering. There isn't a map, but you don't really need one since there are only a few locations. The diary is helpful. Overall I enjoyed this game and look forward to playing the sequel.
March 3, 2014
Nice atmosphere, decent game, not much of a mystery
The solution to the mystery is pretty obvious from the beginning, but that doesn't stop the game from being a good way to pass an afternoon. The ending is extremely abrupt and leaves some lose ends; I suspect the CE wraps things up better. As with most of these games, there are some issues with vocabulary (they need to learn the difference between a "cup" and a "mug," for example), but nothing too serious. The HOS graphics are not as clear as they could be, but most objects could be found without too much trouble. There is too much backtracking, and some deliberate padding, which is irritating. For instance, the crowbar won't work to move the boulder, but later, the iron bar will. Obviously, this was a lazy way of extending the length of the game. I really enjoy the inadvertent glimpses into other cultures that these games provide, such as some of the objects in the HOS and, in this case, lockers in the lobby of the hotel where the guests keep their clothing. I'm assuming that's not something that was invented just for this game.
July 1, 2013
It could have been just a wee bit better.
I really wanted to give this game 3.5 stars but since it isn't possible, I bumped it to 4 since it isn't bad enough to warrant only 3. However, the game played very slow on my computer. I expected more from the developers of this game since the later games in this series run much better for me. Even an old game like Dire Grove runs perfectly on my computer and that one requires much more speed, memory and hard drive space, so I can't understand why this one dragged so much. Even the forums have many complaints on the slowness of this game and no fix has been made for it as far as I can tell. I'm surprised that so many people say that this is a short game but I can only surmise that it's due to the fact that it ran so slowly on my computer so it seemed like a long game to me. Other than that, there's a lot to like about it. I loved the moody soundtrack, which was appropriate to the different settings, and the ambient sounds of the outdoors were eerie and realistic. And I absolutely loved the fact that there's no in-game hint system available other than for the hidden object scenes. This is a true adventure game like the way a real adventure game is supposed to be. Gamers today are too spoiled by the always available hint button (and I'm guilty of being spoiled too), but playing this game takes me back to the adventure games of old when there were no graphics and everything was text based. You had to use your imagination to think outside the box of where to go and what to do. This game provided that and I enjoyed it immensely. I did have to consult the walkthrough twice but most things made sense as to what to do next. The backtracking wasn't too bad because the scenes looked different enough from each other so that it was easy to remember where I needed to go next. The hidden object scenes were minimal and uncluttered, and the hint system filled quickly within them. The artwork is gorgeous and colorful, and I especially liked the animation with the characters as they talked and moved. Some people say the fortune teller's accent was terrible but I was more bothered by why the narrator's was Australian! I thought this story takes place somewhere in the UK or even the US but not Australia. Other than the slowness of the gameplay, I found the plotline to be a bit confusing. Trying to remember all the characters' names and their individual stories was difficult but maybe it was because of my frustration with the slow fading in and out of each screen that I didn't pay enough attention to the details. And I hated the audible sigh that occured constantly each time you acquired an inventory item. It is unnecessary to the game and is just annoying. The only glitches I found within the game is the journal, which provided clues to things long after I'd already found them myself. It seemed to have the pages going backwards instead of clueing me in as to where to explore next, so I found the journal to be largely unhelpful. And there were a couple HO scenes where the objects in yellow were supposed to be hidden behind something else but were out in plain view. This is a minor glitch but if it's supposed to be hidden, then hide it! The puzzles/minigames were an easy challenge, not too difficult, but many required patience which added to the game length nicely. The skip button was always there and filled quickly for those who can't wait. Like others have already mentioned, the ending just sort of comes at you like an assault and it's over. There's no climax to the story and there's not enough time for any anticipation to build up when, all of a sudden, the end scene plays out showing all the details in about 30 seconds flat. That's no way to wrap up a story like this, as different as it is for one about werewolves, but I just think it could have been fleshed out more.
December 5, 2012
Great game
My favorite part was the storyline. It was great solving a murder mystery dated somewhere in the 1600's. The characters were well developed and the voice overs were well picked. The visuals were fun, brought a lot of dark atmosphere. I enjoyed the mini games; just enough complexity to be fun yet not annoying. I was surprised at the end though. Makes me want to play the rest of the series!
November 17, 2012
I like it !
Dont usually write reviews, and was really unsure about buying this game....BUT enjoyed it staight away ! Some good twists and turns and I did get in a bit of a pickle at times ( and use the walkthrough) but not so much that it done my head in ! Beautiful scenery, nice background music.....Shame about the ending but I was expecting it to end abruptly, so every extra chapter was a bonus. Just bought the next one. ;-)
October 27, 2012
Feels strange
I'm very excited about the release for this game at first. The preview pictures are just amazingly beautiful. However as I started playing it, something seems to be missing. I feel the nice graphic is wasted by the little interaction you can do in each scene. HO scenes also return to the very old style. Story sounds boring. I hope this game can get better in later chapters.
October 22, 2012
The Apple logo is a trademark of Apple Computer, Inc.