Shadow Wolf Mysteries: Curse of the Full Moon
Called into a small city from the capitol, you have been put in charge of solving a string of mysterious murders! Around the same time as the murders, a wolf has been appearing around town and spooking the townsfolk. With rumors of a werewolf swirling, it's up to you to get to the bottom of the mystery and set the record straight in Shadow Wolf Mysteries: Curse of the Full Moon!
Game System Requirements:
OS:

Windows XP/Windows Vista/Windows 7

CPU:

1.4 GHz

RAM:

1024 MB

DirectX:

9.0

Hard Drive:

490 MB
Game Manager System Requirements:
Browser:

Internet Explorer 7 or later
Alcohol Reference
Blood
Mild Violence
Use of Tobacco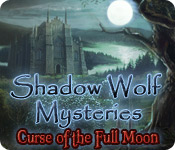 NEW299
The Big Fish Guarantee:
Quality tested and virus free.
No ads, no adware, no spyware.

Reviews at a Glance

Shadow Wolf Mysteries: Curse of the Full Moon
0
out of
5 (
0
Reviews
Review
)
Customer Reviews
Shadow Wolf Mysteries: Curse of the Full Moon
67
67
Not Your Same old Werewolf Story!
The story, where I have been sent as a detective to investigate the panic in the town due to attacks and disappearances, sucked me in from the start. The story line keeps you guessing to nearly the end as to what all is going on. This game had voice overs for its characters which in my opinion make for a much more immerse story telling experience rather that having to create the voices in my mind. The music (which is usually my least favorite part of a game and I often turn it down or off) was very appropriate to the story and I quite enjoyed it. The ending was a bit startling but told you a lot despite the surprises involved. I liked this game.
October 19, 2012
enjoying it
I don't think it's as good as the other CE shadow wolf, have only played trial but looking foward to ce. Love the medieval period in the city and forest. Graphics are extraordinary in some chapters more than others. I love a good hog that also includes variety like adding puzzles or logic to get to the next level. Many of the top games are getting better at this as well as challenging ho scenes but not frustrating. Love the interactive scenes for certain objects in ho scenes or changing it up a bit by describing the object instead of a list or outline. keep up the good work
January 15, 2012
Fell short, literally.
As with most youngsters these days I am a big fan of werewolves and werewolf legends/mythology. This game had a lot of promise but I felt the game was too short and didn't have a satisfying ending at all. Even if there is a sequel on the way I felt that this game's characters (and in turn the player) should have had more closure. I still recommend the game for werewolf aficionados, enjoy it while it lasts.
November 14, 2011
Gets better as the game goes on.
I love HOG, but found this one very frustrating for the first third of the game. Inventory items were used in places that made little sense and did not further the story. A number of times I had to check out the blog walk through to see what came next. It would have been much better if the HINT button gave hints about where to go next and not just hints about the HOS. The rest of the game went much more smoothly and in the end I was sorry that the game had ended.
January 6, 2012
Enjoyable Hidden Object Game
This review is based on the one-hour demo. I love hidden object games, but the more of them I've played, the pickier I've become. It annoys me perhaps a little more than it should when I discover that a game offers no widescreen correction, which is the case with this one. I decided to turn off the fullscreen option in order to avoid the distortion. The artwork certainly looked better with the game windowed, but peering myopically at the screen, trying to find things, was not very comfortable. The level of volume for the characters' speech seemed very inconsistent. Sometimes characters continued speaking at full time even after I hit "Skip," though I *think* the voice is meant to fade out when you do that. At least once, I heard nothing at all when a character was meant to be talking. The puzzles range from very easy to close to moderate in difficulty. I did become impatient with one involving clock hands that seemed less like a puzzle and more one of those mechanical time-wasting "puzzles" that I hate. I dislike skipping puzzles, but I skipped that one after several minutes. I enjoyed the music. It lends atmosphere without being intrusive or stopping and starting abruptly.
January 4, 2012
Good....but a Truely Abrupt Ending!!
This game starts off so good, and you are enjoying the story, the music, and even a few good scares....when it ends...and you feel kinda like someone cut the film. You are left with a feeling of "What the devil just happened?". The hidden objects are good, as well as the puzzles. You really will like this game until the abrupt ending. I wasn't fond of the ending, but I did enjoy playing the game.
February 6, 2012
That's it?? Two and a half stars . .
I bought this game because I thought the trial version was fun and I enjoyed the mysterious atmosphere, but the ending was way too abrupt, left too many unanswered questions and felt like the writers lost interest and wanted to be done with the story. The voice actress for the gypsy was terrible too - it's hard to overlook a gypsy with a southern accent, but I could have if the ending had been better. I recently played the demo of the sequel to this game and thought it was interesting, but won't be buying it because I'm afraid of another lame duck ending. The sequel seems to start with more information than we were left with at the end of this game - maybe the ending in the collector's edition was better? I don't really want to give this game three stars because it isn't really ok, but nor did I dislike the majority of the game to give it two stars . . .
January 10, 2012
Ok game, but strange
I thought I would really like this game, but it was just ok. I liked the multi HO sparkles, because i like playing the HO part, but really didnt like the mini games. The artwork was pretty and the voice over was pretty good, but only one thing I did hate about this game and any other game that does this, is not being unable to use the hint outside of the HO part makes the game tedious. I had to go online to the walkthrough just to find out were to go next. I perfer hint use through out the game just incase I need to know were to go. But all in all the game was fair...
April 26, 2012
Good story line
The graphics were good but the music could have been better. The HOGs were very good. However, there was alot of back and forths with no indication where to go next. When collecting pieces, (i.e. 1/3) there was no way to tell how many you needed or had. The ending was very abrupt and left me hanging.
December 21, 2011
Good Game, but Inconclusive - A Guy's Review
*review based on completing the full game in expert mode* At the time I'm writing this review there are three games to this series, and this was the first one released. Having all three games I wanted to play them in sequence, but found it hard to figure out which one came first. I wish Big Fish could include release dates on their game info pages, or that the developers could number them in the title. Well, let's concentrate on the game itself. You play as a detective set to investigate some disappearances of the townsfolk and rumors about a werewolf. The storyline is quite alright and is told through a narrator, characters you meet and through pages in your journal. The characters and narrator are all voiced, and the quality varies. The narrator and the prefect is done quite well, but the fortune teller is done horribly bad. The story ends abruptly and rather inconclusive and kind of ruins the satisfaction in the end. I don't know why they did this, or if there is a conclusive ending in the CE? But to end a game like this is just bad. The music is not bad, but it becomes very repetitive. Sound effects are actually not very good. I wish they had put some more time and effort into this. Luckily, game play holds the entertainment levels up. You get a good mixture of adventure, puzzles and HO scenes. The adventure elements is typical inventory play. Pick up here, use there. It of course involves a bit of back and forth moving through the locations. A few times quite the distances as well. And you have to do this without the help of any map. That is unfortunate, but to be frank, it didn't feel that I would need it that often. The puzzles has a varied mix, and though most felt rather easy, there were a couple that offered a bit of challenge (at least to me). Most puzzles I had seen similar or same ones before, but luckily for me most of them were of the kinds I like. The HO scenes too were quite typical. Clutter scenes (but not too cluttered) that had rather dark/grey areas to find items in. It might offer some eye strain for some. It is all hand drawn, but mostly not hard to identify objects. They are mildly interactive as well, and you have to visit all of them twice. There is a misclick penalty, and with very little/no aura on the items they might be hard to get sometimes. There are also a few flaws in translation, but nothing you can't figure out if you put some will into it. You can choose to play one of two difficulty levels: Regular: -Quick recharge of hint/skip -Sparkles on active zones and objects Expert: -Slow recharge of hint/skip -No sparkles except on HO scenes I played it in expert and found it rather easy, so if you are looking for some sort of challenge be sure to chose the expert mode. I found the lack of a map a minus with this game, but also the fact that there is no hint function outside the HO scenes. I did however find the journal of use, which often it isn't. Traveling through locations can be a bit clunky at times, so can interactions with certain objects. If I wasn't absolutely sure that one item had to go somewhere and had to find the exact right spot to use it, I would not have been able to get through without help from some guide or something. There are some odd flaws here and there throughout the game (like flickering in the animation every time you click continue in conversation and shaky mouth animations when characters are talking) but they are easy to ignore, and do not ruin the game. If I was to grade this game purely on game play enjoyment it would probably end up with a 4 star rating, but because of horrible ending, some horrible audio and a handful of flaws I can not give it more than 3. I'd still recommend this game to anybody who enjoys HO adventure games, especially in the beginner to intermediate stages. If you are an expert and is looking for a challenge you might have to look elsewhere, or at least try it before buying. For the guys: You seem to be playing a male detective in this one. If you are into werewolves and such, it should suit you either way. TJ
December 2, 2012
The Apple logo is a trademark of Apple Computer, Inc.