Matches and Matrimony: A Pride and Prejudice Tale
Help a Bennet sister find a husband as you take a starring role in Jane Austen's most popular novels in Matches & Matrimony! Will you pursue Mr. Bingley, whose good nature has already endeared him to your sister, or perhaps Mr. Darcy, the famous protagonist from Pride and Prejudice? The narrative of Matches & Matrimony comes from the combining of 3 different novels, allowing you to create new storylines from Miss Austen's most famous works!
Unique gameplay
Incredible storylines
Find a husband!
Game System Requirements:
OS:

Windows XP/Vista/8

CPU:

1.0 GHz

RAM:

128 MB

DirectX:

9.0

Hard Drive:

76 MB
Game Manager System Requirements:
Browser:

Internet Explorer 7 or later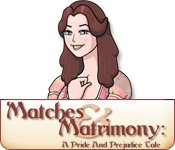 NEW299
The Big Fish Guarantee:
Quality tested and virus free.
No ads, no adware, no spyware.

Reviews at a Glance

Matches and Matrimony: A Pride and Prejudice Tale
0
out of
5 (
0
Reviews
Review
)
Customer Reviews
Matches and Matrimony: A Pride and Prejudice Tale
18
18
A totally interactive game, or rather... Jane Austen's Book !
Really love Jane Austen and particularly the book "Pride and Prejudice". I watched the movie over and over again ...I had a great time "playing the role of Elizabeth Bennet" ! Graphics are cute and colorful, although a bit "stuck". (OK! As a book!) Very pleasant sound. No voice over...you have to read, just like a book! BUT..the great and outstanding differential of this game is: you write the story together, ie, you choose the fate of Elizabeth, and consequently, of other characters too! The story will develop depending on her attitude in certain circumstances, or on her weekly activities (increasing or decreasing her energy, kindness, sensibility, wit, etc), and ...these choices are up to you! You can play many times and always change the ending (has nine). And now? Would you change Elizabeth & Mr Darcy's relationship?
February 19, 2012
Can you figure out how to marry Mr. Darcy? ;)
When this game first appeared in BFG, I downloaded the demo file and then kind of forgot about it. However, with that recent Valentine's Day sale on, I noticed it on the list and tried it. I can't believe I hadn't done it sooner! Now I must say that I like Jane Austen very much, I would even go as far as saying that she is like female Dickens - her characters are always great and funny. And the romance bit doesn't leave me cold either. In this game, several Austen's novels are mixed together. I noticed Pride and Prejudice and Persuasion, but only because I have read both of them recently. You, as Elizabeth (or whatever you decide to name your girl) have a choice of suitors and actions, and every week you can choose between different activities (reading a book, going visiting, doing needlework, resting etc) to grow your different attributes - like willpower, wit, kindness, energy etc. You can save the game any time you like, but I didn't think 14 slots was enough, and I would have liked to name my own games. I did manage, albeit it was confusing and I kept thinking I missed something. "Back" button was a very useful feature. The graphics were all right, a bit cartoonish, but well enough done and I really liked the colours in all the scenes. Music was nice and unobtrusive and didn't become a bore even after hours of play. There is a lot of reading, though, so not really recommended to people whose first language is not English (and mine's not, I had to use dictionary a few times!) The replay value is good, you have a choice of 6 men and 9 endings. I did download a short "walkthrough" guide to see what they were and, without giving too much away I hope, am glad to see there are 2 endings for Mr. Darcy and even some where Elizabeth doesn't marry at all (I wonder if she becomes a writer?...) Also, If you have managed to reach chapter 17, you'll be doing quite well and it's not really possible to go completely wrong. (There were 20 chapters in all in the game I played) So, do you like Jane Austen and always wanted to marry Mr. Darcy? This is the game for you! tuskel, sincerely P.S. I did! :)
February 19, 2012
Jane Austen and Choose Your Own Adventure!
I will state before I get too far into this that I am both a Jane Austen fan and loved Choose Your Own Adventure books when I was little. So this game is perfect for me, and I knew I had to buy it only part way through my trial period. It's a chance to determine your own fate in Jane Austen's world, and your choices will change what ending you get! The graphics are pleasant drawing-style graphics and not exceptionally fancy, but you don't purchase this game for the graphics anyway. They are well-done enough for what is essentially a choose your path book in digital format. The sound is also pleasant. The replayability is excellent, however. There are multiple endings you can try and achieve, and so you can attempt to try and figure them all out. Obviously, you can even play again after you've gotten all the endings if you so choose. I got a good amount of game time out of this trying to find all the endings. Your character changes as the story goes along as well, and certain choices are available only if your character has (or doesn't have) certain levels in her traits. You raise and lower your traits both through your daily activities, as well as through the big interactions in the game. It's a really fun game that isn't hard to play - even a novice gamer should be able to play this one easily. The challenge comes in trying to figure out the different paths. I really hope they put out more games like this with other stories!
December 8, 2011
Gotta Love Jane Austen
If you love Jane Austen's books, then you will love this game. You get to develop a character and decide how she interacts with other characters in the story which makes for hard decisions and precise movements like a chess game to get your desired outcome. With suitors like Mr. Darcy, the game remains fun and twisty.
December 5, 2011
Jane Austin-palooza
This was a rather fun game. Let's see, you start out in the Bennett family, but you can end in a couple different roles... You could marry Bingley... You could be *forced* to marry Elton... It's a fab game that I've played over and over... Very much like those choose-an-ending books we all read as children. Even got my best friend hooked!
November 27, 2011
You gotta love getting to decide your (or your character's) fate through the choices you make!
This game seems to get better even after the first play. Ever read a book and wished that you could change something? This is sorta how the game goes. You realize that your choices have consequences, and you have to make your choices wisely to get what you want. Every choice has an effect on what happens later on, and this is what is so frustratingly thrilling about it. Are you the girl who prefers the extremely friendly gentleman (like Ashley) or the dark mysterious handsome guy (Rhett)? Do you have a very annoying guy chasing you (Urkle or Screech)? Or is there someone in the background that no one seems to notice as much. Are you willing to be cruel or overly nice? Do you want to be very smart or very social? What skills do you want to be seen through your personality and who will you end up with in the end? Will your family be happy, will you be happy, will the ending be happy? The fate is all in your own hands ... be careful, it might be a frustrating life!
November 30, 2011
Whats your Ending?!
I was suprised by all the reading when I first started but then I got really into it. There are so many different endings, 9 doesn't sound like a lot, but theres a lot of work that goes into each one.
August 18, 2012
Rewriting Jane Austen!
This game is so much fun. I absolutely love Jane Austen so when I realized this game's storyline had several Austen stories included I was thrilled. And much more than that, I could re-write the ending! I couldn't stop playing! This is a serious strategy game. You give your character tasks to do throughout the week and the tasks add certain personality traits and/or talents. Everything your character says and does has an impact on her life and her happy ending. There are 9 different endings and you won't want to stop playing until you've unlocked them all! Even after you do, it's still fun to go back and play over again. Sometimes there is more than one way to get to an ending, so there may be dialogue you haven't seen and it's like playing the game for the first time. I definitely recommend it.
May 28, 2012
Amazing game!!!
So good!!! And the deferent endings are amazing!!
June 11, 2013
Worth it!!
This game is amazing!! This is because of the combination of the wonderful storylines, and the uniqueness of the game. I think that if you like the intelligence aspects of jane austens books, this game will be enjoyed by you.
February 12, 2012
The Apple logo is a trademark of Apple Computer, Inc.