Wedding Salon
Try your hand at the wedding business! Holly runs a chain of Wedding Salons, and your job is to help her develop it, while providing top-notch customer service. Once you find the right approach to each customer, your efforts will be rewarded with generous tips. Use the money you earn to hire staff and upgrade equipment in Wedding Salon, a fun Time Management game!
Fast-paced gameplay
Incredible action
Take over a Wedding Salon!
Game System Requirements:
OS:

10.4

CPU:

1.0 GHz

RAM:

512 MB

Hard Drive:

60 MB
Game Manager System Requirements:
Browser:

Safari 4.0 or later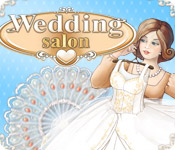 NEW299
The Big Fish Guarantee:
Quality tested and virus free.
No ads, no adware, no spyware.

Reviews at a Glance

Wedding Salon
0
out of
5 (
0
Reviews
Review
)
Customer Reviews
Time Management
This game was unique in the way it was designed, you have a lot of different items your customers want and they request them in any random order, that is where the challenge comes in because you have to serve certain ones first and you have to always have an available waiting chair or the customer will walk out. You get to choose from 3 different locations for Holly's wedding and decorate it I love that part, you also match differences on jewelry requested by the customers as well as any bridal gifts they choose there are mini games, upgrades for the shop and for Holly -the sales chick and the only chick serving customers- which depend on your scores all while keeping their hearts up which is normal in any TM game. There are several locations to open up so the length of game play is descent and levels can be replayed to better your scores. It was fun but their wasn't a slow increase in levels it became busy before the first level was completed, you definately have to keep up right off the bat! I only played the trial version but this is definately a future purchase cause of the story and other store items and planning, etc. Plus I love weddings... :)
February 19, 2012
great at first
the trial started out great, my character was planning her own wedding while working at a wedding salon. if you got expert score on each stage you get to upgrade decorations at your own wedding. the last two cities were basically impossible to achieve expert. I found it incredibly frusterating and repetitive, the mini games of matching really interferred with the actual game. there was basically no story after the initial act, of them saying they want to get married. needs a better storyline and less repetiveness.
August 31, 2012
Fun Time Management
This game is very fun, if your a regular time management gamer like me, you'll probably like it. It's not slow paced and it gets challenging with time. Cute aesthetics, slow story, fun customers and upgrades. Beware, it does have matching mini games if you don't like matching games, but i thought it was really fun and added a bit more to the game. Overall, i have no complaints about the game and would recommend it :)
October 21, 2013
Solid
I was a bit sceptical at first, because I'm really allergic to anything wedding-themed. But the graphics sucked me in (maybe it's superficial, but I like something fun AND aesthetically pleasing), as well as the gameplay. Yes, it's a challenge, and yes, it's frustrating at times, but by repeating a level you actually can get better. The minigames add a bit of tension, thus you have to have a strategy and an overview of your customers and the layout of the shop. Also, I liked the story, in the sense that it didn't annoy me. Actually, I found it motivating that I'm getting ready for my own wedding, just enough to try to keep reaching expert level so that I can decorate where I will marry. Which is quite rare, I'm not so persevering as to try the same level over and over and over again. So, yeah, good game.
September 25, 2013
Lots of Fun
I really enjoyed this game. My only complaint is I would have liked to have seen more of the wedding storyline unfold between her and her fiance'. It was very challenging.
September 6, 2013
Are we there yet
No real challenge. About as exciting as chewing gum.
September 14, 2013
Fun but lame salon updates...
Im so torn on this game! I played the entire thing and while I liked it as I love TM games, Im also disappointed with it hence the 3 star rating. The storyline and the creating your own wedding room were very nice and I really enjoyed making my wedding room beautiful. It was quite fun throughout most of the levels and there are a lot of different locations to conquer. All the levels except the last one were very doable to get expert but some obviously took more than one try to do it sufficiently. Then we come to my dislikes or rather my disappointments. The level of challenge in all the levels except the last one were great. However in the last one, no matter how fast I was or how many people I helped, I could never get an expert score. Even if I helped all the people and had nobody leave the store on me and even if all the people leaving had 5 hearts, I could not get the expert score. I am pretty fast and was able to obtain expert on all the other levels so I feel like this is some kind of glitch or bad decision making. I feel like if you get all the people in the store without anyone walking out and you get all of them out with 5 hearts then you should get the highest score but that was not the case. My other huge letdown were the salon upgrades. In most TM games, you have a lot of things to upgrade and people to help you as time goes on. This game gives you people that will help you for a price and you can update all the fixtures but you can't add anymore chairs in the front so you can have more customers or upgrade the chairs that are already there for patience so they are always all grumpy by the time they sit down. The upgrades that would have helped me save time were only available for the stations I already had the workers at. I really could have used better, faster upgrades for the rest of my stations. Every time you beat a location, you get to level up Holly either adding speed, hearts or customers giving you higher tip. Even when I had all of these at the end of the game, the last location was completely undoable. Usually it bothers me to not finish a TM game without getting all the experts but with this game Id be sitting here for a year trying to be fast enough to do it. Therefore even though I liked the game concept and my "wedding room", this game would have been so much better with more updates that help progress the game, more helpers and more chairs to add like other games. OH and good luck when your helpers go on vacation and you only have 1 chair because the rest broke. Yes its a game and there are obstacles but this one makes them almost impossible. I do recommend this game but I also don't. Its really up to how much you like TM games and what you will settle for when playing them.
September 2, 2013
It's OK
pretty typical time management game. enjoyable as long as you like it.
February 19, 2013
Old fashioned TM game
This game is like a 'step back in time', in that it is a 'colour-match' dash type game. It is good fun if you like those sort of games, but I think for me personally I have had my fill of these types of games. If you do like these style of TM games, then I would reccommend it as there is nothing there that is 'offensive' in that it has all the elements there for a typical 'dash' game, the visuals are good, there is the 'usual' type of storyline, in that you have to 'build up (in this case a wedding venue), by collecting tokens. The soundtrack is not that annoying but it could possibly grate if you were going to spend a few hours in a row playing the game. All in all it is a good game of the genre, but as I say I think I have moved on from this genre and want something a little different.
September 11, 2012
Wedding Salon?
Wedding Salon is a game where you put soon to be brides or grooms to rest by doing their hair, making them matching jewelry. ect. Whilst running your own wedding shop, you are getting married yourself! You have to pick the venue, dress, windows, floor, wallpaper and table cloth for your big day. Even though this game sounds cool, it's incrediably repetitive. Which makes it very boring, since the game isn't really that intresting anyway! However the graphics are good, they have some detail but the music is is annoying, it's like one of them annoying tunes you cant get out of your head. Also this game is not challening!!! If i was going to recommened this game it would be to 7-12 year olds.
June 9, 2012
The Apple logo is a trademark of Apple Computer, Inc.
The Windows logo is a trademark of Microsoft, Inc.