Wedding Salon
Try your hand at the wedding business! Holly runs a chain of wedding salons, and your job is to help her develop it, while providing top-notch customer service. Once you find the right approach to each customer, your efforts will be rewarded with generous tips. Use the money you earn to hire staff and upgrade equipment in Wedding Salon, a fun Time Management game!
Fast-paced gameplay
Incredible action
Take over a Wedding Salon!
Game System Requirements:
OS:

10.4

CPU:

1.0 GHz

RAM:

512 MB

Hard Drive:

60 MB
Game Manager System Requirements:
Browser:

Safari 4.0 or later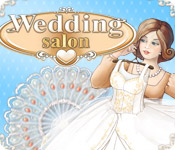 NEW299
The Big Fish Guarantee:
Quality tested and virus free.
No ads, no adware, no spyware.

Reviews at a Glance

Wedding Salon
0
out of
5 (
0
Reviews
Review
)
Customer Reviews
Fun but lame salon updates...
Im so torn on this game! I played the entire thing and while I liked it as I love TM games, Im also disappointed with it hence the 3 star rating. The storyline and the creating your own wedding room were very nice and I really enjoyed making my wedding room beautiful. It was quite fun throughout most of the levels and there are a lot of different locations to conquer. All the levels except the last one were very doable to get expert but some obviously took more than one try to do it sufficiently. Then we come to my dislikes or rather my disappointments. The level of challenge in all the levels except the last one were great. However in the last one, no matter how fast I was or how many people I helped, I could never get an expert score. Even if I helped all the people and had nobody leave the store on me and even if all the people leaving had 5 hearts, I could not get the expert score. I am pretty fast and was able to obtain expert on all the other levels so I feel like this is some kind of glitch or bad decision making. I feel like if you get all the people in the store without anyone walking out and you get all of them out with 5 hearts then you should get the highest score but that was not the case. My other huge letdown were the salon upgrades. In most TM games, you have a lot of things to upgrade and people to help you as time goes on. This game gives you people that will help you for a price and you can update all the fixtures but you can't add anymore chairs in the front so you can have more customers or upgrade the chairs that are already there for patience so they are always all grumpy by the time they sit down. The upgrades that would have helped me save time were only available for the stations I already had the workers at. I really could have used better, faster upgrades for the rest of my stations. Every time you beat a location, you get to level up Holly either adding speed, hearts or customers giving you higher tip. Even when I had all of these at the end of the game, the last location was completely undoable. Usually it bothers me to not finish a TM game without getting all the experts but with this game Id be sitting here for a year trying to be fast enough to do it. Therefore even though I liked the game concept and my "wedding room", this game would have been so much better with more updates that help progress the game, more helpers and more chairs to add like other games. OH and good luck when your helpers go on vacation and you only have 1 chair because the rest broke. Yes its a game and there are obstacles but this one makes them almost impossible. I do recommend this game but I also don't. Its really up to how much you like TM games and what you will settle for when playing them.
September 2, 2013
Are we there yet
No real challenge. About as exciting as chewing gum.
September 14, 2013
It's OK
pretty typical time management game. enjoyable as long as you like it.
February 19, 2013
Old fashioned TM game
This game is like a 'step back in time', in that it is a 'colour-match' dash type game. It is good fun if you like those sort of games, but I think for me personally I have had my fill of these types of games. If you do like these style of TM games, then I would reccommend it as there is nothing there that is 'offensive' in that it has all the elements there for a typical 'dash' game, the visuals are good, there is the 'usual' type of storyline, in that you have to 'build up (in this case a wedding venue), by collecting tokens. The soundtrack is not that annoying but it could possibly grate if you were going to spend a few hours in a row playing the game. All in all it is a good game of the genre, but as I say I think I have moved on from this genre and want something a little different.
September 11, 2012
Challenging only because of poor design
So, I started off really liking this game during the trial. Once I purchased the full version, it went down hill. There are a few things that are incredibly irritating about this game. First, this game is pegged as time management, but they have these "mini-games" pop up in the middle of rounds that basically involve matching. I don't think the matching is fun and they just add extra levels of matching as the game goes on, so the irritation about that builds. Second, you queue up actions that trigger mini-games. Once triggered, you HAVE TO finish it before they will let you click on anything else. You can't right click or get out of it and come back. So, you can watch yourself lose a customer because you picked the white fabric when the hat is a gray fabric. Third, even after you've finished the mini-game, there is an added couple seconds (while you watch something happen to keep you from getting expert score) for the mini-game to make some noise and have a heart swirl around on the screen. Fourth, there isn't really a challenge in the game except pure luck. You can't get better at timing the actions and the mini-games because the people that come in are completely random. I've replayed levels and gotten completely different characters. The same characters don't have a predictable order of requests to adapt to. There is no way to manage your time for the people that show up in your shop because they are all completely random. If you get lucky about the order (and click on the coffee a lot), you'll get expert. If you're unlucky, it is still really easy to beat levels. I this game is just a poorer version of others in this category.
January 6, 2012
Wedding Salon?
Wedding Salon is a game where you put soon to be brides or grooms to rest by doing their hair, making them matching jewelry. ect. Whilst running your own wedding shop, you are getting married yourself! You have to pick the venue, dress, windows, floor, wallpaper and table cloth for your big day. Even though this game sounds cool, it's incrediably repetitive. Which makes it very boring, since the game isn't really that intresting anyway! However the graphics are good, they have some detail but the music is is annoying, it's like one of them annoying tunes you cant get out of your head. Also this game is not challening!!! If i was going to recommened this game it would be to 7-12 year olds.
June 9, 2012
Sexist and Boring
I don't know what I was expecting with this game. It's time management, and I thought it would be fun to play a game that involved pretty wedding dresses. There are no wedding dresses except in the scenery. You match women with old fashioned dresses, old fashioned fabrics, old fashioned hair cuts, and old fashioned flowers. The overarching goal of this game is to get enough expert stars to set up your own wedding. Yay! Here's the thing. I had to turn off the sound because the noises the women make when you move them made me....uncomfortable. One of the "skills" you can purchase through your AMAZING photography (taking pictures of table corners) is "attractiveness" which causes customers to like you more so you make more money. There are absolutely no pretty wedding dresses, or anything pretty to look at aside from the scenery. The dresses you set up customers look like something you would wear to a garden party in the 40s. The main character's hair looks like something from the 70s. This game felt like a pure attempt to solidify "traditional" values. With a wedding game, you expect some bridezillas, or jealous bridesmaids, or something funny. No. The brides are super excited, the grooms have cold feet, and the mother in law is just so worried about impressing her future daughter in law. Usually, I can get through a time management game pretty quickly, but I could not stomach this one long enough to finish it. It is not nearly fun enough to make up for the serious plot issues and bad graphic art.
April 23, 2013
Just Ok
The game started out good like all games that are new too me but then this game got dull and lost my interest I didn't even finish my trail.
October 10, 2012
Terrible
After buying wedding Dash I was pretty keen to try my hand at some other wedding games. I can't believe I wasted my time on this! Here are my thoughts: Good Parts: The minigames were the only thing worth mentioning as good on this game. The were fun and entertaining, a rare high point of this game. OK Parts: VIP's. They added extra challenge to the game, but also annoyed me a little because sometimes I would get way to overwhelmed and lose customers Bad Parts: I have honestly never played a game with such a terrible storyline. Holy is getting married and needs to run a wedding salon to help her prepare? That's honestly one of the weirdest, most boring and idiotic storylines I've ever heard. Upgrades. They cost way too much. Upgrading Hollys' wedding venue. The whole concept of this was ridculous and to affod them you had to get expert on pretty much every level. Male/Female combos. Seriously, how ridiculous can this game get? I didn't see any benefits of this and it meant that the waiting line got bigger and bigger untill I got comletely overwhelmed. The game was very poorly designed. The game lacks fun and I really did NOT want to keep playing it. And to top it all off: This game had terrible graphics. The animation looked ridiculous and cheap. Stay away from this game.
June 2, 2012
Pull your hair out entertainment!
I love wedding TM games and this one had great potential. The trial version was fun so I bought the full game. It was a mistake. I nearly pulled my hair out in frustration!!! Basics: You work in a wedding salon providing customers with various wedding related services. As a bonus, you're getting married so you collect coins to spend on creating your own lovely wedding! Pros: 1. Nice graphics. I like the background, and you get to move to a new salon every few rounds. 2. Nice idea. Not really anything new and novel on the TM front but pleasant nonetheless. You're providing various services for wedding parties at the salon. 3. Upgrades. You can upgrade different parts of the salon as you go along. 4. Hidden bonuses. There are roses and hearts hidden in the scene to find for bonuses. 5. You can ply customers with coffee to increase their hearts. Especially nice later in the game when the coffee maker is automatic. Another nice feature is that you just click on the coffee cup and it automatically goes to the person who needs it. 6. A music box helps with patience...with the caveat being that it runs down and you have to reactivate it often. 7. You get to decorate your own wedding/reception space. There are three choices for each item which you spend coins to get. One coin is earned for each round you achieve an expert score in. 8. When you complete a salon you can level up your tips, speed, or hearts. Cons:....This is why you'll pull your hair out! Mini Game Woes: 1. When you move a person to a station, an object matching type mini game will pop up where you have to click on the correct object...sometimes you have to click on 3 out of 6 of them. 2. The timer doesn't pause and the patrons keep coming and going during the mini game. You can see people walk out of the salon because 2 or 3 minigames pop up in a row and you didn't have a chance to move other people around to make room for the newcomers. 3. You cannot skip or pause the minigame to do anything else. 4. If you choose incorrectly on the minigame, it doesn't just make the customer mad, it makes you keep playing until you choose the correct item, which takes just as long or longer. 5. When you finish a minigame at a station, most of the time the customer will stay at the station and request something else. For example, if you choose jewelry the customer will stay to have it wrapped. This baffled me until I figured out what was going on. Intuitively, I expect to move a customer after the first task is completed. This double dipping really messes up my timing. 6. The minigame pop ups take forever to close when you finish. This often means losing customers or hearts, thus making the later levels nearly impossible. 7. The minigame pop up window takes up half the screen, and you often forget what you were doing before it came up, or can't see the majority of the customers to plan your next move while it takes forever to close. Misc. hair removers: 1. You cannot complete your wedding venue unless you get an expert score in every single round. 2. The price for improving salon stations is too high. It takes 2 or more rounds to earn enough to level up just one out of two chairs, or cases. 3. You cannot learn the behavior of your customers when replaying a round because they're always random. This could've been a saving grace for this game, but it isn't gonna happen. Conversely, this would be a great touch if the pop up minigames didn't cause so much lag time. 4. The music is pleasant enough but too repetitive. I keep trying to like this one, and have spent hours replaying some of the later levels to no avail. Games are supposed to be fun and challenging, or fun and relaxing. This is like a scene from the movie Groundhog Day, except you never end up winning! I can't recommend this one if you're the type of person who likes to complete games with an expert rating on all levels. If you don't care and can get this game for a daily deal price then maybe try it.
June 18, 2014
The Apple logo is a trademark of Apple Computer, Inc.
The Windows logo is a trademark of Microsoft, Inc.