PuppetShow: Lost Town Collector's Edition
Exclusive
After discovering a new system of caves, the entire town is excited to explore, until Suzy is kidnapped by a mechanical beast! Emerging from the darkness and startling the townfolk, the creature causes a cave-in behind him, leaving no trail to follow. Track the creature down and explore the mysterious caves in PuppetShow: Lost Town, a beautiful Hidden Object Puzzle Adventure game!

This is a special Collector's Edition release full of exclusive extras you won't find in the standard version. As a bonus, Collector's Edition purchases count toward three stamps on your Monthly Game Club Punch Card!

The Collector's Edition includes:
Bonus gameplay
Gorgeous wallpapers
Built-in Strategy Guide
Game System Requirements:
OS:

Windows XP/Vista/8

CPU:

1.4 GHz

RAM:

1024 MB

DirectX:

9.0

Hard Drive:

593 MB
Game Manager System Requirements:
Browser:

Internet Explorer 7 or later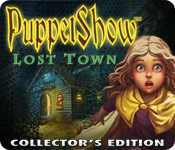 The Big Fish Guarantee:
Quality tested and virus free.
No ads, no adware, no spyware.

Reviews at a Glance

PuppetShow: Lost Town Collector's Edition
0
out of
5 (
0
Reviews
Review
)
Customer Reviews
PuppetShow: Lost Town Collector's Edition
22
22
Interesting
I was caught by the demo, so I got the full game. I must say, the graphics are captivating. My cousins were stunned to find out that this was a game, and we had fun finding the hidden objects together. The puzzles were challenging, and much thinking was involved, so that's good. However, at the end, all too many hidden object games all at once, so it's like -.- zzz for the eyes. Ending was also like.. What..? That's all I get? And definitely not for the young/faint-hearted. I've heard that the sequel was even spookier, so... If you can't handle this one, don't try the others. -.- It's still a good game, nonetheless. :)
December 12, 2011
Overrated - HOS after HOS after HOS
Review based on completed game in casual, the 1st of 2 modes. I keep running across reviews that reference Puppet Show as a kind of standard to which other games should aspire. After playing, I have no idea why. As a rule I love ERS games, and was ready to be wowed. No such luck. The game starts out strong with a beginning scene that is thoughtfully done and original. The "puppets" are for the most part derelict mechanical robots. Some good, some evil, no real rhyme or reason as to why. The theme is well worn, after a young girl's disappearance a detective is called in only the find that an evil woman seeking the fountain of youth who wants to trade bodies with a little girl. What has changing life forces between bodies to do with robots you ask? Please let me know if you find out. Very late in play the story is tied together by the introduction of "crystals". Again, what do crystals have to do with a ghost town full of broken robots and an evil woman's desire to remain young? Again, would love to know. Likes: --Inventory was accessible by a button on the bottom left of the screen. This was very handy as in other games, accidentally dipping too close to the bottom of the screen brings up the inventory list when it isn't wanted. In some games the yo-yo effect of the inventory bar can bring on motion sickness. Not so here. Tools only show on request. -The graphics are crisp, clear, and in the beginning very well thought out and original. -The mini-games were easy, but fun and there were a couple I had not seen before. There were also a couple with some challenge which I appreciated. -HOS, in the beginning these were well thought out, well executed, and enjoyable. Dislikes: -Shear number of HOS & repetitive nature of items -As the game progressed HOS was piled upon HOS upon HOS sucking any fun to be had out. Not sure what to do next? Keep back tracking until you find an active HOS. The same places were used and re-used. In at least one instance a HOS in another location had the same contents of a HOS played earlier in the game somewhere else. Not content to pile HOS on top of HOS, the items didn't vary - button, crow bar, butterfly, bow-tie, cane, umbrella, stamp, compass.... nothing new. -Theme, there just wasn't much story giving the appearance that HOS after HOS would fill the gap. Had they added more mini-games it might not have been as painful. -Most disappointing, despite the game covering a whole town and a mine many of the rooms and scenes could not be investigated and did not serve much purpose. Many scenes were look from the doorway, solve a puzzle, complete a HOS, move on. Come back in case the same HOS area becomes active again for no predictable reason. -The music became grating even once turned down. -The game is short. I played it in only 3 hours and I am a very slow player. Other: -Map? No, but none is really needed. There is some backtracking but there is nothing that is hard to find. -Journal? No, but again, not really needed based on the way the game is constructed. -Hints. Very good for HOS and in casual mode refill quickly. This was good because a couple of times items were misnamed, such as "safety pin" which turned out to be a "straight pin". Did not use hints otherwise so can't comment. -SG: Well done. Very helpful. As a suggestion, offering "Match 3" as an option to completing HOS. Despite all of the above, I do recommend this game because of the fun puzzles. However, if you tire of HOS quickly or like a strong storyline tying action together throughout the game, this is NOT for you.
December 26, 2012
The best series I've ever played
Stunning graphics, colorful scenes, awsome animation and an engaging story line. This game and the others in the series have provided me hours upon hours of fun and challenge. The story flows from one scene to the next, making it hard for me to exit for another day just wondering what will happen next. I didn't buy the collectors editions right away, but after completing the basic game, I can't wait to re-visit the town with the CE. Well done!
December 26, 2011
Well . . . . . .
There is only one thing keeping me from giving this game more than stars, and it was the fact that you had to backtrack back and forth and back and forth and back and forth quite a lot (same with the second game in this series). That got kind of tedious after awhile, and frustrating. For example, you'd be in a location where you need to use a tool that you don't have. Then, you're halfway through town, and find the tool you need, so you have to go all the way back to where you were to use the tool. Then, you find out you need *another* tool you don't have . . . . . well, you get the idea. But the graphics were wonderful, and I loved the music of the game. I mean, I liked the game, and I love this series. It's just that it gets annoying when you have to go back and forth and back and forth and back and forth . . . . . . . well, you get the idea.
May 4, 2012
HOG's Interfer with Flow of Game
It is quite an original story, refreshing change from the usual ghouls, witches, vampires etc. (although I have enjoyed those as well). I had seen this game offered before but it didn?t really interest me until it was offered as a bonus purchase. Based upon the reviews it had at the time (17 five stars and 3 four stars with 100% recommending, impressive) I then decided to purchase. It appears this is one of several in a series, although it did not require playing the previous one(s) to understand what was happening. While the scenes can be a little surprising with the visual content (no spoiler), the dev.?s have tried to balance the shock value with rather pretty details on the borders of the close-ups (when magnifier appears), and your tool ?holder?. Don?t get me wrong, there is no real gore or disgusting things, just some things that made me go, ?oh creepers!? And if you don?t like bugs fear not, you get pesticide! The graphics are very good. I was immediately impressed when I could see tears in the eyes of several characters. Starts out with voice over, which disappears when the story continues. The music is subliminal and not obtrusive or annoying. There is no map or diary (miss the diary, helps to remember what you were going to do when you return from a break). There is considerable to and fro. I played in expert mode, which has no hint button except in the HOG?s. There is no click penalty, and while they are cluttered they are not what I would call a junk pile. Items are not that difficult to find, although you always have that evasive one. At first it appears there are not many HOG?s, and then you get one after another after another, sometimes three in a row (seriously). And yes, there is a crowbar?.I personally like the crowbar, I find it a very useful tool. :) That said, this is a good game for HOG lovers, if you?re looking for straight adventure not so much. Just when your getting into the story and searching/investigating another HOG pops up, and like I said sometimes it goes on 3 times in a row. After that 3rd HOG your left wondering what was it you were supposed to do. I would rate this a 5 if it had no HOG?s, but (in my opinion) they obscure the flow of the game, I give it a 2.5 Conclusion: Good story, nice graphics, entertaining. I will recommend for fans of HOG?s for those reasons. Not recommended if you want straight adventure.
April 14, 2012
Great HOG.
Enjoyed all the puppet games. Good story and not too many hog scenes which can become boring. These are usually good long games, good value and I love the extra gameplay at the end.
November 15, 2011
Plz bring more Puppet Show games
There were alot of challening puzzles & alot of hidden objects,was gald I had the collector edition for help. Over all I loved the game play and graphics and visual scenes. Took my time playing the game, the details are amazingly fantastic.
November 15, 2011
Another Fab Addition!
Absolutely brilliant Big Fish, thank you! what a joy to play. Loved the art work, the graphics are superb and the music is wonderfully creepy! So happy that is was left to be continued, does this mean we will have 4 Puppet Shows in the series? Just as wonderful as the first 2 though i must admit the bonus content was very short and completed in 30 mins, but overall what a great game.
March 6, 2012
PuppetShow Lost town
very good game excellent Well thought out if you like a challange this is the game.
November 15, 2011
Not Great
Some objects in the HOG's were miss-named so I found myself looking and looking only to find the object either by accident or breaking down and using the "hint" button. The graphics are okay, could be clearer and some of the games were very frustrating because you really had no clue to how to do them. There wasn't a map, and if you found something ahead of when you were supposed to find it, you couldn't get it. One example is after managing to find a key, the object to open another object and finding one object that I needed I couldn't get it and had to go hunt for other things before collecting the item. I found the game overall, rather frustrating.
December 11, 2012
The Apple logo is a trademark of Apple Computer, Inc.