Phantasmat
Exclusive
After crashing your car in the middle of nowhere, you stumble upon a mysterious town with a shady background. Uncover the secrets of the quiet town that was submerged in a dam accident in Phantasmat! Dive into this incredible Hidden Object Puzzle Adventure game and get to the bottom of this long forgotten tragedy.
Game System Requirements:
OS:

10.4

CPU:

1.0 GHz

RAM:

512 MB

Hard Drive:

185 MB
Game Manager System Requirements:
Browser:

Safari 4.0 or later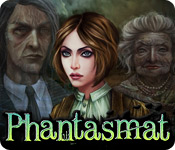 NEW299
The Big Fish Guarantee:
Quality tested and virus free.
No ads, no adware, no spyware.

Reviews at a Glance

Phantasmat
0
out of
5 (
0
Reviews
Review
)
Customer Reviews
Good story
Really nice game with interesting storyline - graphics are excellent, spooky locations, nicely done characters - music was more than good, it gives that perfect touch to the experience and story - storyline is phenomenal, after you had a car accident near one old town, you will find your self surrounded by its dark mysteries and creepy inhabitants? - 3 modes in the game: casual, challenge and extreme - also you have optional tutorial - no map -you can earn trophies - hidden object scenes are mainly easy, sadly with no interaction so I found them a bit boring - on the other side puzzles were good and fun to solve, many different ones, challenging even in casual mode Definitely worth a try, I liked it!
January 2, 2013
Mixed Bag, Better Than Average
Game Style: Good balance of HO and puzzles, though I found the adventure part of the game frustrating at first. Not enough scenes though, with too much repetition. New Ideas: The game is saved from being ?just another HO? with some radically different ideas. It is worth trying just for the chance to swap from HO to Match 3 mid-scene. Found this was particularly fun when stuck on that one last item, or just for a change of pace. A number of the puzzles were new to me too ? and just the right degree of difficulty. Levels of Play: This is always a great addition to any game, and Phantasmat offers 3 choices, with a good explanation of each level. Artwork: Another way in which this game stands out is its atmosphere - creepy. Clever use of animation and sound combine to get you reaching for a warm coat and umbrella. The gloom and rain was inescapable, with nasty unexpected little shocks popping up. Eventually that started to wear thin, but even then, I felt more involved in the story because it was so oppressive. I wanted to get out of that cursed town too!! Story: The story?s a potentially great one, but fell flat because it was too slow, and collapsed entirely at the ending (which was totally unconvincing). Replay: The game has good replay value for many I think, with the different levels of difficulty, awards and scores, and the match 3 option. But the gloomy atmosphere won out with me, and I don?t know if I could face that environment too often.
December 11, 2011
An easy game to overlook
If you're looking for a fun game to play between waiting for collector editions to come out as SE's or something just fun and not frustrating, or one to "learn with" this is a good one. I overlooked this game as I think it came out at the same time as other excellent games. The story line is fun. You don't have to have the strategy guide to figure out what to do next. It's not one of those where you have to do everything "just right" to succeed. There is some but not too much "jumping between scenes" and trying to remember where everything is to succeed. A good game for beginning gamers because of that. Puzzles are not super hard, pretty straight forward logic. The storyline invites one to want to know what happened and just enough connection with a character to want to know what happened which is what I think makes a game fun. The "human connection" is there. . Also one has the option of playing hidden object scenes which were not too difficult or match three. They presented three characters so you were a least minimally guessing "who was the bad guy" and there was some interaction which I always enjoy. Graphics were not super but good enough. Musical score was similiar to watching an old movie, and was not distracting. Fun game to play and easy to play and leave but jump back in when one could. I enjoyed it and especially enjoyed the ending. An easy game to overlook. Worth what has now become the cost of a cup of coffee!
December 9, 2011
Fantastically creepy
Rating 4 for this one, as the HOS were really hard to see, even with a magnifying glass. Otherwise, the graphics were good. Excellent story line, and the VOS were equally good. You can play match 3 for the HOS, which I tried, but couldnt get into. The puzzles were somewhat hard, as there was not always instructions for them. Great characters, especially the hotel manager. The eerie music is spot on. My time: 5 hours casual.
April 22, 2012
Great voice acting!
This was a fun game. The thing that stood out to me was the exceptional voice acting. The voices gave the characters a lot more depth than some other, similar titles. If you like the Mystery Case Files series, I think you will like this game.
July 4, 2013
Liked it, but not all of it.
I was reccomended here after playing Stray Souls, hearing it was better. Honestly, I don't think it was, it was good though. The storyline is stable and you reveal more as you go along, though you most likely predict the ending was before the end of the game. Not very scary, some parts are creepy to an extent though. I did like the achievements you could collect so that was a nice bonus. I didn't find it too challenging though, so that was a tad disappointing. However, I did play it over again so I did enjoy it. I reccomend this game.
December 15, 2011
Phantasmat
I loved the artwork and the music. The game had a great storyline and even though I played the middle mode, I didn't find it too difficult. However, you really must like lots of hogs or match 3 games, because it is loaded. Too many, in fact, and I found that it slowed the pace of the story and game. There were not many scenes in this game and you had to keep going back and forth between them. It is not one of my favorites, but I was not disappointed. It is a great game for gamers new to this genre, as there are many types of hints and I liked that you can personalize the level that you want.
December 10, 2011
A very satisfying game
A great game. I played in the hard mode with timed HO and loved it. The HO was fun and not hard to find objects plus you have a match 3 option if you get stuck. I loved the fact that the puzzles were fairly logical and there was not too much wandering around to get the required items (as you find in some other games.) A really great game only let down slightly by the fact that the story is a bit predictable. We've seen a lot of crashed/ broken down vehicles and creepy forgotten houses in HO games - but this its one of the best!
January 6, 2012
PHANTASMAT - With a different view on HOS!
This is a game that anyone can enjoy, from young to mature - The story is about a car crash in the middle of nowhere and in a strange town you have to uncover secrets. You also get to search left to right of the scene in areas giving you a panoramic view so don't miss out any clues on the way, remember to check everything! They also give you options during game play so those that get a little bored with HOS, finally a game that gives you 2 options within the HOS you are in. I thought they put it together well, giving you many options before and during the game, OPTIONS - Casual mode, easy play, clearer hints and no penalties at all Challenge mode - More challenges, fewer/vague hints, mildly penalized for rapid clicking Extreme mode - No hints, No skipping, object search is timed, clicking penalty is severe. HOS - With a difference! Here you get to choose HOS or Match 3 while you are within this HOS game. You can switch as many times as you like, so if you get bored with HOS, just click the switch option, and also a power button within the match 3 to speed things up for you, Voice over?s - Yes their mouths move when talking Characters, more computers animated but well done Music - is themed very well for the game Graphics, are done very well, clear and easy to see Overall - As this was my 1 hr trial I rather enjoyed it and for the options within the game I give this a 4! If you liked search the scene mode simular to panoramic then you will also love "Stroke of Midnight" that is totally Panoramic and does not get you dizzy, I highly recommend you also check that one out! I give this game my (((Raww)) of approval to purchase!
January 7, 2012
Good, but not PHANTASTIC - A guy's review
*Review based on completing the full game in "challenge" mode* Well, this game is probably a guaranteed favorite among fans of games with a lot of hidden object scenes. There are tons of them to be found here. Luckily, for the ones who does not care for them, or get tired of the constant appearing ones in the game, there is an option to do a match-3 game instead to recover the objects. But, what this game is lacking is more puzzles and adventuring elements. There are a few, but they are all rather easily solved. The game seems hand drawn all the way, and it feels like you are inside a grand painting or something. I quite liked the art-style, but it also offers some challenges within some of the HO scenes. As items are drawn and not always very crisp, and the scenes are rather dark and grey, it can be hard for people without perfect vision, and even eye-straining for most. It is still beautifully drawn and the level of detail is high. The music is mostly well done, and the way I like it in games. A bit dramatic to underline the setting and atmosphere of the game. But sometimes it is a bit much. The more annoying part is some of the background sound effects. And several of those get quite repetitive, and offers little else than discomfort. There are voice-overs throughout the game, and they are all well done. I do however miss a voice-over on the main character, as the characters you meet often responds to you, yet you never actually say anything. It is in no way too confusing as you pretty much understand what is going on. Another thing, which seems to be an issue with several games in this genre, developers need to be better at leaving some pauses/breaks during the voice-overs to make it sound a bit more realistic. It does not feel natural without them. It is not an apparent flaw all the time but you will notice it clearly when it is. The story is more or less told through visual glimpses from time to time when you progress through the game, at the same time as you get some clues through talking with the characters. It is nicely done and keeps you interested, but the story isn't very creative and feels rather short and straight forward. Game mechanics are good for the most part, though it does seem that you need to be very precise at times. Does not pose any frustration though. There is one technical thing you should be aware of though. I played this game on a rather big screen and in Windows 7 and do not know if it applies for everyone. The original setting is set to full screen, but it didn't actually work. I got a smaller screen within the full screen. This is because of another function within the settings called "detect panoramic screen" which does not seem to work correctly. Unhooking this function will make the game play in full screen. Very easily fixed. The game play is pretty straight forward and what you'll encounter the most is HO scenes. They are not interactive and, as mentioned earlier, are a bit dark and grey on the most part. You will be returning to the most of them, and items already picked will return as well. There are a few simple puzzles and some adventure elements, but leaves much more to be desired for the ones of us that appreciate the adventure aspect of these games. The game also felt a bit on the easy side, so to get some challenge at all one should not play on the easiest setting. A nice extra is that there are trophies to be earned which adds to the fun. It also might motivate for a second play through. There are 3 levels of difficulty to choose from: Casual: Frequent hints/tips and no penalties in the HO's Challenge: Fewer and vague hints/tips and mild penalties Extreme: No hints, no skip, timed HO scenes and severe penalties for misclicking. All in all a good game, especially for the ones who appreciates a lot of HO scenes. If you are more into the puzzle/adventure part you might want to try out this game before buying. Also, this game is more suited for the players who feels comfortable in a beginner/intermediate level of difficulty. It is dark and gloomy but not very scary. For the guys: I feel this game was aimed more towards the ladies, but am not sure why. There is nothing very apparent that should give grounds for it. I think both genders would enjoy this game. TJ
June 12, 2012