Nancy Drew: Secrets Can Kill Remastered
Jake Rogers was murdered and his killer is on the loose. A secret died with him that night, and you, as Nancy Drew, must read between the lines to expose the culprit! Help Nancy go undercover at a high school to solve the mysterious killing and keep the murderer from claiming his next victim in Nancy Drew: Secrets Can Kill. Immerse yourself in this Adventure game and solve the case!
Mysterious atmosphere
Intense storyline
Help Nancy solve a murder!
Game System Requirements:
OS:

Windows XP/Vista

CPU:

1.0 GHz

RAM:

256 MB

DirectX:

9.0

Hard Drive:

574 MB
Game Manager System Requirements:
Browser:

Internet Explorer 7 or later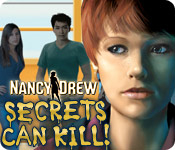 NEW299
The Big Fish Guarantee:
Quality tested and virus free.
No ads, no adware, no spyware.

Reviews at a Glance

Nancy Drew: Secrets Can Kill Remastered
0
out of
5 (
0
Reviews
Review
)
Customer Reviews
Nancy Drew: Secrets Can Kill Remastered
17
17
For new Nancy Drew players ONLY!
I've played the first version of this game. It was pretty good for the first Nancy Drew game that they made. Then they remade it. They changed the whole thing! It was my least favorit Nancy Drew game because they just botched it. I recommend it for new Nancy Drew game players because it's so easy.
October 29, 2012
Like easy cryptograms, or want an easy, short ND to start with?
This as you may know is the first ND game, with remastered graphics. It is also the easiest and shortest I?ve played of the series(but I haven?t played yet the other early games) so it?s the perfect game to start with. If you have never played a ND game before, you have a choice of playing junior or senior mode. In junior mode you have a task list and some puzzles are easier, you can phone your friends and ask for hints (but no bess in this game just ned). It?s not a 360 nausea type game, the controls when you go to the edge just move like static images till you turn around. It?s not free flowing 360 where you can look up, down etc in every scene ? it?s all arrows. You have to manually save ND games and you can?t skip any puzzle in any of her games. This ND is a puzzle game with some adventure, it?s also the shortest ND I?ve played compared to the later games. The plot is you are undercover at a school where someone has been murdered. There are three locations ? house, diner and school, the school is the biggest location. There are people that you find when you explore and you have a choice of questions or responses, more questions become available when you trigger something else in a game. It?s non linear as there isn?t a set order to do things, but one thing will unlock something else and thus advances the story and what you can do. #While playing you will find loads of different notes around (cryptograms) so take photos of them with the in game camera or write it down on paper. You will also see some sparkles and if you click on it (icon on mouse won?t change) you find that it?s money. Sometimes a scene will sparkle if you stay long enough in it, other times your mouse will have to go over an area before it triggers it. The money can be used three ways in the game and if you find all the money? it?s one of the stars for achievements (I didn?t get it) At the end you get ?stars? with different achievements, these are sometimes a bit off the wall but it makes it more fun exploring everything as it could give you one of the ?stars? on your detective badge. The only thing is I didn?t know what an award was till I finished. There are also two easter eggs in this game, an unexpected acknowledgment in game of finding or doing something a bit unexpected. #I agree with Laflamme it wasn't till I had finished that I realised that I didn't need to decypher all those puzzles left, which was disappointing. *But I suppose if you hate them it's an equivalent of a skip button. I enjoyed them so had fun doing it but wish it was used. The puzzles were 99% cryptograms so if you don?t like puzzles or that type then this game isn?t for you*. I generally don?t like cryptograms as they are usually too hard for me but these were either easy or straightforward in working it out. If you didn't bother working any out then this game will be a very short LF game. This even with working out everything is a short LF. While this game lacks the polish, depth and challenge of latter games it still was fun and I enjoyed it. To have a relative easy ND game for a change was nice and I love loads of smaller puzzles. Recommend for true ND lovers, cryptogram lovers or those who want an easy LF game.
June 19, 2012
Short
It was okay nothing to jump up and down about its very different than the others not much to do not enough places to go and it seem so short I only played it like a hour. Wish it would have been longer.
December 23, 2011
OK For A First Attempt.
This is a remastering, or update of the original First Title in the Nancy Drew Series: "Secrets Can Kill." There isn't much going on in the game except checking out many, many bulletin boards and books for clues. And there are only three locales for the game: Nancy's Aunt's house, the school, and the diner. There aren't many puzzles, at all, and that's where this game is lacking. Yet, because it's a first attempt, I must approve the game, which, by the way, is very short. It's my 24th Nancy Drew game, and I have to say that it goes at the very bottom of the list, even lower than "Shadow at the Water's Edge," and "Secret of the Old Clock."
January 4, 2013
A murder.
My friend introduced me to the Nancy Drew series, and I've being playing them in a completely different order. Yet when I approached the game, it was obvious it was the first, they weren't as improved or sophisticated as other cases that I had played. I was really excited for a murder, and I was so excited because it was my first murder case but because of the age of this game I was unable to live/investigate the full extent of the murder. It was much more focused on the school and the diner, that was the only disappointing aspect of the game. If you are playing Nancy Drew for the first time then I suggest starting with this one, because "most" of the gameplay just gets better and better (usually). A good game from the Nancy Drew creators but not the best; a lot of improvements could be made.
July 9, 2013
A good first effort, just a bit on the thin side
I decided to get this as I had already bought and played all the other ND games on Big Fish. It was OK, but compared to the others, it's all just a bit on the thin side. The storyline is pretty simple but OK, but it's not as fleshed out with investigation or character personalities as the later games, in fact there's really not much talking to be done at all, the characters only seem to have a few things to say throughout the whole game. As has been said in other reviews, the puzzles are almost entirely cryptograms. Whilst it was good fun working them all out, I found the big puzzle they all related to a little tiresome. There is only one other 'in game' game that can be played on demand, and the jukebox. If you want to complete your Big Fish Nancy Drew library, as I did, give it a go, but don't expect anywhere near as much to do or variation as in the other games. This one is also somewhat lacking in excitement as the games that followed, but I guess they had to start somewhere.
May 23, 2013
not much to investigate
there is no real story and it the gameplay is too short.
September 21, 2012
The Apple logo is a trademark of Apple Computer, Inc.