Echoes of Sorrow
Listen to the Echoes of Sorrow and remember who you are as you explore your memories in this fun Hidden Object game! While being chased by a dark shadow, you trip and hit your head. Because of this amnesia, you must go through your past and relive your memories. Travel through time and stop the dark shadow that is still after you!
Gorgeous graphics
Fantastic gameplay
Listen to the Echoes of Sorrow!
Game System Requirements:
OS:

Windows XP/Vista/8

CPU:

1.6 GHz

RAM:

1024 MB

DirectX:

9.0

Hard Drive:

324 MB
Game Manager System Requirements:
Browser:

Internet Explorer 7 or later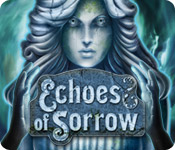 NEW299
The Big Fish Guarantee:
Quality tested and virus free.
No ads, no adware, no spyware.

Reviews at a Glance

Echoes of Sorrow
0
out of
5 (
0
Reviews
Review
)
Customer Reviews
Fun game although not as challenging as some
I enjoyed playing this game. I liked the fact that there were distinct areas of play as opposed to moving objects back and forth across many scenes. I agree with another reviewer who said this would be a good beginner game.
December 28, 2011
Nice Gameplay for HOG Beginners
A bit old-fashioned Hidden Object Game with many loading periods, but a good story and fun to play. Everything is very coherent , so that even newcomers can handle everything without difficulties.
December 14, 2011
Echoes Of Sorrow
This was one of the very first hidden-object/casual computer games I ever played. :) In fact I was afraid to start playing it lest it be too difficult for me! On learning about the sequel I decided to replay it to catch myself up. Even though a lot of other games with much better graphics have come along since then I still find the plotline of "Echoes Of Sorrow" to be fascinating, and the creepy twist toward the end is just as shocking as it was way back when I first played it #maybe a couple of years ago#. The cutscene animations aren't that fantastic but the in-game scenes are beautifully done, and the main theme music is haunting. And oh, yes, the menu art, of the main character switching places with the statue which is central to the plot, is gorgeous. Plot: You are a woman named Rose. The game starts out with you running from a mysterious pursuer until you fall and hit your head; you end up hospitalized, in a coma. In a sort of dream state, an ethereal train carries you to a square where you find a mysterious statue--looking just like you--around which are draped four chains. There are four different locations surrounding the square--your childhood home, a college, a prison, and a church. One by one you must explore these locations and encounter ghosts related to tragedies from your past in order to free the statue of its chains and to remember who you are and how exactly you ended up in this state--as well as how you can escape it. Another reviewer on a different site once commented on how disturbed he/she was by the backstory involving Rose's mysterious pursuer, and I have to admit, when you really think about it it *is* rather creepy and unsettling, but so is real life, and IMO this just adds to the game's sense of unease. Gameplay seems to be relatively short...on my second playthrough I finished in about 3-4 hours, perhaps. There are the four main locations Rose must explore, plus the climactic scene when she awakens in the hospital and has to confront her pursuer. Hidden-object scenes are relatively easy for the most part, as are the occasional minigames. There's a hint button though I had no reason to use it on the second playthrough. Once in a while I got a bit confused over how to proceed since I didn't seem to have the proper items in my inventory, but this was always resolved with a bit more exploration or pondering. One minigame gave me trouble as there was math involved #definitely not my strong suit# and I didn't know what the instructions for solving it were; for that I looked up the online walkthrough, and once learning what it was I was supposed to do, I got through it. There's no in-game walkthrough, journal/map, or bonus material, and I don't believe there are different game modes #easy/difficult#, but the game is untimed--there doesn't seem to be a misclick penalty either, plus I believe you can skip minigames--and is not incredibly difficult as it is. #Although I'm not a beginner at such things, I try to avoid timed or very difficult games...I have little tolerance for frustration!# There doesn't seem to be a Collector's Edition of the game, unfortunately. Something players who are more used to newer games might find annoying, at certain points in the game when navigating between scenes there's a "loading" screen which offers game tips, but this doesn't stick around for long and isn't terribly bothersome. I obtained my copy of "Echoes Of Sorrow" on the "Mystery Masters: Mystery 6-Pack" disk in a retail store. The game folder takes up 314MB on my hard drive. I ran this game on Windows 7 with no problems.
March 20, 2014
eh. it was ok
this game was ok, but I bought it when it was on sale. I definately wouldnt pay the full price for it though. This game was on the fence between good and boring. the story was decent enough but it wasnt particularly challenging. all together the game wasnt anything special. nothing particularly stood out about it.
March 13, 2012
Another too short game
Really liked this game but like many Big Fish games it's very short. I wish there was an estimated time to play on games. I'm glad I got this one for free. Not worth paying full price. I'm going to say I recommend this game but not at full price.
December 5, 2011
About mid-range
Fun, but a bit short, and some of the mini-games too tedious and annoying to be fun. Those ones are challenging, but not in a fun way to me. Other than those factors it's enjoyable. I'd say it's a good game to buy if it's on sale. I'm kind of on the fence about whether or not it's worth it to pay full price on this one.
November 25, 2011
A rather short game but unique and enjoyable.
This game has beautiful artwork and had some unique visuals not seen by me before, like the bloody handprints moving up the wall and the animated apparitions. It was very different to see and lent themselves nicely in creating the proper eerie atmosphere for the story. The story itself is sad and scary and could have used more details in describing how and why this particular individual became so interested in the heroine. The overall story is generally good but, in my opinion, needed more rounding out. I liked how you could access only one building at a time around the statue since each building represented a span of time in the heroine's life. The whole game was pretty easy to navigate with not a whole lot to do in each area, so it's a short game and not a huge challenge for intermediates and the advanced player. The puzzles and hidden object scenes were on the easy side with the objects being quite large, and I think beginners would like this game a lot as it offers just the right amount of HO scenes and puzzles. The only thing I didn't like about this game was the long loading times when going from one area to another. As always, demo it first to see how you like it. I did and I'm glad.
December 8, 2012
An OK Game
Although I really liked playing the game, what made me tear my hair was the loading in between scenes. Very frustrating in this day of high speed internet. I'm too used to changing scenes rapidly and this was trying to my patience. Otherwise, it was an okay little game. The HOS's were fine, and the puzzle type challenges were simple enough. Not high on my list of favorites at all, but a pleasant diversion. Don't know if I could recommend it when there are so many other excellent games.
January 24, 2013
ok
good game but it was very short
November 25, 2014
HAND-HOLDING; GOOD FOR NOVICE HOGGERS
You?ve fallen and blacked out. Now you?re trapped in your mind and must unlock repressed memories to get back to reality. You?ll visit your childhood home where you lost your sister, college, church and a prison. Puzzles are few and are quite easy; HOS are standard fare, clear and blended well. Hints recharge fairly fast, but are not always particularly helpful. You are hand-held throughout the game (yet, I managed to get stuck for a while on how to create light in the fireplace when there were no matches and no HOS). There are no choices of difficulty in playing. Nicely-done graphics. Very, very short game; if you?re a very fast player, you can probably finish it during the demo. Good eerie game for those new to the genre.
December 5, 2013