Fear For Sale: Mystery of McInroy Manor
Exclusive
Emma Roberts has been tasked with writing a story about an old haunted manor for Fear for Sale Magazine. The estate has been locked up for years, but a sizable donation from Emma's editor has opened up the home for exploration. Unravel the tale of the demise of the McInroy family, and set their souls free in Fear for Sale – Mystery of McInroy Manor, a dark and mysterious Hidden Object Puzzle Adventure game.
Dark, immersive atmosphere
Perplexing puzzles
Explore the McInroy Estate!
Game System Requirements:
OS:

10.4

CPU:

1.0 GHz (INTEL ONLY)

RAM:

512 MB

Hard Drive:

196 MB
Game Manager System Requirements:
Browser:

Safari 4.0 or later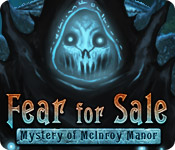 NEW299
The Big Fish Guarantee:
Quality tested and virus free.
No ads, no adware, no spyware.

Reviews at a Glance

Fear For Sale: Mystery of McInroy Manor
0
out of
5 (
0
Reviews
Review
)
Customer Reviews
Fear For Sale: Mystery of McInroy Manor
60
60
Good Hidden Object Game
I enjoyed the game play but the only problem was that the graphics were on the dark side so had a hard time seeing them. It was a chalenge and storyline was different. Think when I play it again, will be easier. Puzzles were good too.
January 2, 2012
Kept me Busy
I bought this without the trial, through the bundle offer, and because I enjoyed the other Fear game I already had. I have to say, I got my money's worth. The fun factor was a bit hard to judge, because part of it is really fun and even exciting, but the running around took a lot of the fun out of it. This game definitely needed a map. Graphics are top notch, but the hidden objects are dark and hard to see at times. I had to use the hint several times to clear the scene. The hint button is useful outside the hidden objects, but it is slower than molasses in January refilling. Use sparingly if possible. The music, while repetitive varies enough not to be boring and does add something to the story. It is a Hidden Object game and if you like HOGs you are going to love this. There is one after another, but very few mini games, which is fine with me because I don't care for them. The game was very challenging in that you need to get around the estate constantly and the hidden objects are just that hidden. Some of these were extremely difficult for me, but I survived and we defeated the evil demon. The story goes along with all these games. The demon comes and posses somebody and you have to get their souls released. Pretty standard stuff. But even though you can tell there are going to be more games of this theme, it does end. That is a plus in my book. All in all if you like hidden objects, you are going to love this game. I really liked it and I feel I got my money's worth. Another winner for Elefun and I recommend this game.
April 12, 2013
Enjoyable game, worth playing
It did not have especially crisp graphics and the HOS were also grainy, but the story was interesting, the characters were fairly well developed and the mini games were quite challenging. It was a good length and I would have needed a walkthrough a few times but the hint button led me around quite nicely, so I didn't have to use it. It is a decent and fun game without any annoying qualities (other than the NO map) but the locations were not all that far apart, so it was not really bad at all. I call it above average fun. :)
March 3, 2013
McINROY MANOR - A GHOSTLY TALE
Based on complete game, casual mode. Average length. Storyline was fluid, with a mild creepy sensation (creepy caretaker and ghostly apparitions appearing frequently). Hints available in the HOS or to direct where you should head next in the gameplay; they recharged slowly (about 80 seconds). I did have to think a few times about where to go or what to do next. Visual effects were solid; the best effects were at the end. The HOS were fairly sized, not too dark, clear and well defined, although they were somewhat dreary. Puzzles were the usual suspects ? nothing very difficult. Music itself was okay ? not creepy although the storyline could easily lend itself to suspenseful music. Sound effects: see ?Cons.? Cons: ? An interactive map would have been nice instead of traipsing forward 4 times, then back 3. ? Everytime you picked something up, there was a very annoying huff. But I enjoyed the rain sound and other effects, so didn?t want to turn off all the sound. ? A nitpick: Clicking outside of a closeup screen did not close it automatically; you had to physically close it (clicking on the ?X?).
July 23, 2012
Great hidden object game
This review is based on the full game, which I just completed. I found this game a little longer than other HO games I have played (non collector editions), and the hidden object scenes were also a bit more challenging. The story is based on a journalist sent to a haunted manor to investigate the reason behind the hauntings. It certainly kept me playing til the end, as I wanted to know what was going on! I liked the length and general feel of the game- it was atmospheric, but not overly creepy. I didnt like some of the puzzles, which were over-easy or illogical (like needing another tool to do something you could do easily with something you already have), and there was a lot of walking around. Overall, I did enjoy this game and would recommend it for most people, although- as the game deals with ghosts and other supernatural themes- it might be a little scary for young kids.
June 12, 2012
Fear for Sale: Mystery of McInroy Manor
Okay, another haunted house. But our character as a writer for an article about the haunted house? that's rather refreshing, don't you think?? The storyline aside, the graphic is not bad. I don't really like the character that looks like they are pasted on the scene but luckily they don't appear much. The game is manageable, not too difficult for a beginner like me, with lots of places to see and look, and basically you can use the tools you find almost immediately. It's not the super awesome game out there, but I still think it is worth the try :)
June 9, 2012
Easy but fun
This was a pretty decent game. the HOS are nicely done with some easy objects and some cleverly hidden ones. Graphics are sharp and attactive. Music is fine and not annoying. The background sounds add to the fun but don't distract. The mini-puzzles are not too frequent and are very easy so I wouldn't recommend this for an advanced player. There is quite a bit of moving back and forth between scenes using objects you've collected to keep the game moving forward. This didn't bother me as the objects needed and the locations you used them in were logical and made sense. Plus this was the only real challenge to this game - trying to remember where to use certain inventory items. The hints are excellent. Either they tell you there is nothing left to do in a particular area or they point you in the right direction. Unlike many other games they do truly help. I found this game to be relaxing and fun but not overly challenging. The diary was helpful. If you like voice-overs this is not the game for you as you needed to read instead of listen to what the ghosts had to say. I actually prefer this as many of the voice overs are poorly acted and cheesy. I would recommend this game for a beginner or intermediate who wants a relatively easy game to enjoy without stress.
February 3, 2012
A good catch of the week
The visual quality was a little poor, but not so much that it would annoy me. Characters were a little poorly composed but the story was decent enough and I got a few scares along the way. I found the finding of the objects challenging enough but the puzzles way to easy, but it isn't the fastest game I ever finished so I'm happy with that. Would I ever pay full price for a game like this? No, but for a catch of the week it was great.
January 27, 2012
Fear for Sale are all Great Games
All Fear for Sale games are fun and pretty easy to play. There are endless hints which recharge quickly. Love the direction hint availability. I wish there had been a map.
January 7, 2014
Nice Hidden Object game
I was trying to avoid a HO game with dark/supernatural themes because it seems that is all there is. I was unable to find one that looked any good, so to get my HO fix, I tried this one based on the reviews and screenshots. I'm quite pleased with this game, although I wish it had been a bit longer. The story isn't going to blow your mind. It's interesting enough to keep your attention, though. The graphics are very nicely done. There are no cheesy voice overs, thank heavens! All interaction is text based, which I love. I'd rather read than listen to bad voice-acting any day. The music was nice, appropriate for the setting without being so redundant that it got on my nerves. The sound FX are nice as well. It was a little difficult to remember where I left off every time quit and came back to the game, but the journal in the UI made it very easy to refresh my memory. The puzzles were not very difficult, but the HO scenes were good. Hints are effective, and I ended up using them once in a while. Overall I enjoyed this game a lot. So much that I wished it had been a bit longer. I have no reservations about trying another game in this series.
July 24, 2013
The Apple logo is a trademark of Apple Computer, Inc.
The Windows logo is a trademark of Microsoft, Inc.