Alpha Kimori ™
Unite star-crossed lovers on the opposite ends of an incredible war! Help Rick, a young warrior, get together with Yuki and live happily ever after! 50 years after an alien invasion of Earth, humankind has fled to the planet of Kimori. The Jinrians are in love with their new home, while the Bidarians are obsessed with reclaiming Earth. See how their battle plays out in Alpha Kimori, a fun Role Playing Game (RPG).
Fantastic gameplay
Wonderful storyline
Unite star-crossed lovers!
Game System Requirements:
OS:

Windows XP/Vista/8

CPU:

600 Mhz

RAM:

256 MB

DirectX:

8.1

Hard Drive:

53 MB
Game Manager System Requirements:
Browser:

Internet Explorer 7 or later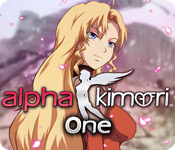 NEW299
The Big Fish Guarantee:
Quality tested and virus free.
No ads, no adware, no spyware.

Reviews at a Glance

Alpha Kimori ™
0
out of
5 (
0
Reviews
Review
)
Customer Reviews
Story-like game
This game, for a 2D type of RPG, is amazing, fun, and really gets your attention. The two people that created this one-part-of-three game have a fairly big background in helping create games, even if it's just for the art; some of which have been released on the Nintendo DS gaming systems. The best thing about them is that they make their own avatars for the game instead of using pre-rendered characters, which is what initially caught my attention; it didn't /look/ like the other games. It's heavily focused on the Japanese genre of role-playing games, featuring music with real words, which adds to the feeling of the game. This particular chapter was a little on the short side, but I've heard they're making the next ones much longer. The story and characters are all very well detailed and have a lot of thought put into them. Overall, if you enjoy stories, then you should check this game out. It's like playing a book.
February 28, 2012
Engaging story and characters and gorgeous graphics
First of all the retro sprite graphics in this game are gorgeous. All the main characters have painted portraits with different expressions. Unlike most RPG Maker made games, it seemed like all the art and music was original and wonderfully done. I especially thought the turn-based battle sprites and animations where awesome. The theme song was great with a Japanese vocalist and lyrics and really set the tone of the game. The story was a bit convoluted and complex and at times and the underlying message or theme seemed a bit unclear. That little problem aside I found the story gripping and couldn't wait to see what happened next. The characters were engaging and I really found myself getting attached to them, especially Vanessa. This was made even better by the fact that the main characters all had nicely illustrated portraits that changed expressions depending on the mood. This, in my opinion, made a huge difference. The turn-based battles were okay but got a bit tiresome at times. The real treat in the battles was the great battle character art. This game had great looking enemies, all animated, and original looking. Also a great boon was that you could see the enemies on the main map screen and could avoid them if you weren't into fighting at that time. The game is kind of short and to me felt like there was a lot of "busy work" and backtracking. I'm not sure how many times I had to search through the same three forests looking for different characters, enemies, or items. There were times when I really wanted to get on with the story and then found I had to backtrack and walk through the whole of three different areas that I'd already been through several times before. It got a little tiresome and repetitive. Even so, don't let that put you off. The story was engaging and I have to say had some of the most epic moments I've seen in an rpg like this. Moments with giant anime style robots fighting it out with big boss monsters, pitched battles, daring escapes and much more. It felt very epic, and made all the more so by the brilliant artwork. The backgrounds, and characters looked so amazing! I love the "Angel" robots. And by the end you really felt that great feeling of empowerment that make these rpgs so fun. The battle animations were pretty awesome as each special skill had a large image of the character and a fancy animation. The game took me approximately seven or eight hours to play, but then I did most of the little side quests and took my time. One caveat I found was that the mouse interface wasn't very smooth. Not as smooth as that used for the Aveyond games. There were times it was hard to go up to a shop character or sign or door and had to click on the tile in front of the sign first. Otherwise the interface was good and very much like in the Aveyond games which is no surprise since the maker of those games had a hand in this one too. All in all I'd say give this one a try and you'll probably get sucked into it like I was. If you're a fan of retro Japanese style RPGs then definitely play this one. The game has a good ending with a bit of a to be continued thing going on setting up the sequel. But I still felt it was a great and satisfying ending to this first game. Let's see the next in the series!
August 26, 2012
pretty aweosme!
Like in most RPGs, movments are basic, whatever, but battle scenes and storyline are fantastic! It just takes a while to get around is all. :D
November 12, 2011
Alpha Kimori is fun and good RPG game!
Alpha Kimoris is very good RPG game and is very fun to play. I totally loved it. The sound and grapix is very good too. Plus The Battle is exellent too.
December 1, 2011
Very innovative JRPG game
As a huge fan of Japanese Anime, I have seen literally hundreds of films short and movie alike. So I was tickled pink to see some blending of anime art, j-pop music, and the game engine that I use to create games with, the RPG maker, all blended into one powerful combination called Alpha Kimori. Coming as three parts, to me this was such a rare gem to find because it reminded me of Xenogears for it's talk of religious context, and the Xenosaga series because it's being done in three parts. Now onto the meat and bones of the game. The graphics were sharply drawn and done in robust colors. The only con I have is that it uses a lot of CPU when doing scrolling in towns and the Ki power animations, but that just might be my machine. The music is typical J-pop "anime" type music that to me enhances the mood of the game especially with the addition of vocals in the soundtrack and makes it fun :) The gameplay is standard RPG maker type with visible monster encounters, story quests, and attainable player characters as the game goes on. But what sets this game apart from everything else is the addition of anime characters and the "anime" type music which makes this series totally unique. I liked it so much that I downloaded the second episode which was just recently released. So if you're a big fan of anime and role playing games like I am, Get this series, you won't want to pass this up :)
March 7, 2013
Excellent!
This game, by far, is my favorite 2D RPG game of all time! I enjoyed every minute of my gameplay experience and felt that it was just right for me. I was really surprised when I heard Miku Hatsune in the intro as well! I am sure that I will follow this series til the end.
February 29, 2012
Great game!! Can't wait for next installment!
This game was beautiful and really kept me interested in the storyline every step of the way. Many of the RPG's are so basic but this one was not at all. This first part was a bit short though. I am looking forward to the next part of the story!
December 5, 2012
Great fun, but will leave you wanting more!
This game is a lot of fun! If you like the classic style rpgs, I think you will like this one. The story left me wanting more and made the game feel incomplete. It was also short compared to the rpgs I am used to playing. I liked that they had sidequests and even though the story is incomplete, it was pretty good up until then. It left me anticipating a sequel so they did something right!
July 18, 2012
LOVED IT
This is a great RPG. I downloaded the free trial and just had to buy it after my time was up (60 minutes isn't nearly long enough). I found it hard to stop playing and now want to finish the other parts to the story. It's a great game.
June 4, 2012
Fun, engaging and highly reccomended
This game allows for active challenges not to difficult but not easy either. Very good storyline. Graphics are in a traditional style fpr RPGs but kept me involved. I highly recommend this game and can hardly wait for the next one!
February 9, 2013