Dark Parables: The Exiled Prince
Many centuries ago, a princess kissed a frog and transformed him into a handsome prince. Unlike the fable, they never ended happily ever after. It is rumored that the Frog Prince is still alive and now roams the deserted path in the Black Forest, capturing unsuspecting visitors. When the chancellor's daughter goes missing, you are sent to investigate her disappearance. Journey through the deserted forest in Dark Parables The Exiled Prince, an eerie Hidden Object Adventure game!
Game System Requirements:
OS:

Windows XP/Vista/8

CPU:

2.0 GHz

RAM:

1024 MB

DirectX:

9.0

Hard Drive:

384 MB
Game Manager System Requirements:
Browser:

Internet Explorer 7 or later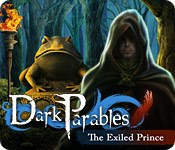 NEW299
The Big Fish Guarantee:
Quality tested and virus free.
No ads, no adware, no spyware.

Reviews at a Glance

Dark Parables: The Exiled Prince
0
out of
5 (
0
Reviews
Review
)
Customer Reviews
Dark Parables: The Exiled Prince
143
143
Surprised to be disappointed....
After all those rave reviews I was surprised to have such a disappointing experience. Graphics are excellent, the music is fitting and not intrusive. The sound effects got a little obnoxious because each click was accompanied by what sounded like someone kicking the back of a chair. The game requires a lot o' clicking looking for morphing objects and things to pick up, so that harsh sound got old real fast. Click-Kick-Click-Kick....Yeesh. There is a lot of moving back and forth and back and forth. It's a good thing the graphics are so beautiful as that took some of the sting out. Players only have access to the full game if played in "hard mode" otherwise some puzzles and areas are not accessible. At the end of the game, the player is offered to start all over again in hard mode to get the full effect. I absolutely loved that it was fragmented object rather than hidden object. What a great twist to have to find the various pieces of things so they could be assembled. Having said all that, I would still recommend the standard version of this game for it's beauty, the fragmented object aspect, and the interesting storyline and am planning to try the next Dark Parables. However, if that same click-kick noise crops up the sound affects will be off for the duration....
February 11, 2012
One of the most annoying games I've ever played
Granted, the designers of the game did improve the environment, etc., over the 3 games of this series, but there are three things that annoy me most in a HO game. First don't give me items at the very start of the game (within the first few minutes) that I won't use until hours later. Second, don't show me a place I cannot access until another mode is unlocked. You don't find the crown for a door until you have completed the game and opened the "Hard Mode". I started this game three times believing I was missing something obvious. Third, don't send me back and forth, and back and forth, and back and forth, collecting items I need currently. This game rated 3 out of 3. There are better games out there if you have experience with HO games. If you are new, it's an ok game to start with, but remember you don't get the dumb crown until after you beat the game.
January 6, 2012
disappointed
The story was really good, but I was really looking forward to more puzzles and a lot less hunt and peck through scenes reused over and over. I loved Curse of Briar Rose. In this DP I ended up using cheats and a walkthrough just to end it. Until about half-way through I'd have given it four stars. At this point, having finished it, I'm tempted to give it 2 stars for the irritation factor, but the story and music were great. I hope they do better the next time around.
January 1, 2012
too repetitious
Apparently all of the Disney princesses were married to the same guy, who turns into a frog between wives. That's got to be a bummer. This is a game where there are lots of rooms and fragmented objects to find. I'm not really a fan of hidden object games but those seem to be the ones I choose on Big Fish. Since I have to play HOGs I would rather play FROGs. At least the fragments form something that has to do with the game instead of vanishing into nothing like most hidden objects. This game takes it over the top, though. You have to travel back to the same rooms again and again. I like to play without using the maps and books but you MUST use the map in this one because you keep opening up new HOG places and the map is about the only way you can find them or even know they are there. I find this really tedious. There are also supposed to be phantom objects: objects that change appearance. I am almost through with the game and I have only found half of them. Either my eyes are really bad or the objects are not showing themselves. For those of you who like HOG's you will have fun.
June 1, 2012
Beautiful graphics,too many fragmented hidden objects
While this game had beautiful graphics,the fragmented hidden objects in practically every other scene were annoying. To top it off ,the objects were so tiny and many blended in to the background so much,that I had to just click randomly all over and use the hint button quite a bit. It is a long game,and would have great entertainment except for the HO scenes that you could not skip. Another thing I didn't like was that there was no hint available when you were on a location and you weren't sure where you needed to go next or what you needed to do. The minigames were easy though. I am glad I only paid 2.99 for it!
May 23, 2012
Difficult to get around in.
As you need to travel from one section to another throughout the game you can easily get lost. The map doesn't help much as the areas aren't marked on it & neither are the rooms titled as you enter one after another.
February 7, 2012
Borderline to boredom
A bit better than the other two in the series, but totally unchallenging. A very nice package with very little contents: great graphics, good music, professional voice-overs. But... puzzles far too easy, too many Hidden Fragmented Objects Scenes, tasks similar to those you find in other games, low suspense, no challenge. 3 stars for the wrapping.
December 24, 2011
Boring Big Time-- Frustrating Even More
The word I would describe this game is FRUSTRATING! The hidden object scenes come over and over and over again and at the same places you have already been. I hate that. There is nothing new to discover in the scenes. You finish them in order to get objects that work within the game but that is it. There are very few mini games. It would be better if there were more mini games and less back and forth to the hidden object games. The map does not help. It also leads to the confusion because you really can't tell much about which direction to go in order to get to where you want to be. There is not enough detail on the map. So, in conclusion this is a frustrating game because of all the back and forth and it is boring because every time you need an object you have to go through a hidden object scene that you have already done. It has nothing new in the scenes to look at. Boring.
October 14, 2014
fragmented objects in hos
I found that there were far too many hos games which distracted you from the story line. The hidden objects were, regardless of other comments here, very hard fragments too find, and had i not had the hint button i surely would be stuck. Many of the fragments did not resemble what you searched for, some were almost impossible to see. You cant use the hint button for anything other than the hos games, so you can be charging all over the place (which i did)to find where you need too be next. The map is useless! I got stuck so many times that in the end i required a walkthrough, i wish i'd not bought this.
August 6, 2013
A good idea gone bad
I am a fan of fragmented hidden object scenes -- I like feeling that the objects that I am finding have a purpose other than just as filler. However, far too many of the fragments in this game were impossible to find without a hint because they were a different color than what was shown, and on occasion, a different shape. And there were too many of them. Half of the objects could have been found rather than being constructed. Other than a few useful items, the only things that were found were "hints," which were nothing more than additional maps or letters that did nothing. The map was not interactive and in a game that covers this much virtual territory, that matters. There are, in fact, four different maps, which should give you an idea of how big it is. In the final two chapters, you have to go back to the beginning area -- and I could not remember how to get there. The map was no help, as it did not show the connections between areas. Collecting the various items to open puzzles was a nice change from the eternal hunt for keys, but the puzzles themselves were pretty standard. Most were almost insultingly easy. The storyline is pretty sexist, even for these games. The Frog Prince has apparently been married five times, and outlived each bride. At the end, he is reunited with his first wife, his "true love." So what were the others? Second best? The only reason they were brought into it was to expand the search for items and the number of locations -- each wife has her own residence. So, why do I recommend it? The graphics are quite stunning and its certainly not the worst game I've played.
June 8, 2013
The Apple logo is a trademark of Apple Computer, Inc.