Dark Parables: The Exiled Prince
Exclusive
Many centuries ago, a princess kissed a frog and transformed him into a handsome prince. Unlike the fable, they never ended happily ever after. It is rumored that the Frog Prince is still alive and now roams the deserted path in the Black Forest, capturing unsuspecting visitors. When the chancellor's daughter goes missing, you are sent to investigate her disappearance. Journey through the deserted forest in Dark Parables The Exiled Prince, an eerie Hidden Object Adventure game!
Game System Requirements:
OS:

10.8/10.7/10.6/10.5

CPU:

2.0 GHz (INTEL ONLY)

RAM:

1024 MB

Hard Drive:

376 MB
Game Manager System Requirements:
Browser:

Safari 4.0 or later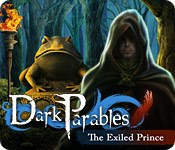 NEW299
The Big Fish Guarantee:
Quality tested and virus free.
No ads, no adware, no spyware.

Reviews at a Glance

Dark Parables: The Exiled Prince
0
out of
5 (
0
Reviews
Review
)
Customer Reviews
Dark Parables: The Exiled Prince
134
134
Beautiful game!
Lovely looking. Art work is delicious - I found my self musing about my favourite crown! (Sorry very girly of me!) Good value as it lasts and there are lots of puzzles and things to collect. Not my favourite but a great game.
December 27, 2011
not what I exspected
The game gives you items that are not used for awhile. The hint button is only good for HOS that are not hard. The map does not really help that much. Lots of going around with and still not sure where to go next. better games out there for me. No voice over but graphics are good.
October 18, 2012
Good Not Great Fragmented Object Game
GAME COMPLETED TWICE Not a fan of FHOGs, I never expected to download this game, but after playing the ?Red Riding Sisterhood? and enjoying it I decided to reassess my attitude towards them. This series is the leader, I think, in this kind of game, and whilst I am still less than enthusiastic, I don?t mind this game for a change. What won me over was the beauty of the locations and the objects we reconnect. Everywhere you look there are pretty flowers, glittering jewellery, etc. A second reason was the collection of specific objects like ships in a bottle or elements jars. These are exquisite items you piece together but must collect all six before doing a simple puzzle with them. For the most part all the puzzles were simple, but some were quite ingenious. Which brings me to some of the reasons I am still only lukewarm about this game. Although there is a fun story we follow, it isn?t told well. The gameplay was too repetitive and simplistic and fairly linear. It is tightly controlled ? there?s no chance to wander aimlessly about smelling the roses. Also, though there are a lot of HO locations, we still visit each four times, way too much for my taste. The puzzles are repeated too. There are morphing objects too, ever popular, but they were hard to find. Normally pretty good at them, I only found 12/20 this time round. So of course, I will recommend this game; it is a classic after all. But not without reservations.
March 31, 2013
A FROG ABOUT A FROG!
Dark Parables does have beautiful, detailed art work, however I never liked the "frog turning into a prince fairy tale" particulary well. Prefer hidden objects rather than fragmented objects. Finding parts of objects are not fun as colors, shapes, etc. can be misleading and difficult to locate. Bright colors and many puzzles in Dark Parables game and should be fun for those who don't mind fragmented object games--just not for me!
December 27, 2011
Surprised to be disappointed....
After all those rave reviews I was surprised to have such a disappointing experience. Graphics are excellent, the music is fitting and not intrusive. The sound effects got a little obnoxious because each click was accompanied by what sounded like someone kicking the back of a chair. The game requires a lot o' clicking looking for morphing objects and things to pick up, so that harsh sound got old real fast. Click-Kick-Click-Kick....Yeesh. There is a lot of moving back and forth and back and forth. It's a good thing the graphics are so beautiful as that took some of the sting out. Players only have access to the full game if played in "hard mode" otherwise some puzzles and areas are not accessible. At the end of the game, the player is offered to start all over again in hard mode to get the full effect. I absolutely loved that it was fragmented object rather than hidden object. What a great twist to have to find the various pieces of things so they could be assembled. Having said all that, I would still recommend the standard version of this game for it's beauty, the fragmented object aspect, and the interesting storyline and am planning to try the next Dark Parables. However, if that same click-kick noise crops up the sound affects will be off for the duration....
February 11, 2012
One of the most annoying games I've ever played
Granted, the designers of the game did improve the environment, etc., over the 3 games of this series, but there are three things that annoy me most in a HO game. First don't give me items at the very start of the game (within the first few minutes) that I won't use until hours later. Second, don't show me a place I cannot access until another mode is unlocked. You don't find the crown for a door until you have completed the game and opened the "Hard Mode". I started this game three times believing I was missing something obvious. Third, don't send me back and forth, and back and forth, and back and forth, collecting items I need currently. This game rated 3 out of 3. There are better games out there if you have experience with HO games. If you are new, it's an ok game to start with, but remember you don't get the dumb crown until after you beat the game.
January 6, 2012
disappointed
The story was really good, but I was really looking forward to more puzzles and a lot less hunt and peck through scenes reused over and over. I loved Curse of Briar Rose. In this DP I ended up using cheats and a walkthrough just to end it. Until about half-way through I'd have given it four stars. At this point, having finished it, I'm tempted to give it 2 stars for the irritation factor, but the story and music were great. I hope they do better the next time around.
January 1, 2012
too repetitious
Apparently all of the Disney princesses were married to the same guy, who turns into a frog between wives. That's got to be a bummer. This is a game where there are lots of rooms and fragmented objects to find. I'm not really a fan of hidden object games but those seem to be the ones I choose on Big Fish. Since I have to play HOGs I would rather play FROGs. At least the fragments form something that has to do with the game instead of vanishing into nothing like most hidden objects. This game takes it over the top, though. You have to travel back to the same rooms again and again. I like to play without using the maps and books but you MUST use the map in this one because you keep opening up new HOG places and the map is about the only way you can find them or even know they are there. I find this really tedious. There are also supposed to be phantom objects: objects that change appearance. I am almost through with the game and I have only found half of them. Either my eyes are really bad or the objects are not showing themselves. For those of you who like HOG's you will have fun.
June 1, 2012
Beautiful graphics,too many fragmented hidden objects
While this game had beautiful graphics,the fragmented hidden objects in practically every other scene were annoying. To top it off ,the objects were so tiny and many blended in to the background so much,that I had to just click randomly all over and use the hint button quite a bit. It is a long game,and would have great entertainment except for the HO scenes that you could not skip. Another thing I didn't like was that there was no hint available when you were on a location and you weren't sure where you needed to go next or what you needed to do. The minigames were easy though. I am glad I only paid 2.99 for it!
May 23, 2012
Difficult to get around in.
As you need to travel from one section to another throughout the game you can easily get lost. The map doesn't help much as the areas aren't marked on it & neither are the rooms titled as you enter one after another.
February 7, 2012
The Apple logo is a trademark of Apple Computer, Inc.
The Windows logo is a trademark of Microsoft, Inc.